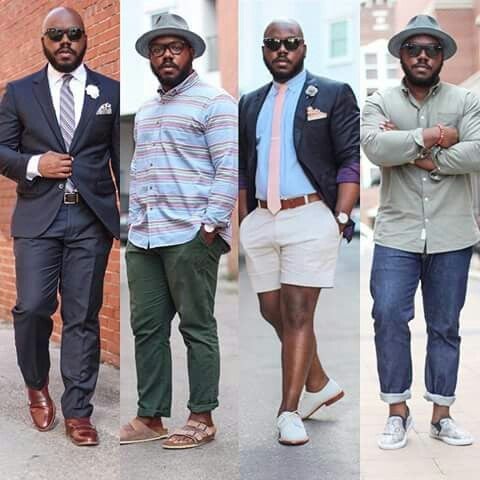 "Heavy, Heavy...You got so heavy babe....Heavy, Heavy......You got so heavy on me..."
This smash hit song from the infamous "Dream Girls" movie rang out loudly on my radio as I hosted a party of one in my car. You should have been there; it was lit!
Today I want to invite other men of size to host their own party of one every single day. This year I have been given several opportunities to share my gift of empowerment and dating strategy at Pride events that celebrate men of size and those that admire them. It was magical to see so many men both near and far celebrate the beauty that they possess.
Society has perpetuated a picture that to be a "real man" you must look a certain way. These gruesome and ill-founded ideals have reverberated loudly in the minds of many adolescent men and even impacted matured adult men. However, it is far beyond time to eradicate those false ideals and recreate the narratives being shared.
Therefore, men of size must rise to the challenge, and reshape how we will engage in the world. I've found 10 exciting ways for gay men of size to enjoy life to the fullest.
1. Celebrate yourself daily.
You are a king! You are amazing, and you deserve to be celebrated every day. You have something so magical about you, and you must tap into that. Once you discover the awesomeness you hold inside, you will become fearless.
2. Stop over-loving others.
Sultry singer Erykah Badu spoke explicitly about the emotional impacts of being an "Recovering Undercover Over Lover." Men of size oftentimes overcompensate for the seeming shortcomings we objectify onto ourselves, to solicit others acceptance of us. You do not have to compensate for who you are to access all that life has for you. Be the best you can be for you, and others will learn to accept that about you.
3. Be positive about your body.
Embrace all your thickness, brother! Zealously embrace your plushy tummy, your round behind, stocky arms, and thick thighs. You were built into a solid structure that can't be easily broken. Change the narrative towards how you perceive yourself.
Confidence is attractive. There is a certain level of attraction that is projected toward those who are secure in who they are. People will start to fling towards you because you are secure in who you are.
(Hint: Men are attracted to men who have a moderate level of cockiness about them. It's a major turn-on.)
5. Exercise for your health not for the hype.
When it comes to exercising, we can become overly concerned with what others think, feel, and desire for us. Exercising should be for your enjoyment and betterment. Don't be pressured to fit the into the hype of others image of you. Be your own kind of sexy.
6. Get out there and date!
Of course, it can be difficult in the current narcissistic climate in which we live. However, there are men out there that are seeking solid men that want to enjoy spending time doing fun activities. Make dating less about the emotional connection and more about the ability to learn different things from new people. Be intentional about dating.
Sex! There, I said it! It's not a bad word. As a man, you have needs. There is no need to suppress the feelings that you will have while out interacting with other amazing people. Of course, ensure that you enjoy responsibly.
8. Be open about your needs.
Jill Scott was quoted saying, "Be honest about what you need, you might just get it." It is important that you are honest with yourself concerning your needs. What you desire in this life is only available if you make your request. Ask for more, and you can have more.
Finding clothes that fit and that are trendy for bigger men can be a Big and Tall order. However, there are clothiers that specialize in "Men of Size" Clothing. There is nothing like a well-groomed thick gentleman with a great outfit to boot. My personal favorites are Destination XL, Eyegasmic Swimwear, and BodiedxVonnie. Check out the contact links below.
10. Visit men of size Pride events.
Celebrate being a larger man. You have a great deal to be proud of, and you should express that joy to the world. There are many men of size events around the country that you should participate in. These pride events are designed to celebrate your thickness. You will be affirmed by the atmosphere and those that love a man with meat on them. Some of my personal favorites like Big Boy Pride in Orlando, Heavy Hitters in Houston, and Kings Pride of Dallas. Check out the contact links below.
This year get out there are enjoy all that life offers. No longer allow others in society to define you. You are amazing, beautiful, handsome, and you have a great deal to offer the world and those around you. Exercise your right to take full advantage in this life. Start with a grilled to perfection BBQ Rib, a group of your friends, and cute little handsome companion by the poolside. Cheers to your thick sexy self!
Jai Sneed is a dedicated Dating and Relationship Coach. It's his life's work to be a resource of Empowerment and Motivation to Singles and Couples in the SGL/ LGBT Community. Jai is the Founder and President of STAG Singles Professionals Events Firm that provides its members with the Dating Resources, Singles Mixers/Events, also Seminars necessary to achieving their goals in Life and Love. Contact Coach Jai Sneed at sneedjai@gmail.com.
REAL LIFE. REAL NEWS. REAL VOICES.
Help us tell more of the stories that matter from voices that too often remain unheard.
BEFORE YOU GO