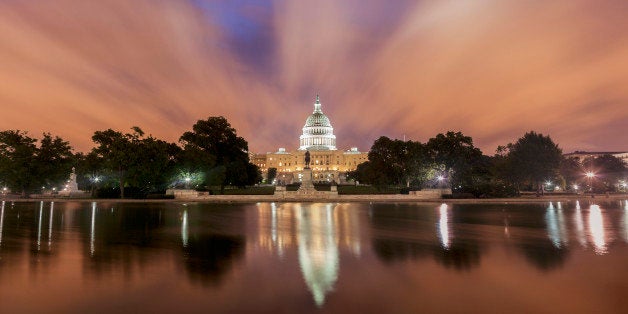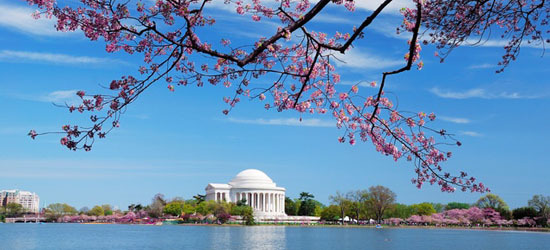 Photo courtesy of Songquan Deng/Dreamstime. Article by the editors of Budget Travel.
Let freedom ring! Did you know that amid the trappings of office, pomp and ceremony, and glitz and glamor of Washington, D.C., you'll find more high-quality freebies than anywhere else on earth? Here's how!
CHERRY BLOSSOMS!
After a long winter, these beautiful blooms make April the coolest month
Where: National Mall
The gorgeous tableau of Washington decked out in its spring finery -- thanks to its countless cherry trees in bloom -- could melt the heart of the coldest-hearted politician. The trees were given to Washington in 1912 by the city of Tokyo and attract about a half-million visitors each spring to blossom hotspots like the Tidal Basin. The National Cherry Blossom Festival traditionally runs through mid-April, with a grand parade this year on Saturday April 12 from 10 a.m. to noon. But your best bet for viewing the trees crowd-free is to hit the Mall before dawn to catch the blossoms as they're caressed by the dawn's early light.
LINCOLN MEMORIAL
Not just a history lesson in marble, but an emotionally charged work of art
Where: 2 Lincoln Memorial Circle
Prepare to be surprised by the Lincoln Memorial. Most visitors find it unexpectedly moving, and the sculpture of Lincoln himself, by American master Daniel Chester French, is much more than a monumental work of public art. The 19-foot marble statue of the 16th president draws viewers deep into the thoughts and feelings of the president who led our nation through the conflict that nearly destroyed it and still manages to define it. This is not just a check on your must-see list. Reserve at least a half-hour to read Lincoln's immortal words, see the sculpture from different angles, and reflect on what has and has not changed in the 150 years since his presidency.
NATIONAL GALLERY OF ART
America's only Da Vinci painting is just the beginning of this immense trove
Where: 6th Street and Constitution Avenue
The National Gallery of Art opened in 1937 and continues to hold its own even with such famous neighbors as the Capitol and the Washington Monument. Its extensive collection of Italian Renaissance masterpieces and works by Impressionists and early 20th-century painters is worth a stop. Don't miss Leonardo da Vinci's Ginevra de'Benci (the only da Vinci painting in the U.S.), Johannes Vermeer's A Lady Writing a Letter, and Paul Gaugin's Self Portrait.
NATIONAL MUSEUM OF THE AMERICAN INDIAN
Think you know the history of Native America? Think again
Where: 4th Street and Independence Avenue
Art, culture, history, and even food come alive at this exceptional museum, part of the Smithsonian Institution. With hands-on programs for families and a mix of permanent and temporary exhibitions, this is the definitive place to learn the true story of America's native peoples, from the earliest times to the present day. The museum's distinctive Mitsitam Native Foods Café is unlike any other D.C. restaurant, serving fry bread, buffalo, and other Native American classics.
NATIONAL MUSEUM OF AMERICAN HISTORY
From serious history to classic TV props, America's attic has something for everyone
Where: 14th Street and Constitution Avenue
At the National Museum of American History, you'll find countless artifacts from the nation's history, ranging in gravitas from battle-scarred flags to the inaugural gowns of First Ladies to Archie Bunker's living room chair. Especially noteworthy at the moment are the excellent exhibits "The American Presidency: A Glorious Burden" and "Changing America: The Emancipation Proclamation, 1863, and the March on Washington, 1963.
UNITED STATES CAPITOL
More than just the place where the Senate and Congress convene, this building is a living history museum
Where: Visitor center at 1st Street and East Capitol Street
From the Senate and House chambers to the pageantry of the building's dome and art collection, this majestic building deserves at least an hour of your time. If you'd like to see a congressional session in action, your best bet is to contact your senator or congressperson well in advance of your trip to see what options there might be. Hour-long Capitol tours are offered Monday through Saturday from 8:30 a.m. to 4:30 p.m, and it's best to reserve a spot on one of these popular tours in advance.
MARTIN LUTHER KING JR. MEMORIAL
This memorial to the civil rights movement's leader in this once-segregated city is a must
Where: 1964 Independence Avenue
This four-acre memorial site between the Lincoln Memorial and the Jefferson Memorial is the first on the central axis of the Mall that doesn't commemorate a war or a president. It features a 28-foot-high granite sculpture by Chinese sculptor Lei Yixin, along with a crescent wall engraved with King quotations chosen by historians and writers.
VIETNAM VETERANS MEMORIAL
This memorial transforms a painful era in U.S. history into a beautiful touchstone
Where: 5 Henry Bacon Drive
This deceptively simple wall, designed by American sculptor Maya Lin, lists the names of more than 58,000 American men and women who died in the Vietnam War. The enormity of the loss and the presence of visitors searching for a loved one among the names, which are listed chronologically, make this understated memorial unique and unforgettable.
NATIONAL ZOO
While most zoos come with a beastly price tag, this one's free -- and open to visitors in the early morning!
Where: 3001 Connecticut Avenue
There's more to the always-free National Zoo than giant pandas (though, c'mon, what's not to love about wild animals that look like stuffed toys?). Looking for an early-morning destination to hit when the museums are shuttered? The 163-acre grounds of the zoo generally open by 6 a.m.-ish -- four hours before its exhibits officially come to life. Stick around and you'll be rewarded with the sight of six resident orangutans making their way -- hand over hand -- across an almost 500-foot-long stretch of cables connecting two areas.
THE WHITE HOUSE
You might call it the world's most coveted address -- here's how to nab a free tour!
Where: 1600 Pennsylvania Avenue
It's not impossible to do a tour of the White House, but it does take some planning. And a lot of patience. Once you know when you are going to be in D.C., contact the office of your Member of Congress to request tickets. Requests can't be made more than six months in advance, but no less than 21 days before your trip. It can take five months to book one of the self-guided tours, though. Worth it to get access to the country's most important residence.