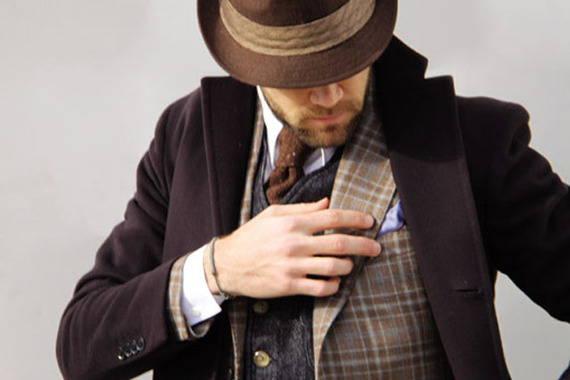 Hot off the trade-show floor! These key items are curated from exclusive trend forecasts at the recent MAGIC fashion trade show in Las Vegas, August 16-19.
These fall/winter trends for men are inspired by rugged nostalgia, with an emphasis on craftsmanship, utilitarian details, and traditional menswear.
1. The Statement Coat. Imagine Joseph's Technicolor Dreamcoat...then dial it back a notch. Fur, shearling, and tapestry-like fabrics in an array of inky colors and sumptuous textures are white hot in men's outerwear. That said, most guys can't honestly pull off purple brocade, so my suggestion is to choose a topcoat with one or two standout details (an interesting color, cool buttons, awesome lining, etc.) and let that be your staple for the season.
2. The City Coat. What the heck is a city coat? It's a topcoat that translates well from day to night, similar to a trench or peacoat in style. Look for longer lengths in outerwear this winter and next. A coat that's mid-thigh or three-quarter length has the flexibility of being both formal enough for the office but casual enough to pair with jeans.
3. The Explorer Jacket. Imagine a Cousteau-worthy parka with an update. The modern man's utility jacket is functional (with plenty of pockets) and fabulous (lined with shearling). This trend is my favorite for its utilitarian details and warm, cozy comforts. Also known as a territory coat or field jacket, the style is classic, but today's version--made for the modern explorer--is crafted from high-tech fabrics that stand up to the elements.
4. The Turtleneck. Channel your inner Ron Burgundy, and "stay classy" with this wardrobe staple. The classic sweater works well oversized or snug, plain or multicolor, and with heavily marled textures or as a lightweight knit. (Just a side note, guys: paired with Italian wool, a fine-gauge turtleneck under a suit will make any woman swoon!)
5. The Slouchy Sweater. Don't kill the messenger. Remember those extreme knits (à la Dr. Huxtable) from the 1980s? I won't go so far as to recommend them, but I will suggest spacious chunky knits in monochromatic tones with nifty details like front "glove pockets" and cool oversized buttons. I guarantee these comfy crewnecks will be your favorite for the season.
6. The Plush Pant. Skinny is out (almost). Wide is in! I'm not just talking about a wider pant leg. Wide wale corduroy will also reappear, while track pants and joggers with drawstring waistbands (in a wide range of fabrics, including velvet) will be just as popular as streetwear as they are at home and in the gym.
7. The Pleated Pant. I hate to admit it, but pleated pants are making a comeback. The good news is, these aren't your grandpa's trousers! The updated "dapper" pant has only a couple reverse pleats, which open toward the pocket so they appear less bulky. And because pleats perform in terms of function, on dress slacks they can actually look rather polished. Where they should be avoided is on denim and casual trousers (unless you want to look like A.C. Slater from Saved by the Bell).
8. The Utility Shirt. I'm a sucker for a safari shirt, so this trend, similar in style, is one of my favorites. (Ladies, this is the shirt you'll want to "borrow" from your boyfriend's closet.) A casual classic, traditionally known by its button-flap pockets at the chest, modern iterations of the utility shirt may include a zippered front, zipped pockets and vents, and additional or asymmetric pockets and patches.
9. The Laid-Back Suit. The most fashion-forward of suits for the season, the laid-back suit is meant to feel like your favorite weekend sweatshirt, so consider non-traditional fabrics for jackets (knits with some stretch) and asymmetric styling (double-breasted with a zipper). The laid-back suit works well when layered and can be paired with a slim hoodie or t-shirt underneath--and sneakers to boot!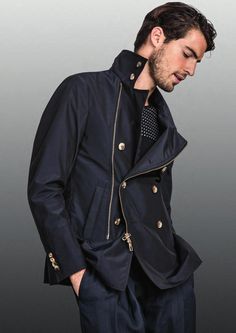 10. Expedition Suit. Suiting for men is certainly transforming, and the counter trend to the casual suit described above will be a (literally) more buttoned-up, late-Victorian look. Think three-piece suits and bowler hats. In addition, the expedition suit boasts more buttons and has a higher closure. High-quality fabrics, custom details (like piping and decorative stitching), and discrete but brilliant whispers of color and pattern will give every guy a taste of bespoke tailoring this season.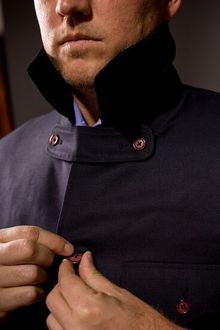 Related