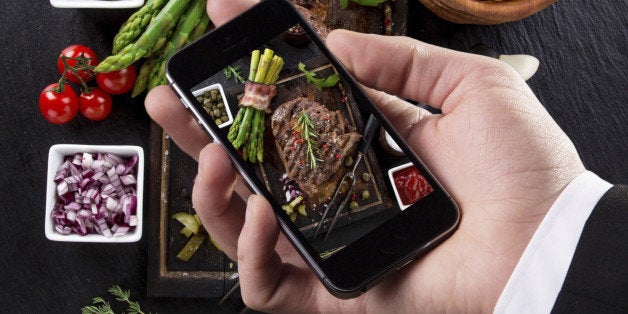 If your Instagram feed is anything like mine, it's comprised of three main categories: food, dogs and friends who travel--in exactly that order. Most days I'm left wanting to simultaneously eat my phone, pet a dog and travel the world.
Lately it seems that some of my favorite at-home chefs are cooking up some of the most delicious dishes I've ever seen. Within the food category I follow people who are professional and amateur, healthy and not-so-healthy, but above all--leave me salivating for more!
Without further ado, prepare your palates for ten foodies you need to follow.
1. Is there a more beautiful foodie feed than this one? I think not! I don't know about any of you, but my homemade tacos never look this pretty...
2. Colors abound in Consuelo's feed. Her use of fresh fruit and vegetables to spice up ordinary meals (think salad and oatmeal) inspires me to do the same!
3. A nutritional therapist and paleo superstar, you can always count on Caroline's feed for a heavy dose of delicious meats and fresh ingredients. Is your mouth watering yet?
4. I was introduced to Amelia's feed by a friend and I'm so glad! She gives real-life insight on feeding happy and healthy kids nutritionally fulfilling meals without hassle. Admittedly, she has completely eradicated the daunting factor for me!
5. I originally began following Trisha when her handle made me, quite literally, laugh out loud. I loved discovering she was an avid juicer, which has inspired me to step up my Vitamix game.
6. Eating with the seasons is an age-old concept that says by eating in harmony with nature, one can achieve better health and vitality. I'll tell you one thing, if I can look like Amanda and still eat decadent truffle mac & cheese (picture)--sign me up!
7. A champagne enthusiast after my own heart, Gaby Dalkin's book is what originally led me to her feed. Be ready for pops of color, snack ideas and no shortage of uses for avocado.
8. The rustic feel of Lydia's feed always leaves me feeling like I'm in a dimly lit Parisian cafe. No objections here! I'll take two of everything and a cappuccino...for here.
9. Megan's feed is bright and beautiful good-for-you foods that you might have never put together yourself. Spicy kale salad? If it looks this delicious...why not?! This is the account that inspired me to incorporate chia seeds into my diet--no looking back now!
10. Katy's account is new to me, but I'm so glad I found it when I did. She recently made Coconut Chicken Soup, which has left me spellbound ever since. By focusing on real food, Kathy cooks up some real magic.
Popular in the Community