The radical leftist movement was anti-war, anti-bourgeois, anti-art, even sometimes anti-dada. In his Dada Manifesto, Tristan Tzara poetically explained: "Dada; abolition of logic, which is the dance of those impotent to create ... Dada; absolute and unquestionable faith in every god that is the immediate product of spontaneity ... Freedom: Dada Dada Dada, a roaring of tense colours, and interlacing of opposites and of all contradictions, grotesques, inconsistencies: LIFE."
According to Naomi Sawelson-Gorse's book Women in Dada, the legend goes that the word "dada" was discovered by opening a dictionary at random. There are also other less logical possibilities -- the word translates to "yes yes" in Romanian, "rocking horse" in French. But, come on, the title of the chaotic artistic movement of the early 20th century bears, most of all, a striking resemblance to a baby's first utterance upon seeing his or her father. From its start, there was something patriarchal about dada.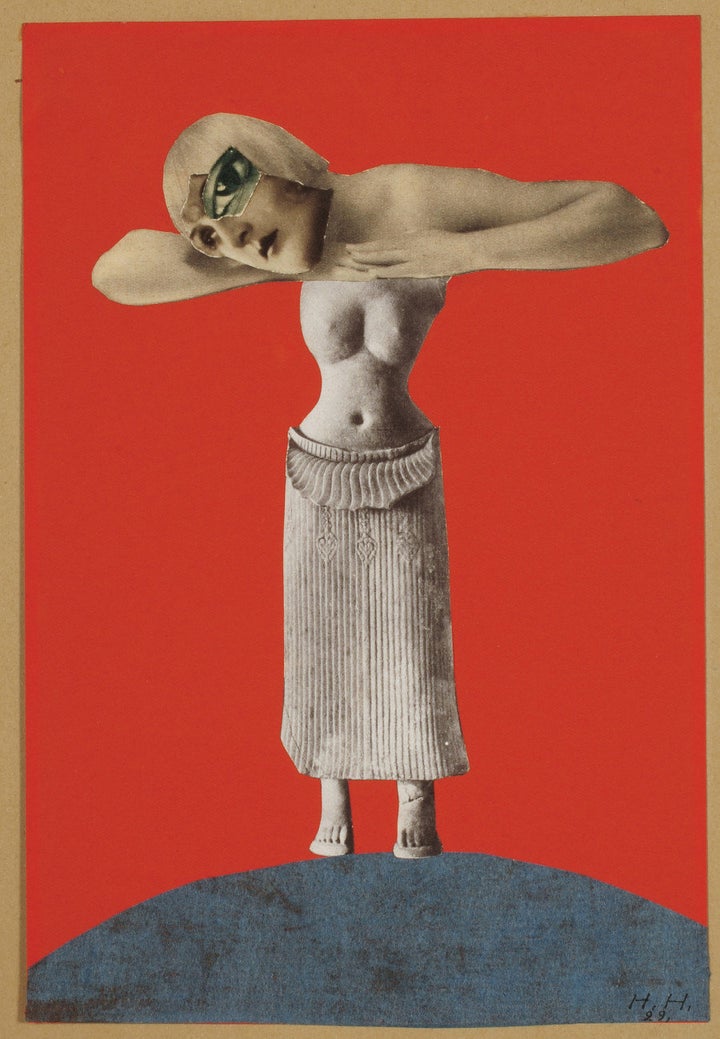 Hugo Ball, Hans Arp, Marcel Duchamp, Man Ray, Max Ernst, Raoul Hausmann -- these are some of the artists most associated with the proto-punk movement. Visionary avant-garde goddess Hannah Hoch occasionally gets a mention. However, the majority of women contributing to the dada movement have been gradually erased over time.
Today we're revisiting eight of the fearless and independent women whose 20th century artworks shaped the trajectory of radical artmaking and radical feminism to come. They painted, they sculpted, they wrote, they acted, they danced, they dressed up, they taught, they kicked ass. Behold, the forgotten Mamas of Dada.
1. Baroness Elsa von Freytag-Loringhoven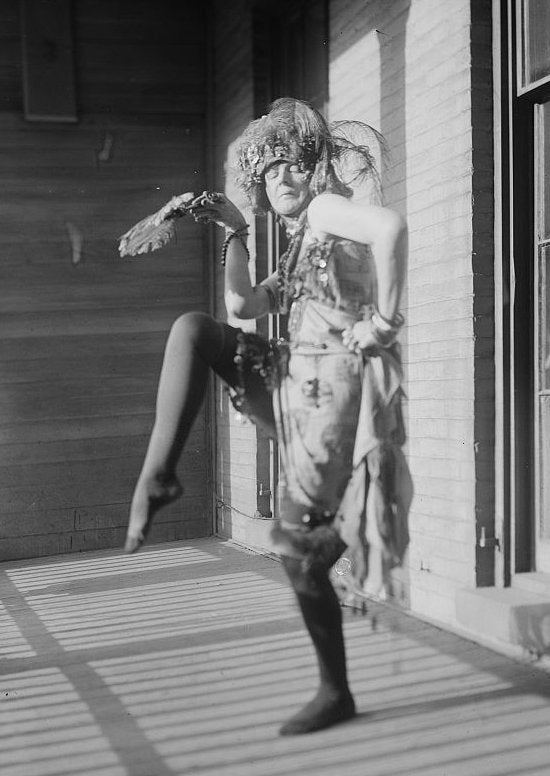 German-born Freytag-Loringhoven was dubbed "the only one living anywhere who dresses dada, loves dada, lives dada," by co-editor of the journal The Little Review, Jane Heap. The avant-garde performance artist began as an actress and vaudeville dancer, later modeling for artists like Man Ray. After graduating from art school in Munich, Freytag-Loringhoven moved to New York, setting up shop in Grenwich Village.
She was an early pioneer of radical, sound-based poetry, her work appearing alongside James Joyce's Ulysses in The Little Review. Making up new words like "phalluspistol," "spinsterlollipop," and "kissambushed," Freytag-Loringhoven created her own vibrant, collaged language to bring her graphic and raggedy poetic visions to life. It's also been speculated that Marcel Duchamp's idea for his game-changing "Fountain" was, in fact, Freytag-Loringhoven's idea. Duchamp wrote a letter to his sister explaining that a female friend had sent him the urinal under the male psuedonum Richard Mutt.
The artist also worked with found assemblage sculptures and paintings, turning junkyard materials into potential artistic media. Most of all, however, she was known for her "living collages," boundary-shattering performances without beginning or end, actualized via ornate costumes and absurd behavior that bridged life and art.
2. Sophie Taeuber-Arp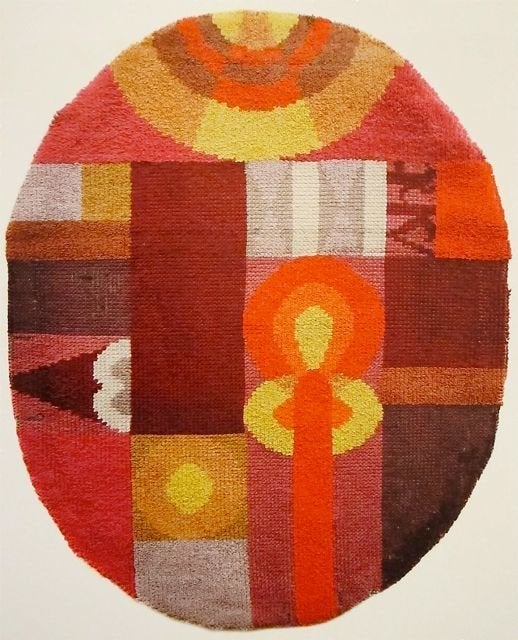 Taeuber-Arp was born in Switzerland, the youngest of five children. She began studying art at a young age, joining a dance troupe and an artist colony in her 20s. At 26 years old, she met dada artist Hans Arp at a gallery. The two would go on to be artistic collaborators as well as romantic partners. Her salary as a professor kept the artists afloat while they struggled for artistic recognition.
Taeuber-Arp taught weaving and textile arts in Zurich, making her own abstract, geometric works that played with the relationship between shape and form. "The hallmark of Miss Taeuber-Arp's art," Hilton Kramer wrote in The New York Times, "then and later, was an extreme simplicity of design most often achieved through the use of pure geometrical forms."
Additionally, she also worked as a dancer, choreographer and puppeteer, and served as co-signer of the Zurich Dada Manifesto. In 1943, Taeuber-Arp died of accidental carbon monoxide poisoning, the result of a malfunctioning stove.
3. Clara Tice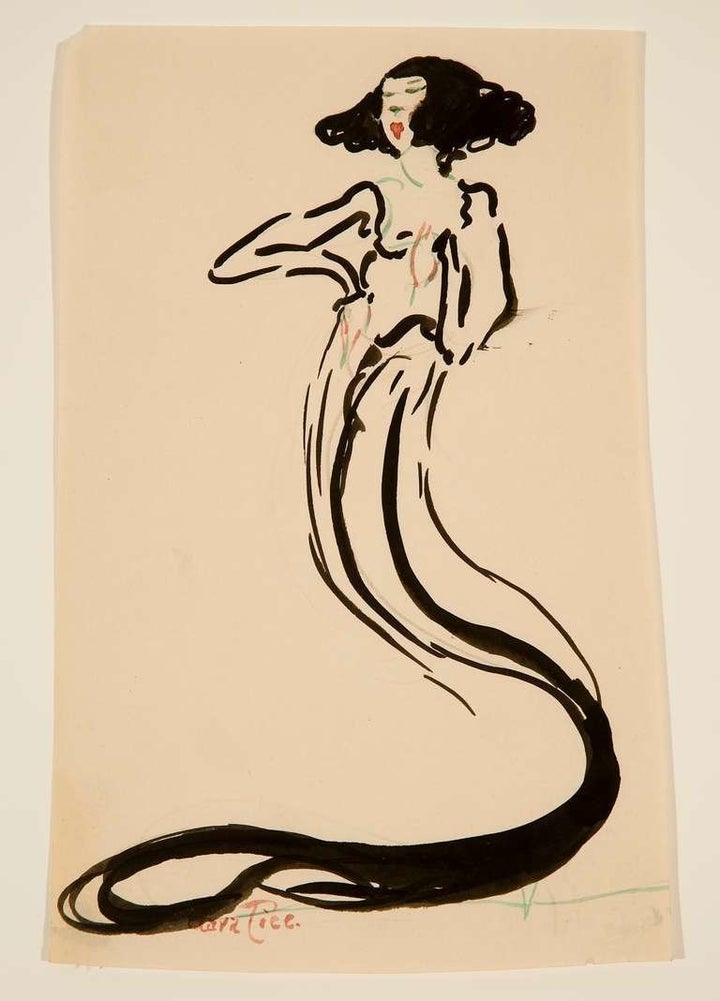 Tice, an artist and illustrator, born and raised in New York City, was later dubbed "The Queen of Greenwich Village" due to her bohemian style -- she claims she was the first to don her hair bobbed in all of New York. Although Tice was praised for her slinky sense of style, she wasn't interested in dressing well to find a date. "Brains [and] the ability to do things," she once said, "are the things that attract a man."
The It Girl loved to draw, but it wasn't until an exhibition of her provocative nude drawings was shut down by the Society for the Suppression of Vice in 1915 that her career really blossomed. The whole commotion captured the attention of Vanity Fair's editor, and before long, Tice's sleek drawings graced the pages of the magazine. Her illustrations were characterized by movement -- awkward yet natural, jarring yet flowing.
Tice was an avid animal lover, especially loving horses and dogs. One of her most beloved illustrated books, ABC Dogs, pairs each letter of the alphabet with a respective breed of canine.
4. Mina Loy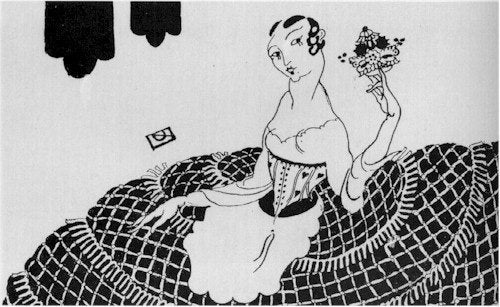 Loy, an artist, actress, poet, novelist, futurist and (duh) all-around badass bohemian, changed her given name from Lowy to evade anti-Semitism. The choice also enabled her disciples to dub themselves "Loy-alists."
The multi-hyphenate, who was born in London and moved to New York, is primarily remembered for her free-verse poetry, both erotic and extreme. One poem reads: "Spawn of fantasies / Silting the appraisable / Pig Cupid his rosy snout / Rooting erotic garbage." Her peers and admirers included William Carlos Williams, Marcel Duchamp and Gertrude Stein, who, in The Autobiography of Alice B. Toklas, wrote that Loy "has always been able to understand."
5. Beatrice Wood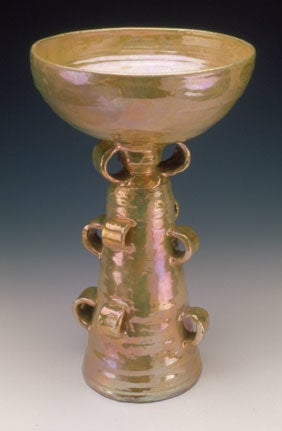 Wood was born to wealthy socialites in San Francisco, California. In her lifetime, she became known as the "Mama of dada," celebrated for her ceramic artworks, paintings, drawings, outspoken persona, outlandish style and long list of famed lovers. She was a lifelong vegetarian who rarely spoke or drank. She worked at the potter's wheel until the age of 103 and passed away at 105. She attributed her long lasting health to "chocolate and young men." (Look at this right now.)
At the age of 18, Wood studied art in Paris and soon after moving to New York took up with an avant-garde crowd that included Man Ray, Mina Loy and Marcel Duchamp -- the latter, along with writer Henri-Pierre Roche, collaborated with Wood on a dada journal titled The Blind Man. In one issue, Wood defended Duchamp's "Fountain" amidst rejection and criticism, declaring ''The only works of art America has given are her plumbing and her bridges.'' The line is often faslely attributed to Duchamp.
In the 1930s Wood, who had previously worked mostly in drawing, took up ceramics. Her objects, whimsical and shimmering, incorporated metallic colors into the glaze itself, instead of on top. She made chalices and bowls and vases; her best works were produced throughout the artist's 90s. Wood tells her story in an autobiography entitled I Shock Myself. James Cameron was amongst its readers, and based his "Titanic" heroine, 101-year-old Rose, on her character.
6. Florine Stettheimer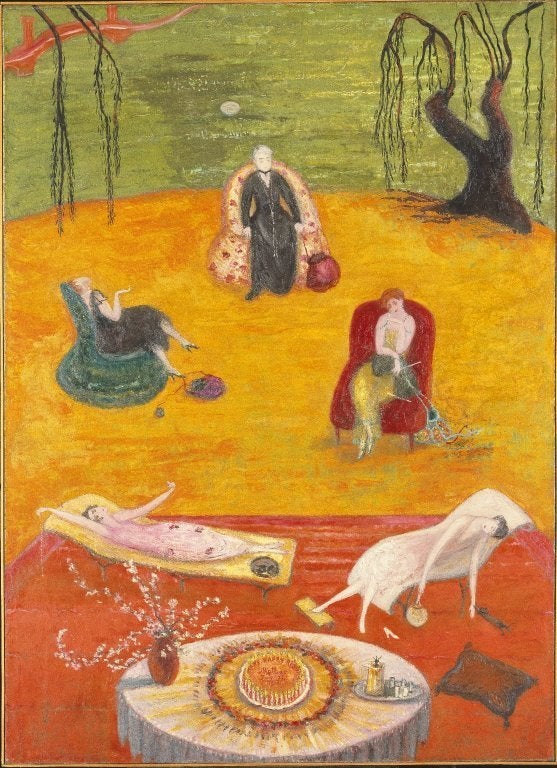 Stettheimer was a New York-born painter, set designer and poet, known for the modernist salons she founded in Brooklyn with her sisters. She was born to a wealthy Jewish family and, after her father left the family, spent much of her upbringing traveling.
Because of her wealth, Stettheimer considered her artmaking a purely personal pursuit and resisted opportunities for self-promotion or competition. She established a salon "for the contemporary literati, gay and polyglot New Yorkers and European expatriates," and exhibited only once in a gallery setting. Similarly, with her poetry, Stettheimer was distinctly private, writing her poems and giving them to friends instead of publishing them.
Her paintings were sensory indulgences, mixing homey settings with elements of androgyny and eroticism. As Irene Gammel and Suzanne Zelazo wrote in a review of her work: "Unapologetically domestic and über-feminine, Stettheimer's work has been variously described as 'faux naïf,' reveling in simplified shapes and Fauve-like colors, as 'rococo subversive,' embracing a camp sensibility; and as 'temporal modernism' influenced by Bergsonian concepts of time as heterogeneous durée."
Stettheimer intended to have her work destroyed following her death, but, luckily, her sister had other plans.
7. Suzanne Duchamp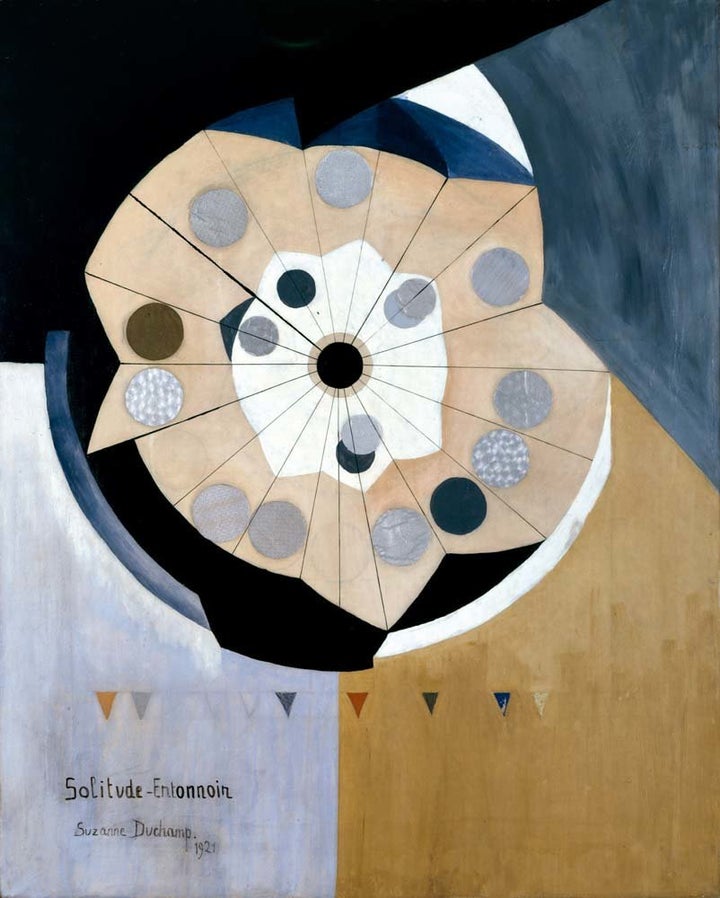 Although she's primarily remembered in retrospect as being the younger sister of dada chief Marcel Duchamp, Suzanne was a formidable artist in her own right. Ms. Duchamp, who was born in France, moved to Paris shortly after World War I broke out, where she worked as a nurse's aid. At just 22 years old, she confirmed her power as an artist after showing at the exclusive Salon des Indépendants.
Although Duchamp did not identify as a feminist activist, her work illuminated the progressive underpinnings of her ideas. In a self-portrait titled "Give me the right to life," Duchamp depicts herself entangled in a network of lines and objects like clocks, scissors, lamps and knobs. It's near-impossible to discern an exact relationship between the many objects included, some barely identifiable but buzzing with energy. However, the proto-feminist implications of the title speak for themselves.
Eventually Duchamp and Crotti moved away from dada toward a new movement they called Tabu, a more spiritually driven cosmic investigation.
8. Katherine Sophie Dreier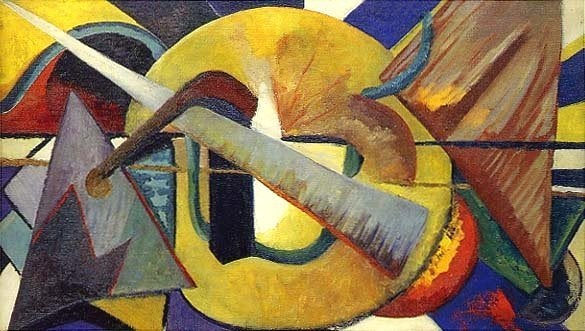 Dreier was born into a wealthy family in Brooklyn, allowing her interest in art to flourish from a young age. After befriending Marcel Duchamp and becoming frustrated by his lack of success at the time, Dreier became an avid supporter of the arts, specifically modernism and dada.
She founded the Society of Independent Artists and, with Duchamp and Man Ray, the Société Anonyme, the first ever permanent collection of modern art, consisting of more than 1,000 works by avant-garde artists from all over the world. Dreier promoted a variety of now iconic artists, including Wassily Kandinsky, Paul Klee and Joan Miro. She penned the book Western Art in the New Era, establishing her artistic viewpoint regarding the relationship between form and meaning.
A devoted feminist and suffragette, Dreier was involved with the International Woman Suffrage Alliance. She also co-founded the German House for Recreation of Women and Children, and served its president.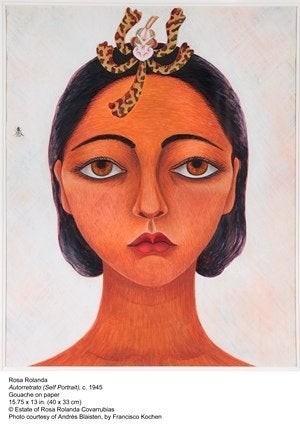 In Wonderland, Women Surrealists
Popular in the Community