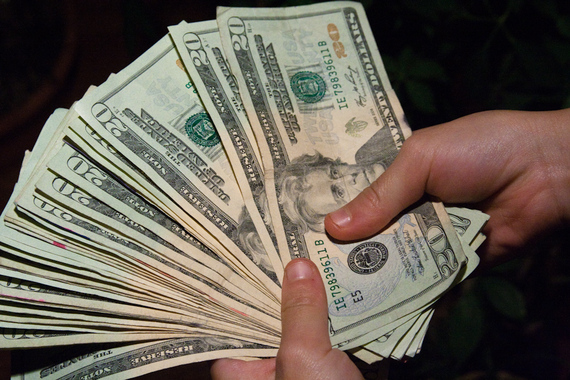 Credit: Flickr/Steven Depolo
Sure, you may stumble across the occasional dollar on the street, or rob a bank, or win the Powerball jackpot. But most of the time, there's no such thing as free money. There is, however, an easy way to score some serious scratch with a few smartphone apps. Whether it's helping you invest your pocket change or finding hotel suites at steep discounts, these 10 free apps will set you up for savings.
Hopper
iOS: Free
Android: Free
It's always tough deciding whether to book a flight at its current price or risk waiting for it to drop (or go way, way up). Hopper is like your trusty pseudo-psychic travel agent, predicting whether a given flight price will go up or down, while constantly trolling prices to and from given cities on certain dates to notify you when they drop significantly. There's a reason Apple named it one of last year's best apps.
Mint
iOS: Free
Android: Free
Amazon: Free
Budgeting like an "adult" sucks. Mint is like a little financial advisor that keeps you on track by creating budgets you can actually stick to, syncing with your bank account or credit card to track your spending patterns, letting you know when you're slipping up, and spotting ways to save.
BestParking
iOS: Free
Android: Free
Blackberry: Free
Rather than waste time scouring side streets for a safe spot to park, only to give up and opt for an overpriced garage, you can take the power back by firing up BP, which maps out the cheapest and most convenient lots and garages in your vicinity. It's great day-to-day, but it's a serious lifesaver on game day and at the airport.

Acorns
iOS: Free
Android: Free
Acorns makes slowly building an investment portfolio a little less intimidating for us average schmoes. It rounds up everyday credit and debit card purchases to the next dollar, and deposits the difference into an account. So for example, if you buy a coffee for $2.63 using a linked card, it will charge you $3 and automatically deposit the $.37 into a diversified portfolio. Plus, it only costs $1 a month (if your account is under $5,000) and you can withdraw whenever you want without a penalty.
Slice
iOS: Free
Android: Free
If you're a compulsive (and impulsive) Amazon Primer like me, you owe it to yourself to download Slice. Not only does it track every purchase you make online (and automatically pick up tracking numbers to monitor the whereabouts of whatever package(s) is headed your way), but it will also let you know if its price drops after the fact, so you can petition for a discount.