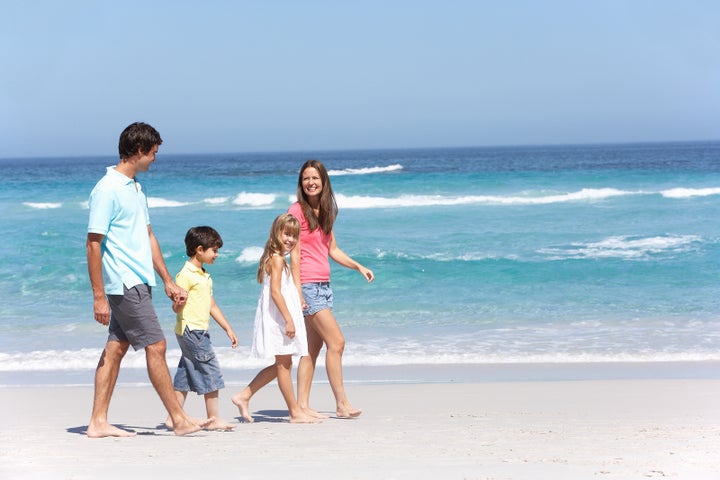 It's almost time for school to finish for the year, leaving many parents wondering how they'll entertain their kids for the entire summer without hearing "I'm bored!" or "I'm hungry!" a thousand times a day. Summer doesn't have to be just TV shows and screen time. There are many activities that parents can plan that are both fun and healthy. Here are 10 ideas to get you started.
1. Go for a hike: California is known for its beautiful scenery and abundance of gorgeous parks. Find a local trail to explore, or plan a summer getaway to one of our national parks.
2. Go for a walk after dinner: Now that the sun is staying out later and kids don't have to be ready for school the next day, it's the perfect time to schedule a walk after dinner. You can even move dinner up a little earlier and plan to have a snack once you get back. The kids can even take their bikes or scooters along for the ride.
3. Go swimming: Is there anything better than hitting the local swimming pool? Pack some healthy snacks, like carrots and celery, and spend a few hours getting some sunshine and cooling off in the water. Swimming and playing in the pool are great ways for kids to stay active, especially with pool toys like pool noodles and classic pool games like Marco Polo.
4. Go to the beach: Jumping through waves, going for a walk in the sand or hauling water back and forth to make a sand castle are all healthy ways—for both the body and the imagination—to spend an afternoon!
5. Farmers market: Hit up the local farmers market to pick out some local produce. Let the kids decide what to get for dinner and pick out the ingredients you need. You can also pick out fresh fruit for snacks, or to…
6. Make a smoothie: Kids love fresh smoothies! Throw favorite fruits into the blender with some ice, low fat milk or low fat yogurt and blend away! If you need ideas, give these yummy smoothies a try. You can even throw leftovers into popsicle molds for a healthy and easy breakfast that feels like a treat.
7. Plant a garden: Spring and summer is a perfect time to start a garden. Kids are much more likely to try or eat vegetables if they helped to grow them, and watering/tending for the plants allows for a activity to look forward to each day or week depending on the watering schedule.
8. Go for a bike ride: Kids love riding their bikes and scooters. Take them out for a ride, while you either ride along or go for a jog.
9. San Diego Zoo: Plan a day trip or a longer trip down to the San Diego Zoo. The zoo is huge—walking it could easily use up an entire day. Besides the fun of seeing all that the zoo has to offer, you and the kids are getting a ton of exercise in!
10. Camping: Plan a camping trip at Yosemite National Park or other state park. Camping is a great way to reconnect with nature and take a break from the electronics that seem to dominate our lives. Plus, camping food doesn't have to be unhealthy. Try grilled chicken, chili or vegetable skewers for an alternative to traditional camping fare.
With a little planning, this summer could be the healthiest and most fun yet!
Support HuffPost
A No-B.S. Guide To Life
Related
Popular in the Community