Most people associate Whistler with skiing, and rightly so as it's one of the top ski destinations on the west coast, but this resort town 90 minutes north of Vancouver has so much more to offer, even if your idea of a good time doesn't involve a single minute in ski boots. Here are ten amazing things to do in Whistler -- other than skiing.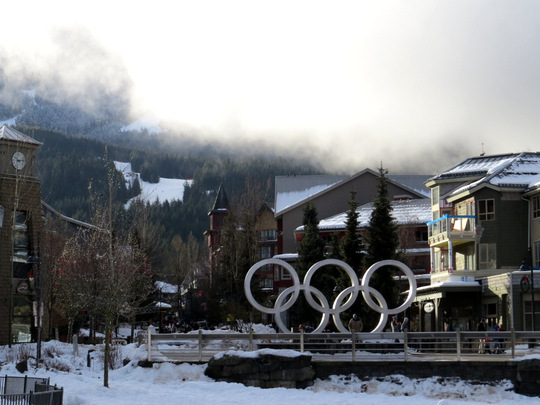 Ice Skating at Whistler Village
Whistler's Olympic Plaza transforms into an outdoor ice rink when winter roars in. Located in Whistler Village, the rink comes with a primo mountain and Olympic rings view. At night, thousands of colorful twinkle lights make for a festive mood. Admission is free and rental skates are just $5. Helmets are available and also free!
Ditch the skates and glide on ice at record speeds at The Whistler Sliding Centre. Host of the bobsleigh, skeleton and luge competitions during the Vancouver 2010 Olympics, the fastest bobsleigh track in the world is open to the adventuresome public. With an experienced pilot at the helm, three brave passengers can go for a heart pumping ride reaching speeds of 75 miles per hour. If you're looking for a Whistler bucket list experience, the bobsleigh ride will give you something to brag about to folks at home.
More than half a dozen fast and fun runs make the Tube Park at Whistler worthy of your precious snow time. If you must ski, head here when the slopes are closed; the park is lit for night tubing. There are adult and kids size tubes and a few double tubes to choose from along with a kids only lane about half way up the Tube Lift. Children under 12 must be accompanied by an adult, but it's rare to hear sliders of any age complaining as they whiz by jealous onlookers.
Eat Your Way Around Whistler Village
After a day of exertion out on the slopes, (or avoiding them entirely) visitors need to eat, and in Whistler, they can eat very, very well. Try Araxi, Whistler's first fine dining restaurant, for dishes like grilled Canadian beef tenderloin, risotto from wild and cultivated BC mushrooms, and Desolation Sound oysters, all served with an award-winning wine list.
Head to Alta, where the focus is on hyper-local, sustainable and seasonal dishes; they serve Pemberton Distillery liquors, Whistler Brewing beers, Oceanwise fish from local waters, Two Rivers Meats and Pemberton produce. The elk tartare and liver parfait is justifiably famous in Whistler, while other dishes -- which rotate with the season -- are just as delicious.
For something different, Sushi Village has been serving up creative rolls and Japanese specialties since 1985. Spicy agedashi tofu, hamachi kama, udon and yakitori join rolls like the KFC Roll with karaage chicken and the Beautiful Roll wrapped with avocado and salmon. Cap it off with a vodka tasting in Bearfoot Bistro's ice bar or indulge in a sweat, creamy treat from Cow's ice cream.
Indulge in a Pampering Spa Treatment
Hotels like the Four Seasons, one of the most luxurious accommodation options, have equally luxurious spas. While your friends are out there working up a sweat, relax your muscles with a massage, or treat yourself to a facial or body wrap. Or get your own workout in with yoga, pilates or group cardio classes.
Soak at a Mountaintop Scandinavian Spa
A short drive from Whistler Village, the Scandinave Spa is a quiet respite from the action on the slopes. The hydrotherapy spa uses alternating water temperatures to "revitalize, maintain and restore health."
There's no talking and no cell phones so the environment is almost totally silent and the view overlooking the mountains is beautiful. Guests first warm up in the Eucalyptus steam room, Finnish wood-burning sauna or one of the two hot pools (one hot, one very hot). The heat is meant to soothe before the cold stimulates. The cold comes from one of the two cold pools (one cold, one very close to freezing) or a cold outdoor shower. The final step is to relax, and there are several areas to do so: a solarium in addition to hammocks, terraces and fireplaces scattered around the property, all of which overlook the surrounding mountains. After two hours at the spa, repeating the process several times, I walked away thoroughly relaxed and invigorated.
Cross-Country Skiing Around Lost Lake
Folks who aren't active skiiers have all sorts of understandable reasons for their hesitations to hit the slopes. I've got the shushing basics down and I like the concept in theory. What I don't like is being cold. Yes, I'm a wimp. I admit it. When it comes to cold and that's typically what does me in on ski trips. But I think I found my skiing warm happy place so to speak in Whistler -- cross-country skiing with Cross Country Connection at the Lost Lake PassivHaus.
Being a downhill skier makes picking up cross country skiing easier, but it's not a necessity. Once you get the rhythm and timing, moving on cross country skis starts to makes sense. And as your confidence grows so does your speed. That's also about when you start un-zipping your jacket and shedding layers, because you're starting to sweat. If you're looking for a workout you can it on the trails. What you won't find is many other people. Having stretches of a silent scenery to yourself is another definite perk.
If you've never skied before and you're just nor ready to strap on skis, give snowshoeing a try. The shoes fit right on your snow boots and you're off. If you can walk, you can snow shoe.
Sample the World's Only Organic Potato Vodka
A 30-minute drive north of Whistler, Pemberton is a small town with a big focus on local, sustainable foods. The town is also home to the Pemberton Distillery, a small-batch distillery that makes (among many other creative liquors) the world's only organic potato vodka, which is hand-distilled over 17 hours. Tours and tastings are offered Saturdays at 4 p.m.; the cost is $6.
Even in snow covered paradise you have those days when the weather doesn't cooperate or you just don't feel like playing in the cold. Spend an hour at Basecamp Fitness and you shouldn't feel guilty about the eating and drinking that typically comes along with Whistler's more popular indoor activities. Basecamp Fitness is located at Nita Lake Lodge. The gym itself is on the smaller size, but the spin and circuit classes will help you discover muscles you never knew you had. Reward yourself with caffeine or fresh juice next door at Fix Cafe.
- Katie Hammel and Dana Rebmann

Related