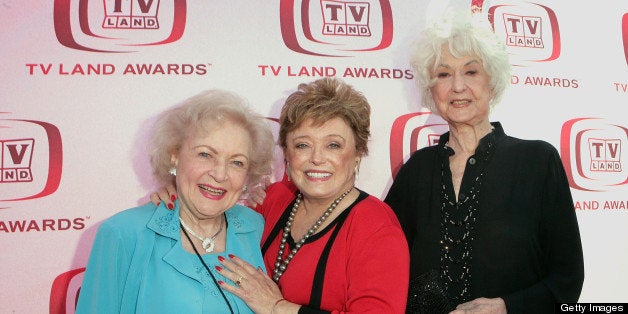 Gay fans are cheering LOGO channel's decision to air the classic sitcom, The Golden Girls. Why has this show about four heterosexual women of a certain age resonated so strongly with the gay community? Sure, there were occasional gay characters on the show (Blanche's gay brother Clayton, Dorothy's lesbian friend Jean). But, more importantly, the show was filled with subtle lessons for gay audiences throughout its seven seasons.
Here are 10 gay lessons from The Golden Girls:
10. Have integrity. These four ladies prove time and again that are honorable. After spending a night in a homeless shelter, the once-greedy gals decide their winning lottery ticket would benefit the shelter more than themselves. In another episode, Blanche refuses to sleep with her teacher to get an easy A. When Dorothy learns her new friend Barbara Thorndike is prejudiced, she tells her, "Let me spell it out for you: go to hell." These women always hold their heads up high, and so must we.
9. Tell the truth. When the girls attempt to lie, it never works out well, whether it is Blanche pretending her baby granddaughter is her daughter to impress a man, or Rose lying about her prescription pills addiction, or the creation of a fictional "Isaac Q. Newton." We must be upfront about the truth in order to be happy and to keep our friends. Remember: "Your heart is true / you're a pal and a confidante."
8. Never be ashamed. These mature women are not ashamed of their sexuality. "Embarrassed? Well, there's no reason to be embarrassed," Blanche tells her friends when they want to purchase condoms, including ultra-sensitive condoms -- in black -- for Rose. These are vibrant women who embrace their sexuality well into their golden years.
7. Don't let anyone bully you. Dorothy is dismissed and treated poorly by a doctor who misdiagnoses her Chronic Fatigue Syndrome, so she gives him an earful when she spots him in a restaurant ("You better start listening to your patients. They need to be heard."). When Rose's beloved teddy bear, Fernando, is held hostage by an angel-faced yet snotty Sunshine Cadet, Rose grabs the bear and simultaneously shoves the little brat out the door ("I guess there's a lesson to be learned here: sometimes life just isn't fair, kiddo."). These Golden Girls do not let anybody push them around and they always stand up for themselves.
6. There is nothing wrong with being different. Blanche learns this lesson twice: (1) when dating a blind man and (2) when dating a man who uses a wheelchair. When Rose dates a little man, Dr. Jonathan Newman ("Shrimp?"), the rest of the girls confront their own pre-conceived stereotypes. Dorothy learns to accept her son's fiancée, a much older, African-American woman. Each of the girls learn to overcome prejudice when they help promote a Cuban prizefighter/violinist/actor ("But hath not a Cuban eyes? Hath not a Cuban hands ..."). The ladies learn to look past what is on the outside, to see the real value which is hidden within.
5. Don't let anything hold you back. These ladies know how to be spontaneous and have a good time. They make a snap decision to fly to California to appear on the game show Grab That Dough and, although they bicker and do not win any significant money, we learn that we must grab every opportunity to live our lives and have some fun. In another episode, they take another trip to overcome their fears (Dorothy's fear of flying, Rose's fear of public speaking, Blanche's fear of bald men in an enclosed space) and we learn that we must not put barriers up in our own lives.
4. Always be yourself. Do not let anyone force you to hide who you really are. Blanche tells Dorothy that "There is nothing wrong with being proud of what you are" even if that means she has to admit to a group of Southern Confederates that her ancestors include a Yankee ... and a Jew! Rose must 'fess up to the Russians to reveal that she is not a little girl. Even poor little Mario Lopez has to admit that he is an illegal alien.
3. Don't be a bitch. Look what happened to Frieda Claxton.
2. Share your stories. Sophia had Sicily (ear salve on your pasta, anyone?) and Rose had St. Olaf (i.e. The Great Herring War). We must share our stories and our experiences, too. If we want to break down barriers, letting others know of our full lives is the best way to end discrimination.
1. Make your own family. No wonder these four gals bonded into a family unit. Did you ever notice how bland and boring their children are? The Golden Girls taught us that blood ties may be nice, but it is the friends we accept as our family members that provide the true love and support that we really need.
Calling all HuffPost superfans!
Sign up for membership to become a founding member and help shape HuffPost's next chapter