Every time I visit Thailand I get blown away about the hospitality there. The people are both genuine and friendly and want to do the best for you. No wonder why Thailand is called "The Land of Smiles."

You can find luxury resorts here as well, but if you stay and eat with the locals your money will last for a long, long time.
About 95 percent of the population in Thailand are Buddhists, and that shows everywhere. The temples, how people are dressed etc. It's a wonderful experience.
So many islands to discover, so many nice people to meet - this is the perfect backpacking country. You can easily take a long tail boat to to the paradise island and camp there. The costs of moving around are both easy and cheap.
Thailand is great for diving and snorkeling, and there are tons of diving trips around the country to choose from.
You can get taylor made dresses and suits to very low cost in Thailand. There is also many markeds to visit with cheap and exiting products you probably don't have back home. If you are looking for luxury brands with better prices than back home, then Bangkok is the place for you.
Canoein with wild monkeys, bath in waterfalls and swim with sharks, dolphins and turtles. In Thailand there is no limit of what you can experience, so for us who not like lying on the beach day after day there is endless excursions to join.
Many think that thai food is the best food in the world. I don't disagree, and on top of that, the food is very cheap.
I have met wild varans, snakes and monkeys to name a few. It doesn't matter if you are in the forest or in the sea, In Thailand you are always close to wildlife and interactions with animals.
The beaches on the islands around Thailand is even better in the real life. Often white sandy beaches made of coral shells. Some islands are dessert, and some has a native population. There is really no point of waiting - order your tickets to Thailand now, you want regret it,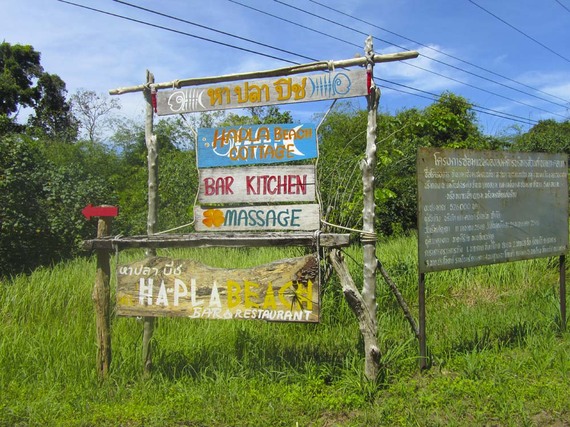 Hapla beach is a hidden pearl at Ko Kho Khao island. Old authentic Thailand - you can also rent a bungalow there.
The Thai government let this gipsy tribe have this Island for them selves. It's located near Surin Islands in the Andaman sea. They live of what the island and the sea gives them. It's wonderful to find such genuine places without the daily stress. I don't think I have never seen happier kids either.