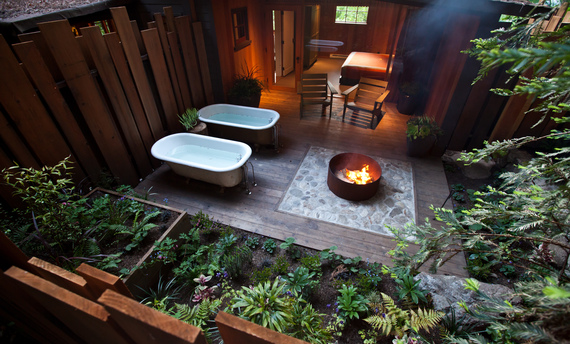 (Photo: James Hall)
The bathroom is arguably the heart of any hotel room. Whether serving as a respite from frenetic city streets or as a romantic spa-like sanctuary for two, the hotel salle de bain can make or break a stay. With that in mind, we're paying homage to some of the best. Discover deep copper soaking tubs, swaths of marble, beautiful views, and soothing rain showers in these unforgettable hotel bathrooms.
While a few of these properties fit firmly in the luxury category, we've left expensive presidential suites and Las Vegas penthouses off the list. These hotels are, for the most part, within reach of the average traveler's budget.
Costa Rica Tree House Lodge, Punta Uva, Costa Rica
The bathroom of the Beach Suite at the nature-focused Costa Rica Tree House Lodge looks like something built for a mermaid. Sand-colored stone forms a double shower and a large central Jacuzzi. Colorful stained-glass windows filter rays of sunlight into the vast room. A giant seahorse statue perches on the edge of the deep tub. Tropical plants flourish. It's surely a fun fantastical space in which to wind down after a day of hiking in the surrounding rainforest.
Jade Mountain, Soufriere, St. Lucia
Chromatherapy (a healing method that uses light and color to soothe and balance) whirlpool tubs are the highlight of the huge bathrooms at Jade Mountain. Grab a glass of Champagne and relax in full view of St. Lucia's most famous vista: From the large pedestal-mounted tubs, which are partially in the open air, bathers can enjoy the sight of St. Lucia's storied Pitons. These very special bathrooms also have spacious six-head rain showers and double sinks.
Amangiri, Canyon Point, Utah
The designers of Utah's Amangiri clearly kept the dramatic environs in mind when they dreamed up this ethereal property. Fittingly, windows abound, as the resort sits among the colorful mesas of Southern Utah. The gorgeous bathrooms of the property's Mesa-View Suites contain deep tubs stationed in front of tall windows overlooking the magnificent landscape, which takes on rose and gold hues when the sun sets and rises. Two-person rain showers, green limestone tiles, and locally sourced artisan bath products enhance the experience.
The Yeatman Hotel, Porto, Portugal
A copper tub with unparalleled World Heritage-site views sits in the appropriately named Bacchus Suite at The Yeatman Hotel. Here, the wide Jacuzzi rests steps from a freestanding fireplace, a rotating bed, and a private double terrace. While relaxing in the deep, round soaking tub, turn one way to take in views of the River Douro and the ancient cityscape (a World Heritage site), then turn another direction to face the warming fire. Now those are what we call options.
The Louise, Barossa Valley, South Australia
Want to stargaze under an invigorating veil of warm water? Shower under the stars in the Australian Outback. In Marananga, South Australia, guests at The Louise can cleanse in private outdoor showers beneath sunny or starry skies. The lodge's Stonewall Suites are outfitted with unique open-air rain showers, plus en suite bathrooms with two-person spa tubs and additional indoor walk-in rain showers. This remote food-and-wine-focused resort is nestled among thousands of acres of olive groves and vineyards in the Barossa Valley, a popular Australian wine region.
The 1900 Inn on Montford, Asheville, North Carolina
Although an image of the bathroom of the Fitzgerald room has gotten a lot of attention on Pinterest, we also love the pretty and enormous bathroom of the Cloisters room at The 1900 Inn on Montford. In addition to the remarkable tub in this 1,300-square-foot guest room, there is a six-by-eight-foot rain shower that is enclosed by etched glass and has seats for those who wish to take a steam bath. There are even speakers in the shower!
Hotel Particulier Montmartre, Paris, France
Wash away your cares in the attic of an old, elegant French mansion. Each artist-designed room at this Parisian boutique hotel is unique. And each room, of course, has its own twist on luxury bathing. Our favorite: Hotel Particulier Montmartre's top-floor deluxe suite, artistically named "Curtain of Hair." The loft space in the attic of this once-private mansion offers priceless panoramic views of Paris. And a beautiful Napoleon III claw-footed bathtub, which sits smack in the middle of the suite, affords bathers the suite's magnificent Parisian city sights. For privacy, head to the en suite bathroom, which contains a shower and has a sliding door.
Hotel 1000, Seattle, Washington
When you arrive in your guest room at Seattle's Hotel 1000, you'll notice a regular-looking spacious bathtub. But this isn't just any bathtub. It's a "fill from the ceiling" bathtub. In the property's luxe rooms, a glass wall divides the main room from the bathroom, where, at the touch of a button, water flows from the ceiling into a very roomy freestanding pedestal tub.
Mainport, Rotterdam, the Netherlands
Private saunas, sweeping views, spacious bathing areas, and sleek, minimalist design—Mainport's guest rooms have it all. The property's sauna and spa rooms, in particular, wow with over-the-top bath and spa amenities. In addition to availing of walk-in showers, mirror-mounted TVs, and Jacuzzis, guests get to relax in the soothing steam of their own private saunas.
Glen Oaks Big Sur, Big Sur, California
An affordable Big Sur property with unforgettable guest cabins and bath facilities, Glen Oaks Big Sur is as unpretentious as it is luxurious. At the lodge's Big Sur Cabin, two outdoor soaking tubs sit side by side in front of a fire pit in a private courtyard. A forest of skyscraping redwoods rising above the courtyard's wooden fence creates a breathtaking scene. To put it simply, this setup allows you to take a bath next to your favorite person in the middle of a redwood forest. Better yet, Glen Oaks is one of the more budget-friendly options for accommodations in the area.
Related