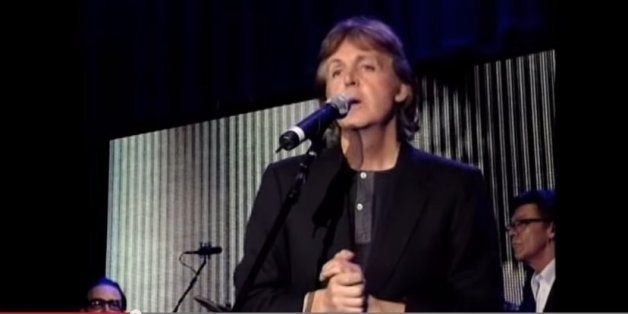 This year, the Rock and Roll Hall of Fame celebrates its 30th annual induction ceremony. To mark the momentous occasion, the Rock Hall went into its archives to find rare gems as well as pull fan favorites from nearly three decades of once-in-a-lifetime performances. The author of this piece is the Rock and Roll Hall of Fame and Museum's President and CEO Greg Harris.
As the Rock Hall gets ready to host the 30th annual Induction Ceremony (presented by Klipsch Audio) on April 18 and the Museum in Cleveland celebrates its 20th anniversary in 2015, I've been looking back on performances from the past 29 years. It's a reminder of what a truly unique event the Hall of Fame Induction Ceremony is. You'll never see star-studded stages and collaborations anywhere like you do at these shows. That said, here are 10 of my favorites:
"Roll Over Beethoven" in 1986
This show-closing jam from the first-ever Rock Hall induction ceremony in 1986 set the bar high for future star-studded performances. Riffing hard on the Chuck Berry classic "Roll Over Beethoven" -- complete with the rock luminary himself duckwalking across stage -- were Keith Richards and Neil Young on guitars. At the side of the stage, Jerry Lee Lewis helped kick off and lead the musical charge behind the keys. It remains a reminder of why the first generation, the main protagonists of the rock and roll era, sent musical shockwaves that have reverberated for decades.
Rumor is that Paul McCartney wasn't scheduled to perform at the 1999 Hall of Fame Induction Ceremony, the year he was inducted as a solo artist. But that all changed as the ceremony drew to a close, as Sir Paul appeared on stage to help close the ceremony. So who does Paul McCartney get to back him on "Let it Be?" Anyone he wants, really, but for the Fab Four founder's impassioned performance, he found a powerful backing band comprising some familiar names: Bono, Eric Clapton, Billy Joel, Robbie Robertson and Bruce Springsteen among them.
"Respect Yourself" and "I'll Take You There" in 1999
The Museum has a permanent gospel exhibit, and in 1999, the Hall honored the electrifying group who held to their gospel roots as they crossed into the pop mainstream: the Staple Singers. An absolutely stirring performance captured not long before the passing of Staples Singers patriarch Roebuck "Pops" Staples in 2000, these versions of "Respect Yourself" and "I'll Take You There" showcased exactly what allowed this group to leave such an indelible imprint on music: the songwriting, the blues-guitar licks, Mavis Staples' rich, raspy vocals and the ringing harmonies of Cleotha, Yvonne and Pervis Staples. The gospel of rock, indeed.
"While My Guitar Gently Weeps" in 2004
A fan favorite from the moment it took shape, this was a tribute performance for the ages. On the night of George Harrison's induction into the Rock and Roll Hall of Fame in 2004, a one-off supergroup featuring Tom Petty, Jeff Lynne, Steve Winwood, Dhani Harrison (George's son) and Prince delivered a truly spellbinding version of "While My Guitar Gently Weeps." Prince's guitar solo alone remains among the most talked-about moments in Hall of Fame history. And just where did his guitar go at the end?
Well-known for their raucous recasting of Stevie Wonder's "Higher Ground," the Red Hot Chili Peppers brought together a who's who of rock, funk and punk for a full-on freak out that closed the Cleveland ceremony on a decidedly higher note. With backup from Slash, Billie Joe Armstrong, Ronnie Wood and George Clinton, among others, what would you expect?
The performance nobody was sure would happen. After Axl Rose (in)famously announced he would not be attending the 2012 Induction Ceremony in Cleveland, the world waited to see not only which former members of Guns N'Roses would show up, but who might perform. And the RSVPs came in: Inductees Steven Adler, Duff McKagan, Slash, Matt Sorum, along with GNR veteran rhythm guitarist Gilby Clarke and Alter Bridge frontman and frequent Slash collaborator Myles Kennedy. That group took the stage, and closed out a bombastic set with this "Appetite for Destruction" jam that reminded many that it's all about the power of the songs (and revved-up codas full of guitar histrionics, rapid-fire drumming, pummeling bass and soaring vocal acrobatics).
Among the greatest elements of each induction ceremony is watching well-known rockers mingle with their heroes, and the 2013 ceremony was no different. Long before grunge became synonymous with Seattle's rock scene, the sisters of Heart -- Ann and Nancy Wilson -- and their bandmates carved out a hard-rock soundscape all their own in the famed Pacific Northwest city. Fittingly then, on the night of Heart's induction into the Hall of Fame, generations of Seattle rockers shared the stage for a blistering version of Heart's 1977 "Barracuda," with Mike McCready of Pearl Jam, Jerry Cantrell of Alice in Chains and Chris Cornell of Soundgarden adding an extra dose of crunch to the wall of six strings. Still, it was Ann Wilson's vocals that really rose to the top.
Robert Johnson probably never envisioned this when he penned "Cross Road Blues." While the tune took on new life in the '60s with Eric Clapton and Cream's re-imagining of its arrangement, popularizing "Crossroads" for a new era, it took a fabulous detour during the 2013 Hall of Fame Induction ceremony. Kicked off with Chuck D. of Public Enemy and Daryl DMC McDaniels of Run DMC's synched proclamations that "the blues gave birth to rock and roll," the spectacular finale charged through a wild "Crossroads" that brought together all the members of Rush, John Fogerty of Creedence Clearwater fame, Dave Grohl and Taylor Hawkins of the Foo Fighters, Ann and Nancy Wilson of Heart, Soundgarden's Chris Cornell, guitarist Tom Morello and singer-guitarist Gary Clark Jr. The crossroads never sounded brighter.
Want to know the depth of influence that 2014 Rock and Roll Hall of Fame Inductee Linda Ronstadt had on a generation of performers? Look no further than the group of incredible vocalists who shared the stage during the Induction Ceremony's first trip to Brooklyn, New York, in tribute to her. Belting out a joyously spirited version of Ronstadt's "It's So Easy" were Stevie Nicks, Carrie Underwood, Bonnie Raitt, Emmylou Harris, Sheryl Crow and Glenn Frey. That's a remarkable sphere of influence -- all influenced by a single person. With a lineup like that, it's so easy to fall in love.
"Smells Like Teen Spirit" in 2014
Much of the buzz around the 2014 Induction Ceremony centered on who -- if anyone -- would perform songs from Nirvana's celebrated catalog. Inductees Dave Grohl and Krist Novoselic, as well as longtime Nirvana rhythm player (and Germs punk) Pat Smear were on hand, ready to play, but who would bravely fill the impossibly large shoes of departed frontman Kurt Cobain? Turns out, a quartet including former Sonic Youth member Kim Gordon ("Aneurysm"), St. Vincent ("Lithium") and "Royals" sensation Lorde ("All Apologies"). The whole amazing set, however, kicked off with 2015 Hall of Fame Inductee Joan Jett lending her voice and guitar to the song that came to symbolize so much: "Smells Like Teen Spirit."
This post highlights my favorite 10 performances, but fans can vote here for their favorite performances via the Rock Hall's online poll! The 10 fan favorites will be featured in the Rock Hall's 2015 Hall of Fame Inductee exhibit.
Popular in the Community