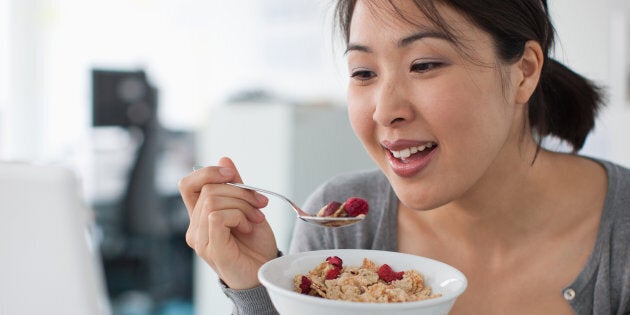 For some people breakfast is their favourite meal of the day, the time where they can take a few moments and enjoy a delicious meal, while for others it's a chore.
Regardless of where you stand, brekky is important for fuelling our bodies after a night's rest and to mentally prepare for the day.
"If you separate the word 'breakfast' it becomes 'breaking the fast' which is the point of it -- to break the overnight fast," Chloe McLeod, accredited practising dietitian and sports dietitian, told The Huffington Post Australia.
"What the research is often showing is if breakfast is skipped entirely, then calories can end up being over-consumed later on in the day as you're really hungry at that point. That's a really common story that I hear from clients."
But if you don't have time to have breakfast at home (aka sleeping through your alarm -- it happens to the best of us) or you aren't hungry when you wake up, having it at work is a great idea.
It's about doing whatever is going to suit you and your schedule best.
"It's often suggested we must eat within an hour of waking, but if we come back to the appetite side of things, if you're not hungry when you wake up but get hungry once you've got to work, there's no problem with having it then," McLeod said.
While it's been said that having breakfast upon waking boosts metabolism, McLeod says there is research to suggests otherwise but that it really depends on the individual and there's nothing wrong with having breakfast a little later.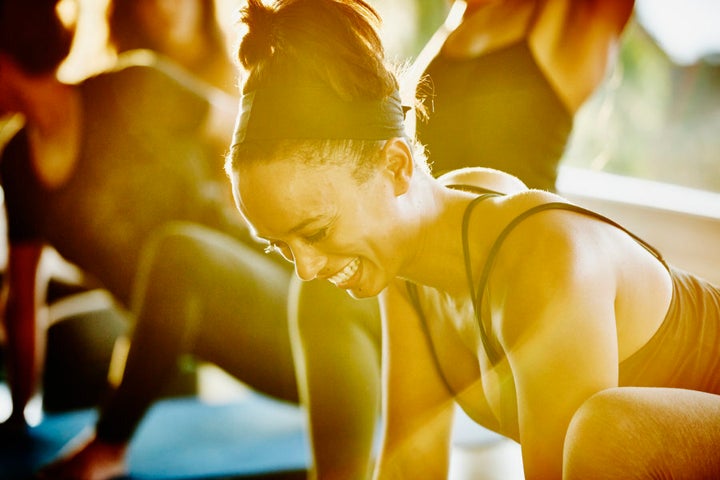 "The way I see it is if you're the type of person who exercises in the morning, comes home, has a shower and eats breakfast, that's great if that works for you," McLeod said.
"If you get up, get ready for work, commute to work and eat breakfast when you get there, again, that's totally fine. Or maybe you get up and eat breakfast immediately because you're hungry. That's fine, too. It's about doing whatever is going to suit you and your schedule best."
For people with really long commutes, however, McLeod recommends having part of your breakfast at home, or on the bus or train, to avoid feeling over-hungry by the time you've got to work.
"If people do have really long commutes to work, you might end up getting over-hungry and consume more than you need," McLeod said. "In this instance, you could have the fruit that you would normally have with your breakfast before you leave the house and then have the rest of your breakfast at work."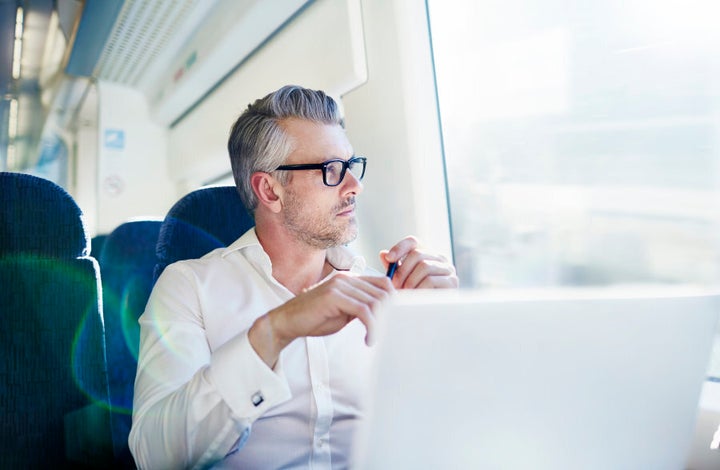 If you're feeling a bit daunted about the idea getting breakfast sorted for work every day, McLeod recommends one top tip.
"The main tip is to be organised," McLeod told HuffPost Australia. "If you need to take your breakfast ingredients to work, have it ready to go the night before. Otherwise it's an extra five minutes meal prep time in the morning which you could spend sleeping or reading HuffPost!"
If you don't want to take your breakfast ingredients in with you, keep everything at work so you can then quickly make it there.
"Or you could do a bit of a mix. Maybe you buy a loaf of bread to work and chuck it in the freezer, so you've got that there ready. And then you bring in toast toppings from home so you've got a couple of different options. You could do the same with yoghurt by buying a big tub and keeping it in the fridge for the week."
Here are 10 breakfast ideas you can make at work in under five minutes.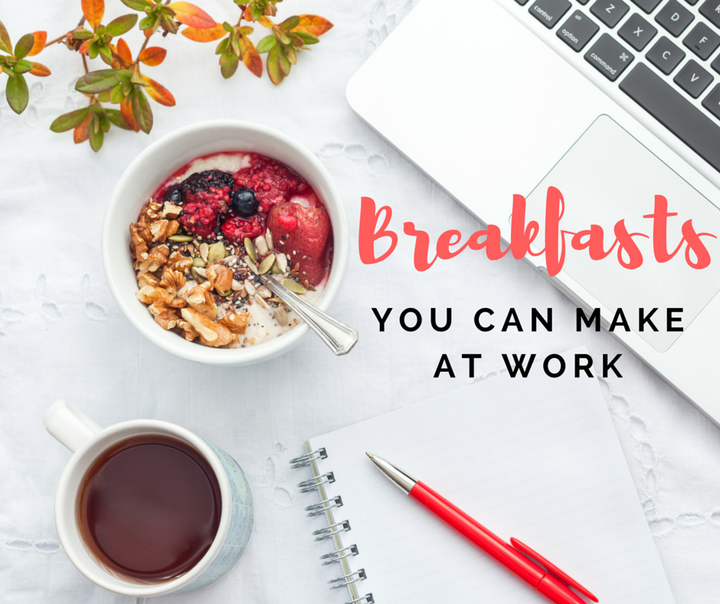 1. Avocado on whole grain toast
All you need to make this Aussie breakfast staple is a few slices of whole grain bread, avocado and a toaster. The fibre, complex carbs and healthy fats help to keep us full and satisfied until our next meal.
"Avo toast is a favourite," McLeod told HuffPost Australia. "We're lucky to have a pretty constant supply of avocado."
2. Cereal with milk, yoghurt and fruit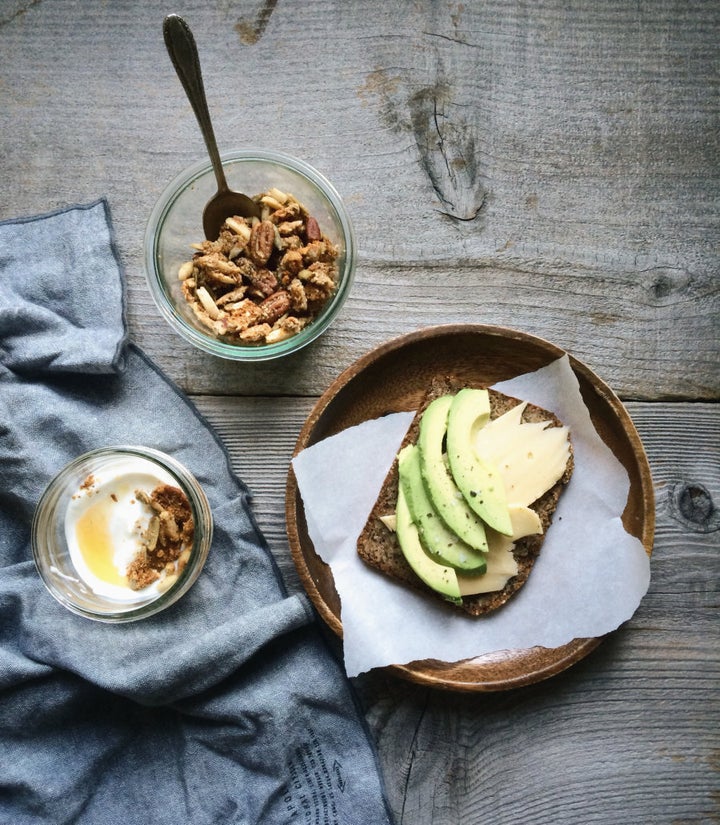 If Weet-Bix is your go-to cereal, McLeod recommends the multigrain version as they are lower GI and keep you full for longer.
"Or you could have plain ones with nuts and seeds to make them lower GI," she added.
"Other cereals I like suggesting are All-Bran or Guardian -- yes, they're a little bit bland but you can dress them up yourself with fruit, yoghourt, nuts and seeds. Goodness Superfoods protein cereal is one of my go-tos, as well. It's got a bit more protein in it compared to other cereals. It's made from barley so it's really low GI."
3. Oat porridge
"Porridge is a really good one," McLeod said. "What I actually often do, to save room in my bag, at the start of the week I make up five little bags of my favourite oat, chia seed and nut porridge mix to take to work each day.
"Then I'll cook it at work with banana and water, and put yoghurt on top once it's cooked. Or you can put an individual serve in a tupperware container and bring that to work to microwave."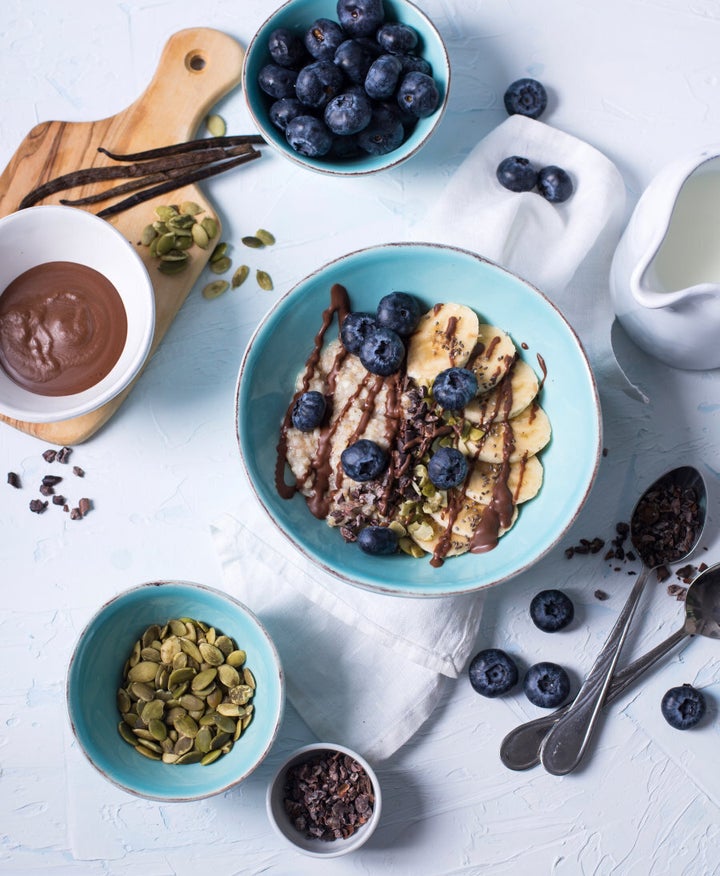 4. Raisin toast with nut butter
Raisin toast with cinnamon and nuts is a perfect breakfast for those with a sweet tooth.
"You can buy some really good wholemeal raisin loaves now," McLeod said.
Top a few slices with your favourite nut butter -- peanut, almond, macadamia and cashew are all amazing -- to help boost the nutritional profile with healthy fats.
5. Soft boiled eggs
"If you're wanting eggs, you can have pre-boiled eggs, slice them up and have with cheese, tomato and spinach on toast," McLeod. "You could put this into the sandwich press so you have a nice toasted sandwich."
6. Ricotta and banana on toast
"Ricotta and banana is a really delicious, filling toast topping," McLeod.
This is another great breakfast for those who like a sweet as opposed to savoury start to the day. Simply toast up a few slices of bread, add ricotta and sliced banana (and a sprinkle of nuts and honey).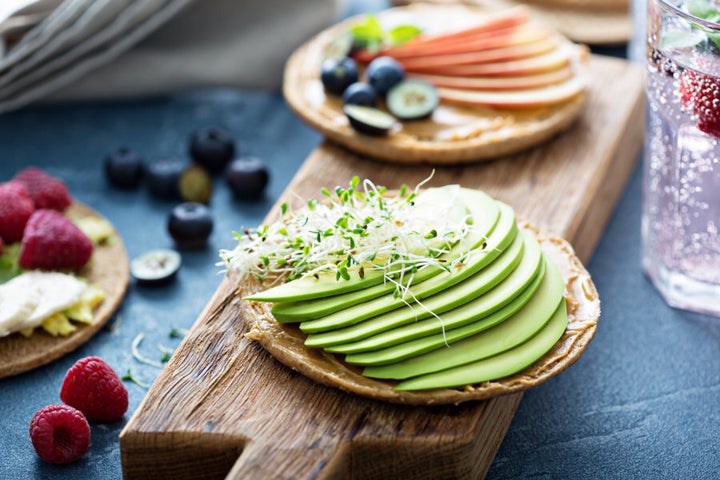 7. Leftover veggies with boiled egg or salmon
Got a bit of dinner left over? Instead of throwing it out, pop it in a container with a boiled egg, tuna or salmon and you're sorted.
"Often people say that's lunch but there's nothing to stop you from having that for breakfast," McLeod said.
8. Overnight oats or Bircher muesli
"Overnight oats are another great option," McLeod.
Then, once you're at work, top it with fresh or frozen fruit, nuts, seeds, nut butter or more yoghurt.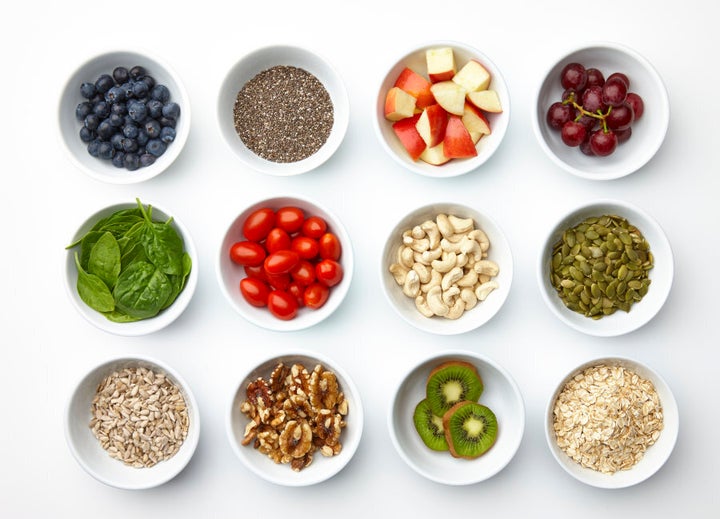 9. Quinoa or barley porridge
"The other thing I quite often do is, if I'm making up barley or quinoa to go with my dinner, I'll make extra and have that as a porridge the next day," McLeod told HuffPost Australia.
"Reheat so it's really, really hot and add chia seeds if you feel like adding it, and your favourite toppings. That keeps things interesting and different."
10. Milky coffee and a banana
For people who really aren't hungry in the morning, even when they get to work, McLeod recommends having a coffee and a piece of fruit. This provides protein and fat from the milk, as well as carbohydrates, fibre, vitamins and minerals from the fruit.
"If you're someone who doesn't have a big appetite in the morning, I'll often suggest a flat white and a banana," McLeod said. "Sometimes this is enough to keep you going for the morning, and then have a vegetable-based meal for lunch and dinner."