Japanese food, called washoku, is recognized as one of the healthiest cuisines around. So what is considered comfort food for the Japanese? We'll introduce you to 10 distinctive Japanese comfort foods that will warm your tummy this winter!
Miso soup, along with a bowl of rice, is considered the main part of a classic, healthy Japanese breakfast. The soup is made with a miso base, after which other ingredients are added such as: dashi broth, tofu, chopped green onion, wakame, seaweed, etc.
This favorite snack, often made from leftover rice, is standard fare for lunches and picnics. The highly portable triangular-shaped sticky rice ball is formed by squeezing it just so in the palms of the hands. Each ball can be filled with one of your favorite ingredients, such as salmon or tuna, after which the triangle of rice is girthed with a piece of seaweed.
3. Tempura (fried vegetables)
Although these lightly battered and fried vegetables are thought to have originally come from Portugal, tempura is a classic Japanese food.
4. Okonomiyaki (battered pancakes)
Oknomiyaki (literally "grilled as you like it") isn't just fun to eat, it's fun to make! Mix up cabbage with a combination of okonomiyaki flour and milk, add a raw egg, then ingredients such as cheese, fish, pork, or corn (anything really-as you like it!). Leave it on the grill to cook then top it with sweet okonomiyaki sauce!
5. Tamago Kake Gohan (egg and rice)
Just a raw egg, a little soy sauce (if you like) and some cooked white rice will give you a meal on the go. Just mix it together: ta-da! Who said you couldn't cook Japanese food?
6. Nabe (stewed meat and vegetables)
Nabe is stewed in an earthenware pot that sits in the middle of the table. Meat and vegetables are added throughout the entire dinner session, with each person around the dinner table reaching into the pot with their chopsticks to pick out their own vegetables or meats as the ingredients slowly cook. Nabe, a winter food, is usually associated with close friends and family.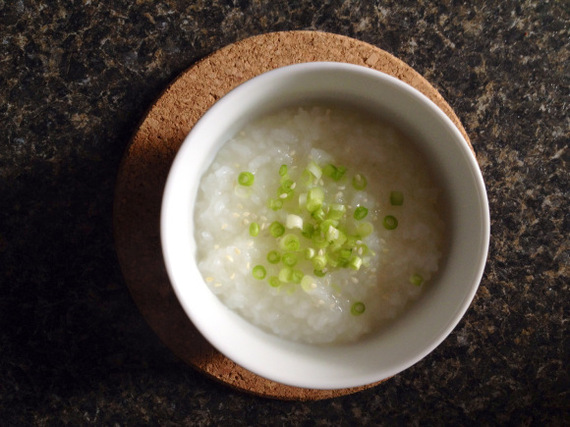 Flickr Commons (aehdeschaine)

When Japanese feel a cold coming on, they reach for okayu-a warm, easily digestible mush made from rice. So next time you're feeling a bit under the weather try some rice porridge!
The warmth of steam emanating from a large bowl of Japanese udon noodles enveloping your face in the wintertime is enough to warm you to your toes.
9. Takoyaki (octopus balls)
These balls of battered and fried octopus are bite-size and can be eaten with your hands. Served with takoyaki sauce and mayonaise, these are the perfect snack! These days many households have electric takoyaki molds for making these tidbits at home.
10. Ochazuke (rice and green tea)
Ochazuke is consumed at the very end of a meal, using any leftover rice which is mixed with green tea (and perhaps some other things leftover). The rice concoction is then presented as the last course. It's warm, it's delicious, and you somehow find a little extra room in your distended stomach for it!
Related