There's so much more to wedding food than chicken and potatoes. From decadent cheese platters to push pops for dessert, spice up your reception with one of these unique ideas.
Photo: Jen Huang Photography/The Knot
It's nothing new to offer water or lemonade at cocktail hour and to have it displayed in a cute way (hello mason jars). But the new beverage bar for weddings is far more exotic with unexpected offerings like lemongrass infused ice cubes to fresh pressed ginger drinks and even loose-leaf tea bars where guests can mix and match their favorite leaves for the perfect blend.
Photo: Eclectic Images/The Knot
Dim sum is now making its way into the wedding world. Imagine dumplings as well as other appetizers or small plates are rolled throughout the cocktail party on carts or served to each table for guests to pick and choose what they'd like. Pair them with mini sake shots or even lychee martinis. (Tip: This could be a really fun food idea for a bridal shower or even engagement party!)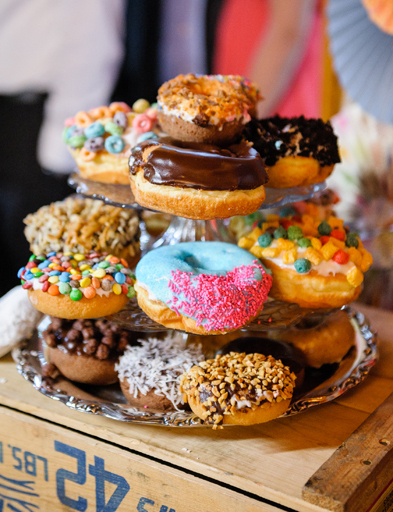 Photo: Nikki Closer Photography/The Knot
Maybe you're not cake people or maybe you both have a serious sweet tooth. Either way, the idea of a donut bar (or even a cronut bar) is genius. If you do it to replace your wedding cake, stack up the pastries into a tower plan to cut into a donut for your cake cutting. Then serve up retro flavors -- like cream and jelly filled donuts -- alongside your donut tower. Or get fancy with it and choose never-heard-of-that-before varieties like white chocolate and almond or coconut and mango donuts.
Photo: Kristen Marie Photography/The Knot
Instead of the expected passed appetizers on trays, the idea here is that servers or even chefs walk around the room preparing food to order for your guests. A few fun ways to bring the idea to life: Have a raw bar with a chef shucking oysters or a chef that rolls around to each table and prepares sushi right in front of your guests.
Photo: Robin Procter Photography/The Knot
Wine pairings are always nice but the new idea is to match passed appetizers with a cocktail, beer, or even a shot. Imagine tiny lobster tacos with mini hibiscus margaritas, mini pastrami sandwiches paired with mini mugs of craft beer, or even caviar and crackers with mini shots of vodka on ice.
Cheese platters are getting the star treatment at weddings this year. Some couples are actually hiring knowledgeable cheese pros to teach guests about each cheese profile during the cocktail hour -- making it far more interactive than the typical cheese setup. Beyond cocktail hour, consider switching it up and serving cheese after dinner alongside the cake!
Photo: Jennifer Lindberg Weddings/The Knot
It's a given that you'll have at least one or two vegetarian options at your wedding, but these days, more and more couples are serving vegan and gluten-free foods too. It's not just to accommodate guests with food allergies -- caterers are creating really incredible menus that even your meat eaters would try. A few of our favorite vegan ideas: vegan sushi, falafel sliders, and tomato risotto cakes.
Photo: Hudson River Photographers/The Knot
And on the other end of the spectrum, meat eaters can get excited because meatballs at weddings are big. We know one caterer who loves to serve lots of mini meatballs paired with a choice of creative sauces like peppercorn cognac sauce or sundried tomato pesto. Another idea? Ask your caterer about serving up mini meatball sandwiches at the cocktail hour or after-party.
Photo: Jen Kroll Photography/The Knot
Remember push pops? Well some ultra-creative caterers have taken the idea up one big notch for weddings. We've seen everything from cheesecake to macarons, moon pies, and red velvet cake push pops. Hint: They also make for a cool groom's cake alternative!
Photo: Kathryn Krueger/The Knot
It's your wedding, so why not choose your absolute favorite breakfast foods? Think about it: bacon, egg and cheese sandwiches, pan-fried potatoes and even blueberry pancakes. The trick to pulling it off breakfast food is to make it look like it belongs at a wedding. So ask your caterer for ideas, but a few we love to get you started include bacon and fried egg cupcakes at cocktail hour, mini French toasts, or even jumbo shrimp spiked with Bloody Mary pipettes (trust us, it's amazing).
Popular in the Community