We don't have a crystal ball but we do have our pulse on what's hot in the world of weddings. From Wild West weddings on the ranch to bridal jumpsuits and GoPro wedding videos, here's what's new for 2015.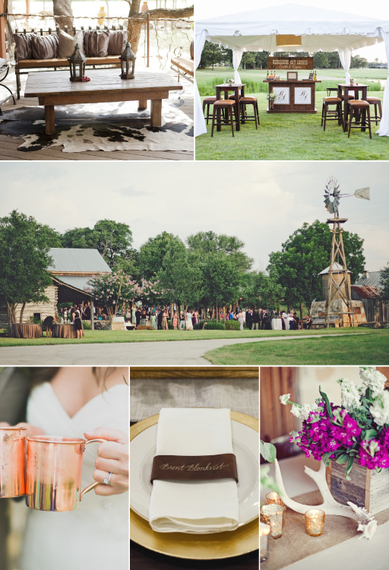 Luna Photo; Theo Milo Photography; The Nichols Photography; The Nichols Photography; Artistrie Co.; Theo Milo Photography
Weddings are headed west -- at least in style and design. The big theme of the year is inspired by ranches and lots of leather accents. The details are personal and elevated, but the party has a fun, relaxed vibe. A rustic ranch sets the scene for details like antler motifs, distressed lounges with cowhide rugs and wildflower bouquets. Mix in leather elements to contrast the soft and romantic wedding details in accents like the napkin belly band. Guests can sip on specialty craft beers or mix their own heirloom bourbon cocktails in a copper mug. Your attire can echo the Wild West look in a long-sleeve dress with subtle lace embellishments and an ethereal illusion neckline. Look to designers like Reem Acra, Maggie Sottero and Temperley London for ideas.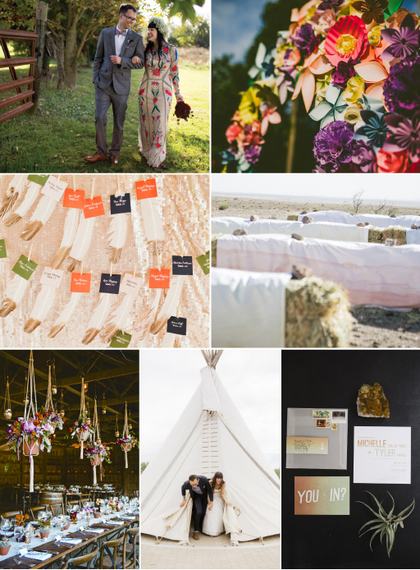 Casey Clark Photography; Carolyn Scott Photography; onelove photography; Brooke Schwab; Brooke Schwab; Brooke Schwab; Rebekah Murray Photography
If your style is totally laid-back and casual, use boho-chic music festivals, like Coachella, to inspire your wedding. Think: a backyard or open-field setting, complete with kitschy details like striped tepees, cocktail hour lounges and picnic-style dining. Keep the colors bright and festive, yet earthy (try sunny yellow and teal paired with terra-cotta). Must-have elements include hand-drawn maps with your invitations and fun, not fussy, wording on your invites (instead of "accept" write "you in?") to really drive home your theme. For the fashion, a gauzy and modern take on the bell-sleeve wedding dress evokes a '70s, Woodstock vibe. Intentionally mismatched bridesmaid dresses will keep the look effortless and easy.
Drone Wedding Photos and GoPro Videos
If you want a view of your wedding from every angle imaginable then try this trend. Some photographers are getting in on the action by using drones to capture aerial shots, like the view of your ceremony from overhead and the amazing scenery. Videographers are doing it too by bringing along GoPro cameras to the wedding in addition to their video cameras. The cool part about these is that they can be attached to a "selfie stick" to get ultra-creative shots of you and your guests on the dance floor and record your guests' candid reactions as they enter the reception.
Bridesmaids Are Off the Hook -- There's An App for That!
You don't need to get all of your bridesmaids together to tie bows on wedding favors anymore. Instead, lots of couples are enlisting wedding planning help through apps like TaskRabbit to take on any small to-dos, TouristEye to help plan the honeymoon itinerary, and (ahem) The Knot Wedding Planner app to find and get in touch with all of the right wedding pros. Being a wedding guest is easier this year too. All of the major registries make it easy to buy gifts straight from your phone, and Uber and Lyft ensure guests don't have trouble finding a ride at the end of the night.
Food and drink are taking center stage at weddings this year in an outrageous way. We're talking hanging salad stations, doughnut dessert walls that double as escort cards and beer-garden-inspired stations, complete with beer steins made of ice. You could ask your caterer to help you come up with creative ideas or follow what a few innovative couples' lead and actually hire a food stylist to dream up something over-the-top.
Bridal Jumpsuits and Statement-Making Separates
This season's runway wedding dress designs are more playful and dressed down. Jumpsuits, separates and menswear-inspired styles, like these ones by Houghton, Delphine Manivet and Theia are giving the traditional bridal look a new edge that's a bit celebrity inspired. Remember Olivia Palermo's chic shorts with a tulle overlay and Solange Knowles' several jumpsuits? If that's too edgy, then look to the latest accessory trends, which involve bold add-ons such as top hats, ear cuffs and lace gloves.
Unexpected Wedding Venues
More couples will look to unexpected spots for their wedding venue, like castles, private estates, museums and even caves (yep, you read that right -- the one in Bowling Green, Kentucky, is crazy-beautiful). The best part about a unique venue choice is you don't have to go overboard on all the décor -- you can let the space speak for itself. Keep in mind that if you go this way, the logistics may be trickier than they would in a traditional wedding venue.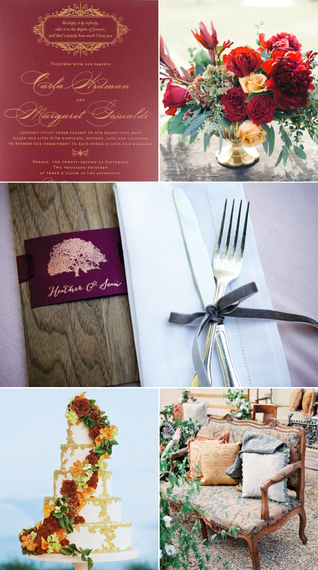 Jeff Tisman Photography; Cyn Kain Photography; Ashley Garmon Photographers; Steve Steinhardt Photography; Abby Jiu Photography

Royal Color Palettes
Marsala, Pantone's Color of the Year, set the tone for 2015's wedding hues. It's a rich wine red that's sophisticated, stylish and versatile. Pair marsala with dusty blue for a pretty, romantic feel (imagine marsala centerpieces paired with blue velvet linens), while a rose gold and marsala palette is rich and glamorous (think: rose gold foil font on a marsala card stock).
Bonus: Flowers, like dahlias and peonies, grow naturally in this hot hue, and it's a flattering color for your bridesmaids to wear if you want to make a statement.
Why have one dress when you can have three? We've heard of brides changing their dress for the reception or late night for the after-party. Now, a few fashion-forward brides are actually choosing three different gowns for each part of the day. Imagine a ball gown for the ceremony, a sleek sheath for the reception and then a short, feathery minidress for the after-party. It sounds like a lot, but for some brides who just can't decide, this is a fun trend to try.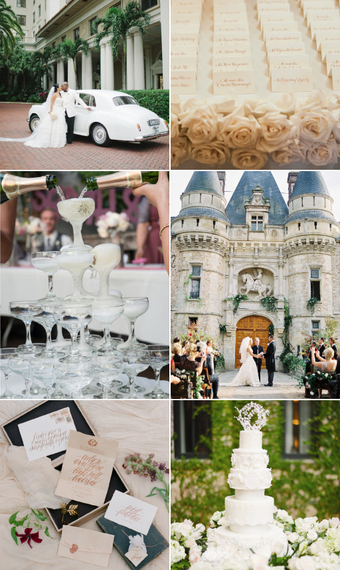 Shea Christine; Victor Sizemore Photography; Steve Steinhardt Photography; KT Merry Photography; Jen Fariello Photography; Megan Moura Photography
Casual weddings have reigned for the past five-plus years. But we love that some couples are taking their wedding style in the very opposite direction with lots of opulent details, like a champagne tower, multitier cake and dramatic entrance. If you really want to go over-the-top, take a page from the new Cinderella movie and actually have it in a castle (a few of our favorite castles and estates are the Biltmore Estate, Oheka Castle and Hearst Castle). Even if your wedding won't be in a castle, you could still add formality to it with touches like hand-delivered invitations and valets to escort guests to their seats at the reception. This is your chance to go all out and wear a big, white ball gown and even a crown. Guys can get fancy too in three-piece suits.
Related