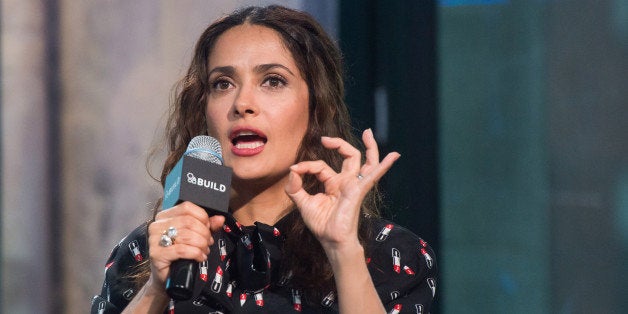 Hispanic Heritage Month is an annual event that celebrates and spreads awareness of Hispanic and Latino culture. Common Sense Media is joining the celebration by highlighting advice, role models, and great media choices that can help you and your family enjoy and incorporate more of these cultural touches into your daily lives.
Positive media role models have a huge influence on kids -- especially those who don't often see themselves represented positively in the media. But as more Latinos receive global acclaim for their accomplishments in media and tech, they chip away at stereotypes and offer kids of all backgrounds achievements to look up to and emulate. These influential Latino figures -- including award-winning actors, directors, writers, and entrepreneurs -- are making an impact on their respective industries as they change perceptions of cultural identity.
Salma Hayek. Hayek began her career in Mexico starring in soap operas. Then she moved to Los Angeles and studied acting -- and the rest is history. Among her family-oriented films, Hayek has worked on The Pirates! Band of Misfits and Puss in Boots.
Isabel Allende. Allende is an internationally acclaimed writer who started her career as a journalist and TV personality in Chile. She has written more than 20 books, including the historical political novel The House of the Spirits. Allende writes in Spanish even though she has lived in California for almost three decades. She founded the Isabel Allende Foundation in honor of her daughter Paula, to help advance women's issues.
America Ferrara. This young actress has earned respect and admiration by challenging assumptions of beauty. Her work includes Real Women Have Curves and Ugly Betty.
Luis von Ahn. A scientist, professor, and entrepreneur, von Ahn was born and raised in Guatemala. He cofounded Duolingo, a game-based language-learning website and app that has transformed the way kids can learn new languages.
Guillermo del Toro. A versatile artist, del Toro has enjoyed a successful career as a Hollywood director, producer, and screenwriter. Famous for his offbeat sensibility, he also has produced kids' movies such as Kung Fu Panda 2 and Puss in Boots.
Julia Alvarez. Born in New York City, Alvarez moved to the Dominican Republic with her Dominican parents when she was three months old. She is the author of many books, including novels, nonfiction, and poetry. In books such as Return to Sender and Before We Were Free, she explores complex issues such as illegal immigration and living under a dictatorship.
Diego Luna. Considered one of the best Mexican actors, Luna has appeared in films, on stage, and in TV soap operas. Among his many creative endeavors, he voiced a lead character in the animated movie The Book of Life, which earned a Common Sense Seal for its family appeal.
Gina Rodriguez. A salsa dancer since age 7, Rodriguez is known for her portrayal of Jane in Jane the Virgin, a TV soap opera that earned her a Best Actress Golden Globe Award.

Common Sense Media is an independent nonprofit organization offering unbiased ratings and trusted advice to help families make smart media and technology choices. Check out our ratings and recommendations at www.commonsense.org
REAL LIFE. REAL NEWS. REAL VOICES.
Help us tell more of the stories that matter from voices that too often remain unheard.