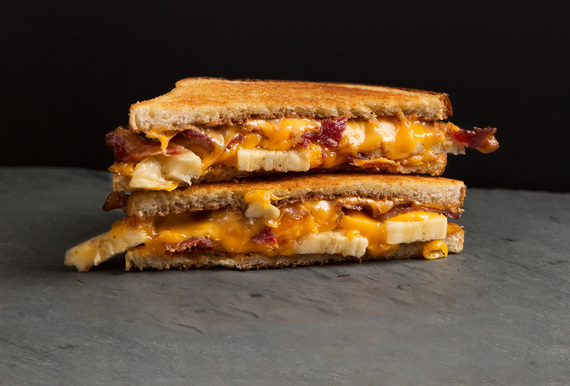 A recipe for grilled cheese may seem unnecessary, but so are ball pits, and that doesn't make them any less awesome. And unlike ball pits, there are some simple steps and affordable ingredients that can transform a standard grilled cheese into legendary status.
But before you get to the good stuff, here are the basics: Use high-quality white sandwich bread (unless the recipe calls for something else), melted unsalted butter on both sides of the bread, and a large, nonstick skillet over medium-low heat for "grilling." It's these fromage fundamentals that ensure a golden-brown finish.
Now get your drool buckets ready -- it's about to get cheesy.
Cut two 1-inch slices off a brioche loaf. Crop a hole out of one slice using a 2-inch round cookie cutter. Coat both slices in butter and toast in skillet until golden. Flip slices and break an egg into the hole. Cover the other slice with ¼ pound of grated fontina cheese and 1 ounce of crispy pancetta. Cook until cheese melts and just the egg whites set. Top cheese slice with egg slice. Check your blood pressure medication refills.
Butter and toast both sides of white sandwich bread in a nonstick skillet. Top each bread slice with 2 ounces gouda cheese and ½ cup potato chips. Once cheese melts, combine the slices together, fillings facing in, and press, crushing the chips (enjoyed that crunch, didn't you?), until the slices stick to each other.
Boil 2 baby red potatoes (1-½ to 2 inches in diameter) until tender, about 30 minutes. Heat the oven to 450°F. Drain potatoes on paper towels and, using another layer of paper towels, gently press down on the potatoes with the palm of your hand to flatten to ½ inch. Feel free to say something like, "Yeah, take that, potato!" Place potatoes on a baking sheet, coat each one with 1 tablespoon olive oil and season with salt. Roast the potatoes until crispy and deep brown around the edges, about 30 minutes, flipping halfway through.
Heat a skillet over medium-low and make two small piles of parmesan cheese on the surface. Place a smashed potato on each pile. Top both with cheddar cheese. Cook until cheddar is melted and parmesan is golden brown and crusty. Top one potato with the other, cheese facing in, and smash them together with a spatula. Serve hot with sour cream and chopped chives.
Toast a footlong loaf of garlic bread in the oven until crispy (according to package instructions). Important: Do not give up and just eat entire loaf of garlic bread. Halve the bread lengthwise and place the slices cut-side down on the skillet. Top each with 2 tablespoons pizza sauce, a sprinkle of dried basil, 5 slices mozzarella, and 4 slices pepperoni. Once cheese melts, place one slice on top of the other, cheesy sides facing in, and flatten with a heavy, cast-iron pan.
Butter and toast both sides of thick brioche slices in a nonstick skillet. Combine ¼ cup cream cheese with ¼ cup mascarpone and 1 tablespoon powdered sugar; spread mixture onto both slices. Top with 4 sliced strawberries. Once cheeses soften, combine slices, with fillings facing in, and lightly press to set.