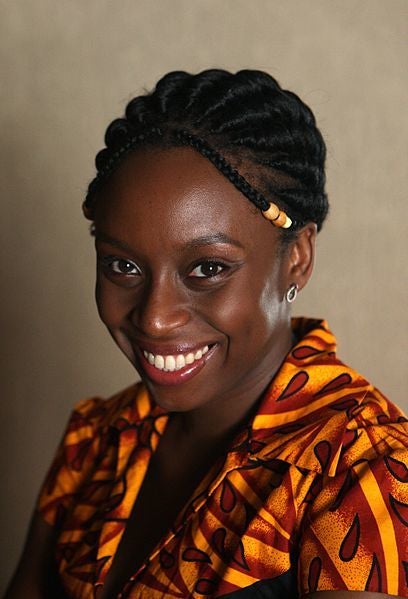 Many people are of the opinion that feminism is not African, but rather a borrowed concept. Despite this assumption, African feminism can be traced back to the twentieth century. This period saw feminists such as Adelaide Casely-Hayford, Charlotte Maxeke and Huda Sharaawi champion the cause of African women.
Today, African feminism is very much alive despite the patriarchal nature of the African society. African authors, bloggers, politicians, activists, and scholars continue to defy tradition and defend the feminist cause in the 21 century.
Bloggers are known for their expertise on specific topics and this Nigerian-Finnish speaker, blogger and social critique is no exception. Minna Salami has built a following and gained popularity with her blog MsAfropolitan which centers on issues from an African feminist perspective. Having being exposed to both the African and European culture, she has an understanding of both worlds and this is reflected in her writings and perspective on feminism.
Her writings have appeared in the Huffington Post, The Guardian, and The Observer among others.
Jessica Horn is a Ugandan African feminist activist and women's rights advisor. She is a board member of Mama Cash and director of programs for the African Women's Development Fund. Both organizations provide funding for women and girl movements around the world.
She also heads Akiki Consulting where she has been a consultant for different organizations including the United Nations. Her consultancy work involves issues surrounding women's rights,ending violence against women, supporting women living with HIV, ensuring women's rights in post-conflict reconstruction and peace building.
Nigeria is known as the most populous country in Africa and also for producing Chimamanda Ngozi Adichie.
Chimamanda Ngozi Adichie is a Nigerian author and is popularly known for her books Half a Yellow Sun, Purple Hibiscus, We Should All Be Feminists, and Americanah.
Her Tedx Talk 'We Should All Be Feminists' in which she expounds passionately about culture and women went viral in 2013. The talk was later published as an essay by the same title. It is interesting to note that Beyoncé used parts of Chimamanda's Tedx Talk in her song Flawless.
Theo Sowa is a Ghanaian feminist and the CEO of the African Women's Development Fund. African Women's Development Fund is a non-governmental organization that supports African women and African women movements to advance women's rights and gender equality in Africa.
Another Nigerian feminist who has vigorously fought for women is Bisi Fayemi. Bisi Fayemi is a feminist, writer, and entrepreneur. Her compassion for women started in university and has led to her being one of the founders of the African Women's Development Fund. The African Women's Development Fund provides funding for women organizations all across Africa.
During her time as the First Lady of Ekiti State in Nigeria, she collaborated with state legislators and civil society groups to get the Gender Based Violence Prohibition Bill of 2011 and the Equal Opportunities Bill of 2013 to be signed into law.
Joyce Banda is a Malawian grassroots women activist, politician, a former vice-president, and Malawi's 4 and first female president. Her journey into the world of feminism started with her leaving an abusive marriage and later marrying Richard Banda, a magistrate who would later become the Chief Justice of Malawi.
Her marriage to Richard Banda gave her access to certain privileges and therefore she was able to set up her own business and became a prominent business woman in Malawi. Upon her realization of her success being built on her husband's influence, she wondered about other women who did not have affluent husbands to support them.
To fill that void, she set up the National Association of Business Women, a networking organization designed to enable women to access funds for their businesses and become economically reliant.
Her journey into politics started in 1999 when she won a seat in parliament. She moved on to become the Minister for Gender and Community Service under the administration of President Bakili Muluz. During her time as a minister, she fought for the enactment of the Domestic Violence bill. She assumed office as the President of Malawai in 2012 and was listed as the one of most powerful women in the world by Forbes in 2014.
Amina Mama is a Nigerian-British academic and feminist. She is said to be Africa's leading contemporary feminist scholar. Amina Mama uses her work—which focuses on applying feminist principles and methods— to connect with feminists around the world.
Her popular works include Beyond the Masks: Race, Gender and Subjectivity (Routledge 1995) which in 2002 was listed as one of Africa's 100 Best Books in the twentieth century, Engendering African Social Sciences (co-edited and published by CODESRIA 1997, French edition 2004), and The Hidden Struggle: Statutory and Voluntary Sector Responses to Violence Against Black Women in the Home (Runnymede 1989, republished by Whiting and Birch 1996).
Ghana is known for its beaches and castle turned museums. But in the literary world, the country is known for the literary icon Ama Atta Adioo. Ama Atta Adioo is a Ghanaian novelist and author. As an African feminist, her work—such as the book Changes—revolves around contemporary African women, the choices they make, and the factors limiting them from achieving their dreams.
Her take on feminism is that it is an ideology just like capitalism or socialism; therefore men too can be feminists. To her feminism is based on the women having the same opportunities that men have.
Her work has received global acclaim. She has also established Mbaasem, a non-governmental organization that promotes women writers in Africa.
Egypt is home to Pharaohs, pyramids and Nawal El-saadawi. Nawal El-saadawi is an Arab feminist writer and medical doctor who braved the highly islamic Egyptian society and fought for the freedom of Egyptian women from oppression. As a doctor she fought against female genital mutilation and got into trouble a number of times for helping women.
Her book Women and Sex published in 1972 has been said to be a foundational text for the second wave of feminism. The book was one of the reasons she was dismissed from the Ministry of Health where she worked at that time.
She was imprisoned for her views which were seen as controversial. Her experience in prison formed the basis for her book Memoirs From The Women's Prison. Her books focus on the hardship women face and how they fight oppression. Her books have been translated into different languages and she is the founder of the Arab Women's Solidarity Association.
Leymah Gbowee is a Liberian woman activist who is known for her efforts towards ending the civil war in Liberia. Her journey into peace building started after she had a vision telling her to gather the women of Liberia to pray against the war in Liberia. From then on, she became the leader of Women of Liberia Mass Action for Peace.
Using this platform, she launched a peaceful protest against President Charles Taylor's dictatorial regime and. gathered women of different faiths from all over Liberia to pray against the war in the country. She even held a sex strike which was not very successful but drew media attention to the movement and their cause.
In June 2003 she led a delegation of women to attend the peace talks in Ghana to pressure the warring factions to end the war. Her efforts contributed to peace in Liberia which led to the election of Ellen Johnson Sirleaf as the President of Liberia in 2005. She has earned numerous awards including the Noble Peace Prize in 2011.
These African women have proved that there is a thing called African feminism and continue to serve as an inspiration to feminists all over the world.
Related
Popular in the Community