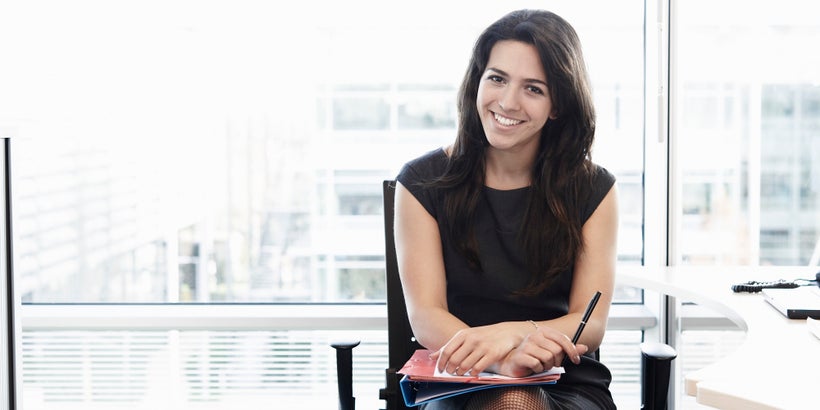 Innovation is one of those words the world of entrepreneurship salivates over. And why wouldn't they? After all, who doesn't want to be at the forefront of not just ideas, but products that could quite possibly change the world. In yet, not everyone is cut from the same cloth, but when it comes to women in the startup world, they're setting innovation to a new level.
Below we've compiled a list of some of our favorite women doing some amazing things in innovation. Not only are they pushing the bar in industries like weddings, FinTech, AI, and Social Media, but setting the standard for what's to come next. Yes, the startup world is about to be shaken up by some incredible folks on the come up. Don't sleep, because pretty soon, it wouldn't surprise us if these women became household names in 2017.
1. Tami Fricks, founder of Sassy Bitch Wines
From what started as a need to pick out wine for a party, Tami Fricks was able to transform the common problem of not knowing what type of wine to buy into a booming business. Rather than relying on the common notions of what vineyard it was from or how long it was aged, Fricks instead abandoned all convention and founded her brand based on creating a great product with an even better brand. The result? Spawning an entire community around a story, forming a bond with her followers others haven't been able to match.
2. Anne Byrd, Currency
Anne has one of those illustrious histories often admired, seldom followed. After leading teams for the likes of Circuit City and CapitalOne, but she's also now taken that experience into a blend of helping both folks in startups as well as academia. Not only does she have years of insights into how to start and grow a company, she's additionally acquired her MBA and is currently pursuing her doctorate as well. In short, Anne is a lethal threat in the consulting world and someone who's going to make some major moves in the upcoming year.
3. Natalie O'Donnell, Customer Success Manager of Leadcrunch
As Leadcrunch's goal is to provide AI software for b2b sales in tracking behavior patterns, no one could've predicted a route like Natalie's. After graduating from UCSD with a Computer Science degree, many would've expected someone like her to go into coding, being lauded in the typical "women in tech" route. Instead, she bucked the trend and not only went into business development, but excelled at it. In less than a year, Natalie has found herself growing from intern to now leading the customer success efforts for a fully-funded AI firm. If that's not impressive, then I don't know what is.
Her secret? In speaking with Natalie, one thing stood out as clear: don't be afraid to define your own path, and the rest will follow. And for her, this road has not only been defined but set ablaze as well.
4. Katy Tripses, Head of Growth for StudySoup
Katy is someone that has a perfect blend of what going against the grain. Not only did she accelerate through the world of Advertising after college but then took those skills to becoming the Head of Growth for StudySoup- an online marketplace for buying and selling notes.
As the person in charge of their growth efforts, Katy has seen tremendous success in helping build the platform, with hundreds of thousands of users across multiple markets. Additionally, StudySoup has quickly become the "Uber for college notes," with a lot of students making some serious cash. And with all this under her belt, Katie says what's next is building up StudySoup to embrace the social communities that the platform has unanticipatedly created.
5. Araceli Vizcaino, Marketing Manager of Azazie
When it comes to the wedding industry, how does one disrupt an age-old practice? The answer: listening to your customers and building a community around them, which is exactly what Araceli Vizcaino has done at Azazie.
Azazie is an online retailer for bridesmaid dresses that lets buyers not only try them on at home but choose from a crowd-sourced platform on the best styles and colors. While the execution may seem simple, the work Vizcaino is doing is changing the game for the wedding industry. In speaking with Vizcaino, she not only feels as though this is empowering women but doing it in a way that isn't breaking the bank. And with wedding season coming right around the corner, expect this company to be the talk of the reception.
6. Whitney Wolfe, CEO of Bumble
Bumble has turned the online dating world on its head, with Whitney Wolfe leading the charge. The "Sadie Hawkins" style app where women have to approve the men has not only been one of the most popular out but has changed the way we look at online dating in general.
As women take the lead, there's a certain level of comfort to it as suddenly they aren't being berated with lame lines or even worse, crude introductions. I'm willing to bet if you asked any of your single friends if they're on Bumble, the answer wouldn't just be "yes" but that it's the best app out right now to meet a significant other.
7. Jane Barratt, founder of Goldbean
With the massive amount of platforms out now encouraging millennials and young people to start investing, Goldbean is an anomaly of sorts. Rather than just throwing you into an index fund that the collective pool of other users helps contribute to, Goldbean individually curates a portfolio for you, as well as provides an education platform. Quite simply, it's one of the first of its kind, with founder Jane Barratt to thank at the reigns.
In becoming this rare hybrid of education and investment that others can't match, expect Barratt to have her name ringing through the FinTech/Investment worlds for years to come.
8. Robyn Forman, VP of Marketing for Zoomdata
As the "Big Data" revolution doesn't look to slow down anytime soon, companies like Zoomdata are seeking to make a significant impact. As a company at the forefront of data visualization, their product allows for live code changes and views as one of the only in the game.
With a platform set on changing the world of data for good, expect veteran Robyn Forman to make a huge splash this year in taking Zoomdata to the next level. As the former VP of Global Marketing for Searchmetrics, Robyn is a veteran that will make her current gig become another amazing success story.
9. Danielle Morrill, founder of Mattermark
As a serial entrepreneur, Danielle is somewhat of a unicorn in her own right. Not only did she found Referly, a paid-link referral startup that was a part of Y-Combinator, but she's not graduated along to founding Mattermark- a customer data company with a lot of early promise.
Mattermark's aim is to increase the quality of data and leads most sales are after. It additionally has a great acumen for current trends and with Danielle at the helms, will potentially become one of Silicon Valley's hottest startups within the next year.
10. Rita LeBlanc, co-founder, Adventure Bucket List
Rita is the Co-Founder and Chief Creative Officer of Adventure Bucket List: A B2B SaaS provider increasing tourism GDP for destinations and automating daily operations for SMB tour and activity operators. ABL formed out of the founders' passion for adventure tourism. Having worked as tour guides themselves they realized first hand that the industry was ripe for disruption. Over the last four years, Rita has gone from barely even knowing what "The Cloud" was, to entering hackathons and being awarded Best Pitch at Vancouver's Women in Tech Week.
She has negotiated partnerships with government agencies and worked on tourism economic development projects around South America. Rita oversees the marketing efforts and customer success for ABL. Now she is honored to be learning from some of the most brilliant minds in the Silicon Valley, as ABL goes through the 500 Startups accelerator program in Mountain View, CA. ABL plans to 10x its revenue over the next 12 months as it launches several national licensing contracts around Asia and the South Pacific.
Calling all HuffPost superfans!
Sign up for membership to become a founding member and help shape HuffPost's next chapter
This post was published on the now-closed HuffPost Contributor platform. Contributors control their own work and posted freely to our site. If you need to flag this entry as abusive,
send us an email
.