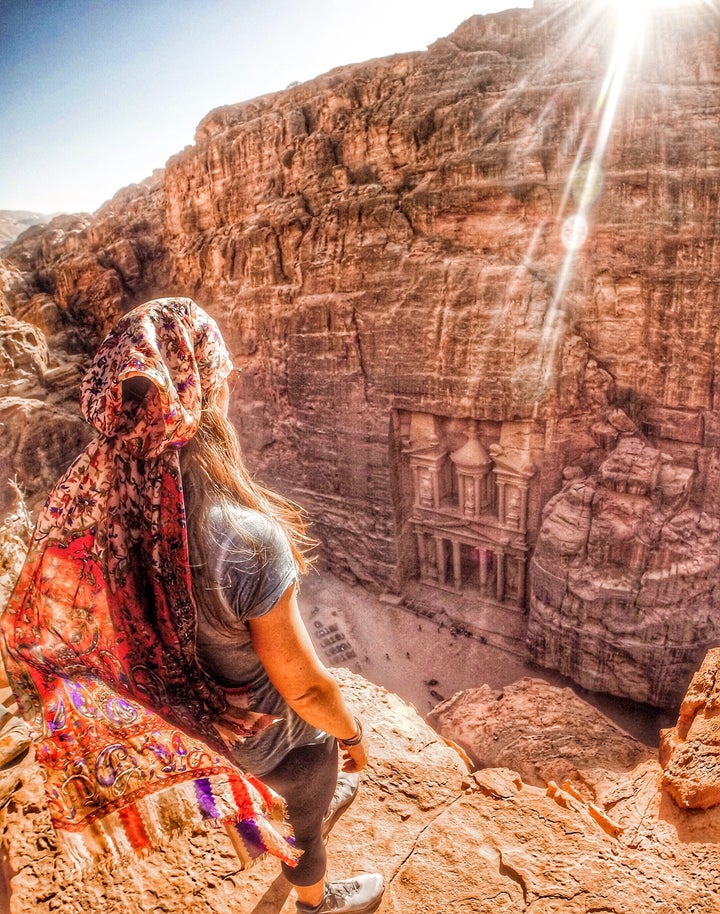 Wanderlust can strike at any moment, beckoning you to throw caution to the wind and spontaneously book a ticket to a far away land. But when we can't quite get away from the office and we're stuck behind the cubicle, perusing inspirational Instagrams may just be the next best cure for even the most serious cases of wanderlust.
Whether you're interested in the world's greatest wonders, a rocky mountain high, or a tropical beach paradise, join us as we explore the top 10 Instagram photos to inspire you to travel on this virtual vacation!
Petra is the ancient city in Jordan that was lost and forgotten for centuries. Rediscovered by an explorer in the 1800's, this "Rose-red city" was created by the ancient Nabataeans, who controlled trade in Arabia thousands of years ago. Today, travelers can visit this ancient lost city and its mystical ruins. The highlight of any trip to Petra is its "Petra by Night" experience. This experience occurs three nights a week, where travelers can enjoy a magical candlelit experience at the famed Treasury of Petra.
When people think of Grecian paradise, they often think of Santorini and Mykonos. While these islands are magical, Greece's largest island of Crete is one of the most heavenly islands of all. Indulge in Cretan wine, explore miles upon miles of unspoiled beaches, and enjoy adventure on its mountainous terrain. Or if you're just looking for fun in the sun, dive on in to infinity pools that hug the Aegean Sea.
Siem Reap is known as the home to the amazing Angkor Wat temple, but this Cambodian city is also home to less known temples and ruins. With its jungle tree routes hugging Ta Prohm in a warm embrace, it is one of the most magnificent temples in all of Cambodia. Ta Prohm is also known as the 'Tomb Raider Temple,' since Angelina Jolie filmed her Tomb Raider film here,
While many travel to Indonesia to enjoy the beaches of Bali, it's nearby Komodo Island that is the most magical of all. Komodo Island is home to the largest lizard in the world, the Komodo dragon. Visitors to Komodo can walk amongst the dragons in their natural habitat. The island is also known as one of the best places to dive and hike in all of Indonesia.
This blue city is a melting pot of religions in Morocco. Welcoming exiles from Spain, Muslims, and Christians, the powder-blue buildings symbolize a sign of peace. Chefchaouen is set in Africa's northern most mountain range and its the perfect place for adventurers to hike.
With photos like this, it's easy to fall in love with Havana. With various American airlines now flying direct to Havana, it's easier than ever for Americans to visit Cuba. While tourism alone is not allowed for Americans, Americans can visit if your reason for travel falls into one of twelve categories including education, journalism, or sports competitions.
Because there's no age limit on fun! Far away from the tourist traps of Rome, Puglia, Italy, is home to unspoiled Adriatic coastlines and the best food in Italy (and that's saying a lot!). Located on the 'heel of the boot,' the pristine coastlines, olive oil groves, traditional wines, and endless burrata cheese make for the ultimate Dolce Vita.
Located between North Africa and Sicily, the island of Malta is a lesser known Mediterranean gem. With limestone cliffs jutting out from the royal blue Mediterranean Sea, the only thing that rivals its deep waters is Malta's deep rooted Mediterranean history.
Sometimes the most beautiful places are right at home in our country. Appreciate the simple things in life at Glacier National Park in Montana. With crystal clear glacier fed lakes, breathtakingly beautiful mountains, and pristine forests, Glacier National Park is the perfect place to reconnect with Mother Nature.
Located in the Kimberley region of Western Australia, Broome is a beach resort town far off the beaten path. With the best sunsets in Australia, camel walks in the ocean (yes, camels in Australia!), and the 22 km long Cable Beach, Broome should definitely be added to your bucket list!
What are the destinations that inspire your wanderlust? Comment below!
Popular in the Community