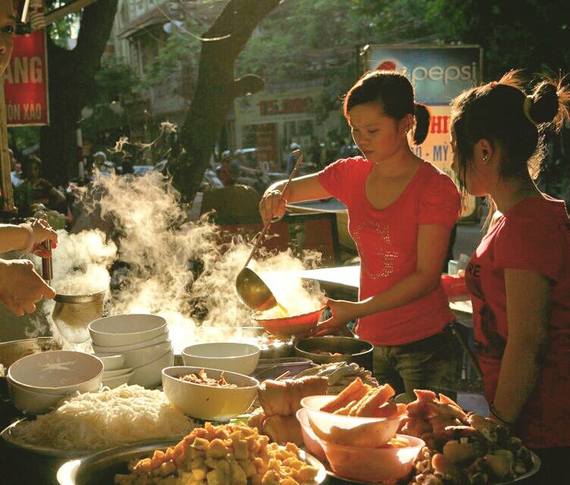 By College Tourist; Author: Brooke Stafford, Pennsylvania State University
From spicy to sweet to savory, how well do you know your international cuisine?
England is a global gastronomic hotspot, where you can experiment with dishes you are not going to find anywhere else. Whichever part of England you find yourself hungry in, you are bound to find a plethora of interesting choices. London is a multiethnic city that offers the very best of cuisine from the south of France, such as La Petite Maison - the place to see and be seen, with seriously good food - and also offers the best and greasiest street food you will ever have after the pubs close. You can eat all the fish and chips and bangers and mash you want, but definitely branch out and try some of the other interesting cuisines London has to offer. Visiting a pub, or several, is definitely an essential.
One place to go is Borough Market in London to try the latest concoction of truffle oil, quinoa burgers and cookies that are often larger than your head. This market is the number one food stop in London curating a food for only the trendiest taste buds!
It is easy to have your taste buds blown away in Chile, and without breaking the bank! Chilean food has a variety of ingredients and flavors, many of which come from local crops, agricultural produce and seafood. You will not be disappointed by a traditional Chilean dish.
When dining in Santiago, Chile, it is essential that you try gelato from Emporio La Rosa, which was voted one of the best ice cream joints in the world. There are many locations all over the city, but not all of the flavors are offered all at once so don't go in set with one flavor in mind.
Chilean wine is just as delicious as it's gelato. If you happen to visit Colchagua Valley, be sure to stop at Lapostalle. Lapostalle is a truly boutique vineyard and winery that is based on the belief that gravity is all you need to create the best wines and the less amount of intrusion by humans in the creation of the wine, the better. If you are looking for a truly unique experience unlike any other vineyard/winery you will ever see, you should go for a tour here.
America--land of the free, home of the brave, and country of foodies. While America may not be a foodie destination, the United States does have several foods you can't find anywhere else (or foods that just don't taste the same anywhere else).
Take the doughnut, for example. The doughnut (also known as donut) has said to have been created in North America by the Dutch settlers. This small, round confectionery piece of perfection is a prominent American dessert. Doughnuts are often eaten for breakfast, complimented by a cup of coffee, or enjoyed as a snack. Nowadays, donuts have become somewhat of a food fashion trend, with unique flavors like hibiscus and coconut lime making it's way to the front lines. Some of the most popular doughnut creators include Dough and Doughnut Plant in New York City. But, doughnuts from mom-and-pop shops in the suburbs are equally as good.
If you're traveling to China for the first time, or if you've been to China many times, it's essential that you remain careful about what you eat. Though you'll encounter plenty of rice, noodles, vegetables and tofu, some Chinese dishes have unique or raw ingredients. Food safety is a very real concern in China, so it is important to be savvy and keep your eyes open. However, some of the best tasting (and least expensive) food in China is sold at street stalls!
The Chinese dumpling or "Jiao Zi" is a food loved by all. Both cultural and traditional, the dumpling is a symbol of home and family. Families traditionally make dumplings together, assigning each member a different role. One person will mix the dough while another prepares various fillings. Many Chinese families will enjoy dumplings on New Years Day; yet, dumplings are served year-round at restaurants and street stalls.
Another popular Chinese food is Jian bing guo zi. This savory pancake is sold on Beijing's streets and is a perfect traditional breakfast to begin your day. You can buy them at most street stalls and eat them on-the-go.
In Vietnam, exploring street food is more than an eating habit. It is a social ritual. Vietnamese street food manifests the multicolor of the culture. From sweet to savory, there is a countless variety of street food ranging from one region to the next.
When exploring Vietnam's many cities, be sure to try Sago pudding, which originally is a sweet pudding made from tapioca pearls in milk and sugar (you will know if you are familiar with bubble tea). Sago buffets include different varieties of sago pearls in all shapes, sizes and flavors. And guess what? You can eat as much as you can for only 1 dollar!
Vietnamese spring rolls are another must try. You probably have seen this dish at your favorite Asian restaurant. A spring roll is a fresh and healthy dish made of prawn, pork, vegetable and vermicelli noodle wrapped in rice paper and dipped in peanut sauce. It was voted one of the world's best 50 dishes in 2011 along with Pho.
Australia's food scene has taken advantage of the endless coastline, harbor inlets and the modest bustle of Sydney's Central Business District. With industrial foundations spread throughout, it's no doubt fertile ground for gentrification- and when old meets new Downunder- something tasty happens. From the Northern Beaches, to New-York-style drinking holes, and up the coastline to the infamous Bondi Beach, Sydney, Australia is tempting you with tastes one meal at a time.
If you haven't already joined the bandwagon, Sydney's Earth to Table is the perfect introduction to everything raw and vegan. Students, while I'm not suggesting you swap your burger and fries entirely, please tempt those taste buds with a guilt free dessert from this Bondi Junction health haven. If you're en route to Bondi Beach, take a quick stop at the Junction Station for the best zuchinni-turned-pasta in town.
Ecuador's food is as delicious as the terrain is beautiful. Almuerzo (lunch) usually includes a soup, main dish with rice, meat, and (if you're lucky) some sort of vegetable. If you don't have the opportunity to stay, or at least dine, with a local family in Ecuador, there are a few restaurants, markets and coffee shops that will do the trick.
There are dozens of markets all over the city, but one of the best and cheapest is El Mercado 12 de Abril. This market is a gigantic fruit and veggie market on the east side of the city. Part of the market is outdoors and part of it is indoors. If you can't find what you're looking for at one booth, just mosey down a couple rows and whatever oddly-shaped fruit you're looking for will be there somewhere. For $1, you can get about a pound of strawberries. They're fresh, and there are no chemicals in any of the food.
The Irish are not known for their cuisine, but they do have some traditional dishes that are worth a try. You can find pub food like fish and chips or beef and Guinness pie just about anywhere in Dublin, and these dishes are part of the pub experience. A traditional Irish breakfast is another immensely popular dish, and it can be served all day long at many places. An Irish breakfast is a large meal consisting of eggs, bacon, sausage, black pudding and toast, and you can't leave Ireland without trying it at least once.
You can't eat all this pub food without ordering a pint to accompany it. Grab a Guinness, Dublin's drink of choice, at the Temple Bar. Arguably the most famous pub in Dublin, the Temple Bar will give you the traditional Irish pub experience. This is the perfect place to have some fish and chips or steak and kidney pie and a pint and take some touristy pictures while you're there.
A fun way to experience Spanish culture, as well as try Spanish food is to participate in a Tapas Bar Crawl. Whether you are in Madrid or Barcelona, travel companies such as Trip Advisor and Bus2alps have created tours where travelers can visit Spain's finest tapas dives. Your taste buds get to explore a range of dishes from Chopitos (small toast topped with quail egg) to croquettes (lightly-breaded tapas delicious-ness).
If there's one food item you must try when visiting Spain its paella. Seen by many as the country's national dish, paella began as famers' and farm laborers' food in Valencia, Spain. The original recipe usually called for rice, beans, an assortment of vegetables, and sometimes rabbit or duck.Over the years, chefs all across Spain and other parts of the world have adapted the dish adding seafood and different herbs and spices to create a unique meal. If you are looking for a fun way to try the dish, check out a paella cooking class. Marta's Famous Paella Cooking class in Barcelona has great reviews, and is regarded as some of the best paella in town.
Although India has the opulent and grand Taj Mahal Hotel on the salty coast of Mumbai and the JW Marriot in the historic streets of Delhi, these luxurious restaurants are not where the locals frequent. You will find them standing on a roadside and greedily waiting for their small cup of masala tea from a portable vendor or demanding some more gravy in their usal at a tiny stall.
People who make their lively hoods by selling food on the streets have come together and established 'khau galli's (food lanes) in the metropolitian cities. These lanes offer a variety of lip-smacking Indian, Muglai and Chinese delicacies (the occasion Italian as well) and are crowded with locals, tourists and curious foodies alike. Others have simply set up small food stalls under banyan trees, on beaches, near public gardens and any place where hordes of people gather.
One of the best Indian foods is found in Mumbai. For any Mumbaikar the only thing better than their mother's roti is the spicy vada pav. The vada is a mixture of potatoes boiled using turmeric and then rolled into balls, put into batter and deep fried. The pav is an ordinary bun sliced halfway in the middle, lathered on the inside with mint chutney and spices. The vada is then inserted in the pav and eaten with your hands, along with a side of raw chillies.