I'm just coming off a 16-day trip to India, most of which was spent in Ahmedabad. Of course, I did plenty of research prior to leaving and cross-referenced several sources for what to pack, what to leave behind, and what I could get when I arrived.
The following list includes 10 items that saved me while I was volunteering and touring around Ahmedabad. While I did enjoy this trip very much (because of the people I met and the volunteer work I completed), this city was a hard place to stay for two weeks. I'm sure you will understand why as you continue to read!
10 Essentials for Traveling in Ahmedabad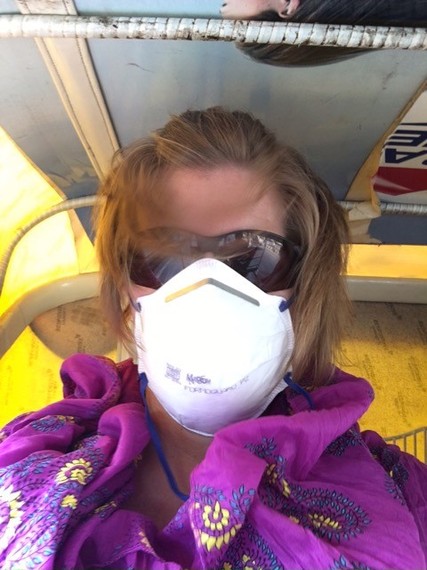 A medical mask is a must. After cleaning out black gunk from my eyes and nose the first three days in this city, as well as wheezing and coughing, I headed to the pharmacy to get a mask. My friend Deborah and I referred to these as gas masks---the fumes and pollution here are so bad that you will need a mask from the moment you arrive. After the first day of using the mask, my nose and lungs calmed down quite a bit.
Throat lozenges also helped with the sore throat from all the pollution and nasal drip. These are easily available at the pharmacy.
I don't travel anywhere without my essential oils. The three that were the most handy here were oregano oil (natural antibiotic), the Breathe oil blend (for clearing the respiratory system), and peppermint oil (for sour stomach). Oregano oil can be added to hot water and made into a tea, or added to bottled water. I used the Breathe blend at night by putting a drop or two in my electric water pot and inhaling deeply. And the peppermint oil became a staple in my water from day seven until the end of the trip because my stomach went through periods of being just okay to being completely torn up.
Bottled water is a non-negotiable item. And you will drink WAYYYY more than you ever thought you would. It is hot and dusty here year round. Plan on consuming two to three liters per day. You'll need it to brush your teeth and rinse your mouth as well. Be sure to check the seal when you buy it to ensure that it hasn't been tampered with by the locals.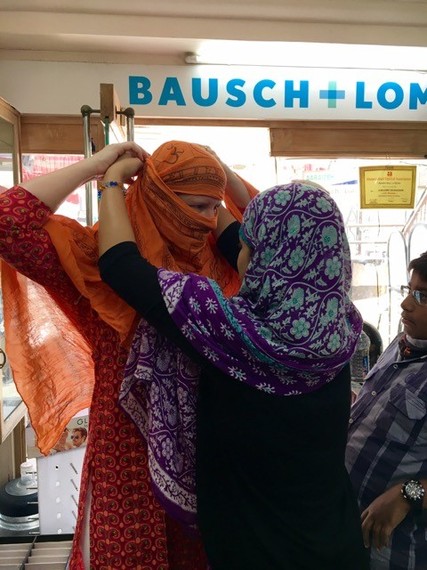 Speaking of the heat, I learned on day four how to tie a long scarf into a burka around my head, neck, and face. I asked a local shop owner to show me, as this cloth protected me not only from the sun and heat, but....yes, you guessed it, the pollution and dust flying in the air. When in a rickshaw or on a motor bike, if you forget your medical mask, this makes a handy alternative!
Hand wipes and sanitizer stayed with me everywhere I went. Soap is pretty much non-existent out and about, and once you go to the bathroom, or touch money, or touch anything, you are going to want to clean your hands. Don't leave home without these items as I never saw them in the stores here.
Another thing you won't find here is toilet paper (in the store or in public facilities). I ended up buying facial tissue and carrying it with me everywhere I went.
I'm a vegan and the chai tea here is served with milk and honey...so that pretty much ensured I wasn't drinking the standard beverage served around the clock. Herbal tea is hard to come by, but if you carry tea bags with you and ask for boiling water, you can have the teas you love, daily.
Foreign liquor permits can be applied for at upscale hotels. There is no fee for the permit, but there is a restriction on how much alcohol or beer you can buy within a 10-day period. Having a cold beer waiting on me when I returned from the craziness outside made my evenings relaxing and enjoyable.
Earplugs ensured I could sleep at night. This is a very loud city the honking and traffic never stop. And on the rare occasion when they might, the locals are rising to beat their laundry, feed the cows, and the vegetable man is rolling his cart through the streets, yelling out which produce he has for sale. The noise never stops.
Should I decide to return to Ahmedabad, here are 5 more items I would pack the next time.
Traveling Neti pot or nasal bottle for cleansing out my sinuses with a saline wash.
Eye drops to rinse the dust from my eyes.
Photocopies of my passport and visa so I didn't have to carry the real thing around every day.
Gujarati phrase book. No one here understands Hindi, so if you speak it, or buy the Hindi phrase book, it will be of zero use.
Good walking sandals that I don't care to get dirty. I actually had to stop caring on the second day because they were getting filthy. You will walk a lot, and you will be walking through some not-so-pleasant-stuff, so just don't plan on keeping your shoes nice-looking.
I hope this list helps you should you decide to travel to Ahmedabad or someplace similar. Happy and safe travels to you!