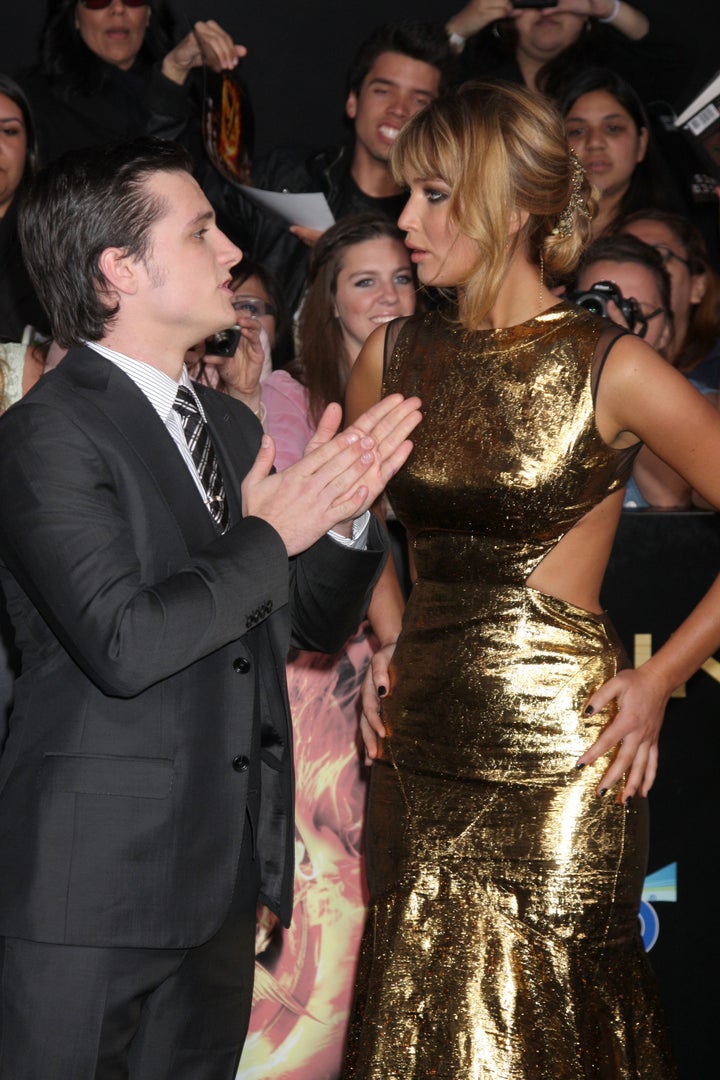 We've got a thing for boss chicks. Especially the ones that keep it real. Hollywood's "IT" girl Jennifer Lawrence has no shortage of talent, beauty, or brains. One thing she does lack, however, are her filters (she's like us after a few glasses of wine...but she's sober), and as a result, she has been captured saying some of the strangest, most cringe-worthy, and insanely gif-able things from anywhere between red carpet premiers to night-time talk shows. And though the decorum so often associated with high-profile celebrities is usually absent in her presence, we love her all the more for it. Her honesty and ability to connect (albeit, not always purposely) with the young women who follow her career and admire her (like us!) tells us we're not alone in our struggles -- even the most glamorous have their days! And though maybe we shouldn't connect to these thoughts on such a spiritual level, we know how to poke some fun at ourselves without the loss of any self-confidence. And all things considered, J-Law still knows how to work it!
1. "I picked up an issue of Cosmopolitan the other day that had tips for job interviews, because I was like, 'I need to get better at interviews.' The article was basically about how to get someone not to hate you in 20 minutes. Every single thing they told you not to do, I was like, 'I do that every day.'"
2. "As hard as it is and as tired as I am, I force myself to get dinner at least once a week with my girlfriends, or have a sleepover. Otherwise my life is just work."
3. "I just went to the doctor today, I got a chest X-ray of my lungs and discovered that my breasts are uneven."
4. "I'm a horrible dancer! I'm like a dad at prom. I look like Gumby getting electrocuted."
5. "I can see the McDonald's right there. Wait, hold on, I didn't say fries! I'm seeing you talk and all I'm seeing is me being pissed I didn't get fries. And you have to remind them about ketchup because they never include ketchup, you have to ask for it. Cheapskates."
6. "I never play characters that are like me because I'm a boring person. I wouldn't want to see me in a movie."
7. "Once I'm obsessed with somebody, I'm terrified of them instantly. I'm not scared of them -- I'm scared of me and how I will react. Like, for instance, one time someone was introducing me to Bill Maher, and I saw Meryl Streep walk into the room, and I literally put my hand right in Bill Maher's face and said, 'Not now, Bill!' and I just stared at Meryl Streep."
8. "If I don't have anything to do all day, I might not even put my pants on.
9. "I don't like going out that much. I'm kind of an old lady. After it's 11, I'm like, 'Don't these kids ever get tired?' When I'm out, I think about my couch. Like, 'It would be awesome to be on it right now. I bet there's an episode of Dance Moms on'...At the end of the day, there's probably nothing that makes me feel better than junk food and reality TV."
10. "You guys are just standing up because you feel bad that I fell and that's really embarrassing, but thank you."
Calling all HuffPost superfans!
Sign up for membership to become a founding member and help shape HuffPost's next chapter