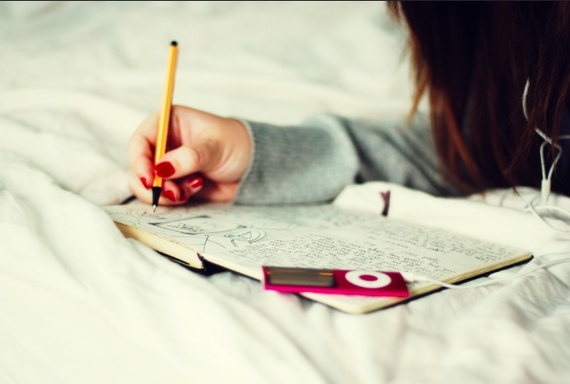 Two recent articles in The New York Times (here and here) discussed the benefits of writing things down to help you move on from a difficult situation. An aversion to exercise, for example, or trouble fitting in at a new job, or -- the situation we hear about most often at EMandLO.com -- inability to get over a breakup. The latter is the one we will discuss here today.
You may call it writing in a diary, or "journaling" (assuming that word doesn't make you feel funny inside!), but researchers call it "expressive writing." And there is actually a lot of scientific research showing the benefits of expressive writing -- studies have shown it can improve mood disorders, boost memory, increase happiness, improve general health, change behavior, and even reduce symptoms among cancer patients. Holy moly! If expressive writing can punch cancer in the face, just imagine what it can do to your heartbreaker ex.
The idea, according to the NYT, is
"based on the idea that we all have a personal narrative that shapes our view of the world and ourselves. But sometimes our inner voice doesn't get it completely right. Some researchers believe that by writing and then editing our own stories, we can change our perceptions of ourselves and identify obstacles that stand in the way."

But how on earth do you edit your narrative and change the story? Below are 10 prompts that you can follow to do exactly that. Buy yourself a notebook (or do it on your laptop if you prefer, but we like the old-school nature of using a pen). Each day, or every other day, follow one of the prompts below. When you get to the end of the prompts, take a few days to read over what you wrote in response to each prompt. Then, start over with prompt number one, and go through to number ten again. When you've competed all ten prompts a second time, take a few days to read and compare your two different sets of responses. Repeat, and repeat, as necessary.
Here's the thing: It may not seem as if you are moving forward, in real time. But journaling in this way is kind of like time-lapse photography -- in one or two or three months, you'll be able to step back, look at the big picture, and see how you really are moving on. And the more distance you have from your ex, the more honest, and more helpful-slash-healing, your responses are likely to be.
Without further ado, here are our 10 prompts. Respond in a hundred words, or five hundred, or a thousand, whatever feels right*:
1. Describe what your ex looks like, including at least one physical defect (come on, even supermodels have at least one body part that is less than perfect, even if it's just an oddly shaped pinkie toe).
2. What do you miss about your ex?
3. What don't you miss about your ex?
4. Why did you two break up?
5. In what ways were you a better person around your ex?
6. In what ways did your ex make you a worse person?
7. What are you looking for in your next partner?
8. When did you first realize you guys were headed toward a break-up?
9. What was sex like with your ex?
10. What did you do today?
* Warning: According to the NYT, too much journaling might not be right for everyone: If your problem is that you tend to ruminate too much on your feelings after a breakup, then you should limit yourself to a certain word count each day (say, 500 words), and limit yourself to journal entries only every three days.
Related
Popular in the Community