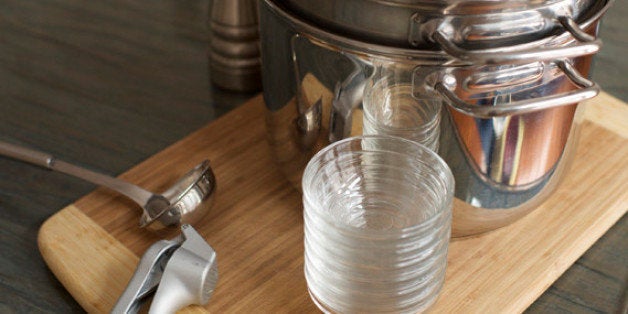 Wondering what would entice you and your family to use the kitchen more in 2015? A diet rich in fresh, whole foods cooked at home is the basis of healthy living. But cooking at home can be a chore and a bore, especially if you're busy or just plain don't like to cook.
A healthy kitchen stocked with the right tools and equipment can motivate even the most reluctant people to cook at home. These 10 kitchen essentials make prep work easier, shorten cooking times, and will add a burst of flavor to everyday meals. They're also a great start to building a healthy kitchen in 2015.
Cooking a meal is much simpler if all ingredients are chopped, sliced, minced, and measured before the heat is turned on. A good set of prep bowls is a game-changer in the kitchen because it streamlines the process. Clear bowls make it easier to add the right ingredient at the right time. I favor stacking or nesting bowls so they're easy to store.
The food processor changed my mind about home cooking forever. It's much faster and easier to use this convenient machine to chop, grate, slice, and shred quickly and efficiently. It's a workhorse that will be used daily.
Multi-pot with Pasta Insert
If home cooking conjures the image of a sink full of dirty pots, wipe that image away by investing in a stainless steel multi-pot with a pasta insert. Use the perforated insert first to steam vegetables and then to make pasta. Combine the two ingredients with a bit of olive oil and garlic for a delicious and healthy dinner. With just one pot to clean, it's a time-saver for busy cooks.
Pepper mill & salt grinder
Freshly ground pepper and salt add greater flavor to dishes than their pre-ground versions. Sea and kosher salts have lower sodium by volume, which can reduce consumption. Because they are unprocessed, they also contain natural minerals such as potassium, calcium and magnesium.
As the weather gets colder, nothing warms us up faster than a bowl of soup. Preparing a tasty, homemade version is easier with a soup wand or immersion blender. Within minutes, vegetables and ingredients are pureed to a smooth consistency and can be frozen in serving-sized containers for a quick, comforting - and very healthy - meal.
Chef-quality chopping knife
For chopping and slicing, a high-quality chef's knife is worth the investment. It will make food preparation faster, more efficient, and much more enjoyable. An 8-inch forged chef's knife is the perfect starter to a collection that should eventually include utility, slicer, and paring knives, according to Consumer Reports.
For busy families, a slow cooker can take all the stress out of cooking dinner. But it's also ideal for breakfast. For a hearty, healthy morning meal, oatmeal, cinnamon, and water can be mixed in the Crockpot with dried berries and nuts on top. Cooked on low overnight, it will be ready to serve the next morning.
A stainless steel saucepan adds more versatility to your healthy kitchen. With it, you can sauté vegetables, scramble eggs, or brown meat. Invest in high-quality stainless steel cookware for better heat conductivity and easier clean up.
Many recipes call for garlic. It's added to dishes in a variety of ways: as a whole clove, crushed, or sliced. But most often, recipes required minced garlic, and that can be a deterrent for many would-be home cooks. A garlic press removes all the work and aggravation. Just put the whole clove in its skin into the garlic press and squeeze. Add the minced garlic to your recipe, discard the skin and toss the press into your dishwasher.
Every kitchen needs at least two cutting boards - one for raw meat, poultry, and seafood, and one for breads and vegetables. This avoids cross-contamination of harmful bacteria. I prefer acrylic cutting boards because I can put them in the dishwasher for easy clean up.
Cooking at home doesn't need to be a chore. You and your family will find it much easier - and a lot more fun - to cook at home in 2015 if your healthy kitchen is stocked with these essential tools.
Joanne developed The BEAN Plan™ at a time in her life when she needed to lose weight. By focusing on eating quality foods and committing to a fitness plan she could manage, she lost 70 pounds. She has helped thousands of patients lose weight and become healthier with this balanced exercise and nutrition program. You can connect with her at www.thebeanplan.com.
Popular in the Community