Debra Peevey has worked at the intersection of faith and LGBTQ inclusion for four decades. She was the first openly lesbian minister ordained in the Disciples of Christ denomination. She and her wife Candy came out of retirement to volunteer full-time in Washington state's fight for marriage equality. I met Debra when I was hired as the transgender/millennial organizer for ONE Community (an LGBTQ advocacy organization in Arizona) where she was the faith director. In her time at ONE Community, she rallied over 200 faith leaders across Arizona to stand in solidarity with their LGBTQ siblings, among many other victories. Now that Debra is retiring, I want to share what I've learned from this 'grandmother of the movement'. These lessons are not for human rights activists alone - these are lessons in life.
1. Your purpose is never an easy road.
Debra's career-long advocacy has been met with consistent hatred and dissent, both from within and outside of our community. What kept her moving was the understanding that her talents, identity, passions, and position in the arc of history left her no choice but to fight her hardest at the confluence of these things. Our purpose is found when we are good at something, we care about it, and the world needs it now. That purpose, though difficult, is always worthwhile.
2. You choose your family.
Debra has found a way to expand her family to include countless people who she loves and invests in. Having no biological children of their own, Debra and her wife have expanded their family to include the children and grandchildren they choose. The LGBTQ community has an even greater responsibility to expand family in this way, as too many of us still do not have that acceptance and support at home.
3. Faith is stronger than hate.
Having faith in anything (God, humanity, or even oneself) propels us to see past our differences and to connect to what makes us all human. The universal values of love, respect, grace, and hospitality can forge understanding through difference more than any political rhetoric. In her work with faith communities Debra has seen how hearts change when we remind each other that we are all fighting for the same things.
4. People will help you if you first help them.
Debra has given me an education in 'organizer pro tips' – things that every advocate and movement leader should know. However, these truths remain true in every aspect of life. When asking people to support us, especially when it is out of their comfort zone to do so, we must do everything we can to lighten their load. Once people do something they were afraid of and realize it wasn't what they expected, they will grow in their confidence and commitment. They may even surprise you and become your fiercest allies.
5. Always find time for the things you love.
When a person spends their life fighting for the basic rights of a community they belong to, it takes a major and lasting toll on the spirit. In any work that is valuable - in pursuing your purpose - you must balance the hard things with what comes easily to you. This is the essence of self-care. Debra is one of the hardest working people I know, and she loves to garden, travel, and read books on a lazy Saturday morning. These things are not mutually exclusive; in fact the latter makes the former possible.
6. Never stop learning.
After 40 years of work in her field, and one month before her retirement, Debra was still attending regular calls with her movement mentors and colleagues. She knows that new knowledge always benefits us, and that we must never stop challenging ourselves. To assume that we are experts is to close ourselves off to new perspectives. We must remain dynamic if we wish to continue in our purpose. We must remain humble if we wish to grow.
7. Know thyself
Debra's life's work has been led by the idea that we can only serve others when we know ourselves. She spends much of her free time traveling to teach people about the Enneagram personality inventory. She is also a personal spiritual advisor. By helping other people to know their strengths and weaknesses, their fears and virtues, she guides them to make peace with their true nature and use it to better their work. The more we learn about ourselves, the better we can uniquely contribute to the world.
8. Don't reinvent the wheel
When I started working as an LGBTQ movement organizer I was so concerned with trying to figure out how to do the work that I couldn't hear all the voices around me teaching me how. When I met Debra, she sat me down in front of Kathleen Campisano (another LGBTQ organizer who deserves a lifetime achievement award) and they both told me everything they wish they had known starting out. In whatever you do, listen to your mentors' advice until it becomes part of your very worldview.
9. Honor those who came before you, trust those who are still to come.
When Debra began her career, transgender rights were usually not discussed in lesbian and gay movement spaces. Now, Debra speaks out for transgender inclusion in every aspect of her work. She understands the trajectory of our work, and value of investing in those who will come after you in order to make their path smoother. Your purpose positions you in a long line of people who have worked, are working, and will continue to work for your goals. Respect your place in line and amplify the voices of those ahead and behind you.
10. Time spent with the people you love never lasts long enough.
I wrote this to thank Debra for her service to the LGBTQ community (an impossible task), and to make sure that these lessons are not mine alone to learn. My time as Debra's co-worker was too short. But in these uncertain times ahead, I know that our work together is far from over.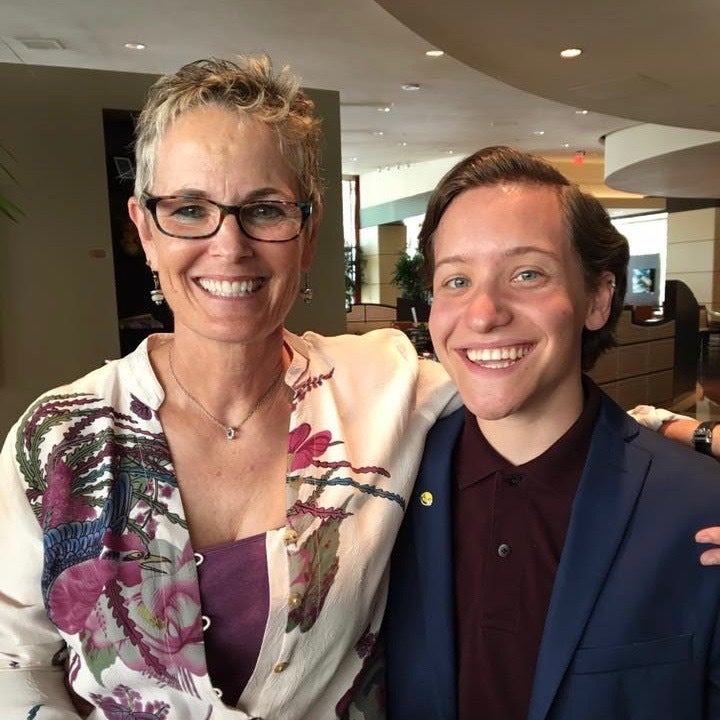 To learn more about our work at ONE Community, visit www.onecommunity.co and #openaz.
Support HuffPost
Every Voice Matters
Popular in the Community