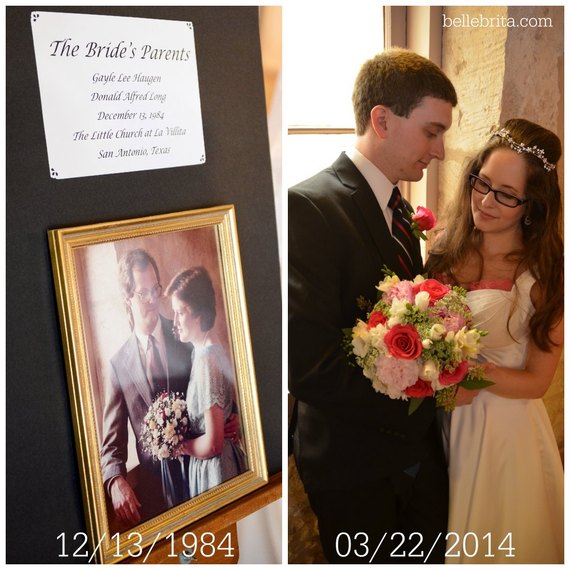 In just a few days, my husband Dan and I will celebrate our very first wedding anniversary. It's been a whirlwind 12 months, full of illness, heartbreak and change, but facing these obstacles with my husband has made them easier to handle.
Just a few short months ago, my parents celebrated their 30th wedding anniversary. Like most couples, they have also faced their fair share of challenges during the duration of their marriage, and they relied on each other to get through them.
I feel fortunate to have such great role models for my own marriage. I can't help but reflect on everything they have taught me about marriage. Here are just 10 of the lessons on marriage I have learned from them.
1. Marry someone who loves you and respects you.
My parents are deeply in love with each other, but they also greatly respect each other. I prioritized finding a man like that, and thanks be to God, I did!
2. Say "I love you" every day.
My parents tell each other "I love you" throughout the day. They always told my brothers and me "I love you" every day too. Now I make a point to tell my husband "I love you" at least once a day, and usually more than that.
3. Apologize to your spouse when you mess up.
My parents are pretty awesome, but they're not perfect. Sometimes one of them will sin against the other and then need to apologize. No one is perfect, and it's easy to hurt the ones we love the most. My parents taught me the importance of admitting your mistakes and apologizing.
4. Forgive your spouse for messing up.
Just like you will sin against your spouse, your spouse will sin against you. My parents always accept each other's apologies and offer genuine forgiveness.
5. Both spouses should know all vital family and household details.
When my brothers and I were young, Mom stayed at home with us. Daddy worked full-time, and he handled the bills. At one point, Mom told him that she wanted to learn everything about our household finances. For several months, she took over the bills, until she was satisfied that she could handle it easily and by herself.
On the flip side, my mom primarily took me to my pediatric gastroenterologist. Still, she always updated my dad with all the details after my appointments, and he took me to at least one appointment every year. No one wants to think of catastrophic events, but both of my parents were always prepared in case something happened to the other.
6. Support each other's career aspirations.
My mom chose to be a SAHM, but she also channeled her creativity and talents into home-based businesses, volunteer work, and self-development. She rose through the ranks of Toastmasters, and she worked as a professional speaker. My dad supported her in everything she did.
In turn, my mom supported my dad's decision to open his own law practice with another attorney. When he was especially busy, or between secretaries, my mom helped out at the law office.
7. Not all married couples will have kids, and that's okay.
When you live in South Carolina, and you're very involved in a Christian community, it can feel like the sole purpose of marriage is to pop out babies. That sort of expectation can be really stressful, whether a person doesn't feel called to parenthood or suffers from infertility. While my parents obviously love having three kids, and while I hope to have my own Mini Me running around one day, I don't feel pressured to have kids.
I remember very clearly how I felt when my dad once casually mentioned to me that not everyone is meant to be a parent, and there was nothing wrong with that. I was just a teenager, and clearly years away from being in a position to even think about parenthood, but it was like a weight was lifted from my shoulders that I didn't even know was there.
8. Not everyone gets married, and that's okay too.
Again, there's a pretty clear expectation in southern Christian circles that you grow up, get married, and pop out babies. Considering I didn't even have a boyfriend until I was 24, I definitely secretly felt like a freak who would be single forever. Again, I remember my dad just casually telling me that some people never get married, and they live perfectly happy and fulfilling lives.
Daddy is not the most outwardly emotional of people, and he continues to provide strength and comfort for my whole family while Mom battles cancer. But when we were in the hospital last May for her brain surgery, and she was allowed two visitors at a time, he was always one of them. As long as he was allowed to be there, he never left her side. I've always known how much my dad loves my mom, but I've never seen it as clearly as when he sat by her hospital bed, holding her hand.
10. Cherish every single wedding anniversary!
I cannot believe my parents have been married for over 30 years. I cannot believe I've been married for almost 12 months! While my parents' 30th wedding anniversary was a huge milestone, I love how they recognize their anniversary every year. I know my husband and I plan on doing the same, starting this weekend!
Now tell me your best marital advice!
Related