My father, an avid and passionate reader, is a man of lists. He has lists for the 50 top books of fiction, the top 25 non-fiction books, the 10 greatest movies of all time and more. But the one that I consult most regularly is his list of five criteria for great fiction.
According to Dad, a great piece of fiction must have these five ingredients: a captivating story, good character development, challenging ideas, fine craftsmanship and authenticity of a particular time and place, whether real or imagined. I go to this list often, not only for books, but for all things art--dance, music, literature and fine art.
Last week, I found myself mentally ticking off items from this list as I stood in front of a painting by Sir Joshua Reynolds called The Ladies Waldegrave, currently on view at the Frick Collection, NYC, in "Masterpieces from the Scottish National Gallery." This gem of an exhibition, on view through February 1, includes just 10 paintings from the Scottish museum's permanent collection. The show covers about 400 years of history and includes one painting by each of 10 artists from seven different countries--Sandro Botticelli, El Greco, Diego Velázquez, Jean-Antoine Watteau, Thomas Gainsborough, Allan Ramsay, Sir Joshua Reynolds, Sir Henry Raeburn, John Constable and John Singer Sargent.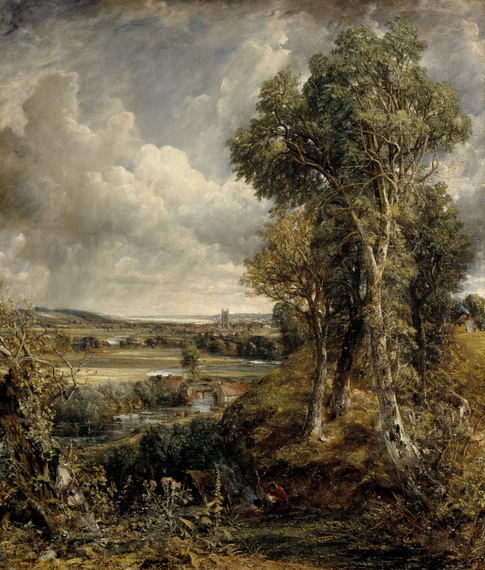 John Constable, "The Vale of Dedham"
I think we throw around the term "masterpiece" too lightly, but not in this case. Working with Colin B. Bailey, formerly the Peter Jay Sharp Chief Curator of the Frick Collection, Michael Clarke, Director of the Scottish National Gallery, made a superb selection. Gathered in one room and easily digestible, even for the most museum weary viewer, it is an exciting exhibition that leaves one wanting more. Another benefit of such a small show was the possibility to revisit each painting, which I did, navigating the room several times. And yes, I would say each painting is a masterpiece.
But back to the Reynolds. I was transfixed by many of the paintings--Constable's dramatic landscape, The Vale of Dedham, with its dense foliage in the foreground, and seemingly miles of fertile land behind; and Sargent's exquisite and seductive Lady Agnew of Lochnaw, in which she is dressed in white with a violet sash, cinched around her tiny waist--to name two. But the Reynolds' portrait grabbed me more than the others, no doubt because of its onion like narrative, deceptively simple, but with many layers to peel.
Painted in 1780-81 by this great English portraitist, The Ladies Waldegrave was commissioned by the girls' grand Uncle Horace Walpole, author and antiquarian, for his country home, southwest of London.
The painting depicts three sisters seated at a table, dressed identically in tufts of white satin and matching rouged and powdered faces and wigs, fashion for the upper classes of the late 18th century. It would have most likely been commissioned to promote the beauty, serenity and industry of the three girls, all of marriageable age, to potential suitors.
All three are at work on an embroidery task. The eldest sister, Laura, seated in the middle, winds a card with silk thread from a skein held by the middle sister, Maria, on the left. The youngest, Horatia, on the right, embroiders the netting over the tambour frame.
A quiet domestic scene, at first glance, but when we look more closely, we are caught by Maria's absent, distracted look. While her two sisters are thoroughly engaged in the embroidery, looking down intently at their work, Maria is not. She glances away from the scene, almost off the canvas, as if she were reaching forward a few hundred years to let us in on a secret. Is she bored by the task? Thinking of a score she is learning on the piano? Or maybe dreaming of an illicit suitor? We can conjure all sorts of narratives, speculation, of course.
Maria's distracted look, pregnant with emotion, in turn, brings us back to her sisters. What is their true relationship to one another? They are charming, nearly beautific with their pale skin and dress, but there is more than what meets the eye, and we are kept on our toes in this psychological drama unfolding for us.
While drenched in the dress and décor of the late 18th century, the setting also reflects a renewed interest in all things classical, popular at this time, with two classical columns revealed behind the red velvet curtains in the background.
Thanks Dad, for the gift of this list. With your enthusiasm and appreciation for great art, you have taught me to look hard, to listen carefully and to read closely. And kudos to the Frick for organizing such a thoughtful exhibition, diminutive in size, but large in its curatorial contribution.
1) Sandro Botticelli, The Virgin Adoring the Sleeping Christ Child, ca. 1485, Tempera, oil and gold on canvas, 48 x 31 3/4 inches, Scottish National Gallery, Edinburgh
© Trustees of the National Galleries of Scotland
2) John Constable, The Vale of Dedham, 1827-28, Oil on canvas, 57 x 48 inches, Scottish National Gallery, Edinburgh
© Trustees of the National Galleries of Scotland
3) John Singer Sargent, Lady Agnew of Lochnaw, 1892, Oil on canvas, 49 1/2 x 39 1/2 inches, Scottish National Gallery, Edinburgh
© Trustees of the National Galleries of Scotland
4) Sir Joshua Reynolds, The Ladies Waldegrave, 1780-81, Oil on canvas, 56 1/4 x 66 1/4 inches, Scottish National Gallery, Edinburgh
© Trustees of the National Galleries of Scotland
Calling all HuffPost superfans!
Sign up for membership to become a founding member and help shape HuffPost's next chapter