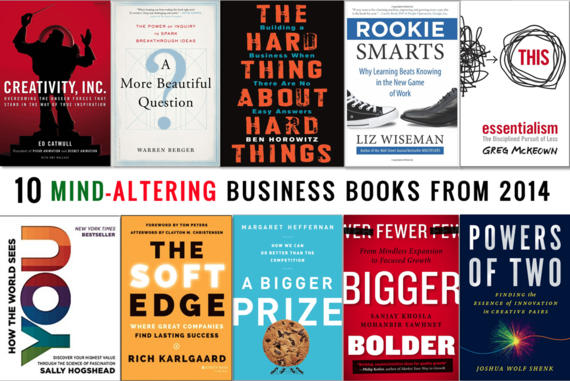 As founder of ad agency StrawberryFrog, I read a lot of business books to try to keep up with the newest thinking and fresh ideas. Trouble is, many business books just confirm what you knew already. Rare is the title that truly shifts your thinking and opens your mind to new possibilities. The following 10 books (with a few honorable mentions at the end) do just that. Some you've no doubt heard of already; a few are under-appreciated gems. All are worth reading, even in a time when we all have too much to read.
CREATIVITY INC: Overcoming the Unseen Forces That Stand in the Way of True Inspiration
by Ed Catmull and Amy Wallace
The inside details of creating a "sustainable creative culture"--as Ed Catmull did at Pixar--are fascinating to anyone running a business. The book helpfully provides a list of the "Starting Points for Managing a Creative Culture," and is full of revealing Pixar anecdotes and great quotes from Steve Jobs. But the transformative lesson is this: To thrive in a creative business, you must tap into the collective brainpower of all your people. Catmull writes, "If there are people in the organization who feel they are not free to suggest ideas, you lose."
A MORE BEAUTIFUL QUESTION: The Power of Inquiry to Spark Breakthrough Ideas
by Warren Berger
As the owner of a company, I sometimes have the feeling that it's my role to have all the answers. Warren Berger's book turns that thinking upside down by showing that in an era of exponential change (now), questions are more valuable than answers. Berger urges us to address challenges by framing a series of actionable, "beautiful" questions--and the book provides practical tools for becoming a better questioner. From a business standpoint, I particularly like Berger's radical suggestions that companies should brainstorm in questions--and also replace the company mission statement with a "mission question."
THE HARD THING ABOUT HARD THINGS: Building a Business When There Are No Easy Answers
by Ben Horowitz
This book became an instant bestseller because people were eager to get insight into the mind of a high-tech pioneer (Netscape, Loudcloud) and current co-owner of the famous VC firm Andreessen Horowitz. Steeped in the first-person, real-world experience of a high-flying CEO who weathered some horrible times, this memoir has more than a few mind-bending ideas, such as this one: Rather than shying away from voicing your worst-case scenario ("What if we go bankrupt?) rephrase it in such a way as to identify opportunities and make action plans ("What would I do right now if we went bankrupt?"). A plan can keep hope alive.
ROOKIE SMARTS: Why Learning Beats Knowing in the New Game of Work
by Liz Wiseman
"With age comes wisdom" goes the adage, but leadership consultant Liz Wiseman's contention is that maturity also makes us less open to change. In a business world where upstart companies like Uber and Airbnb continue to grab market share from more established players, how does one compete? By cultivating "rookie smarts." Wiseman shows us how to foster a mindset that is naïve, curious, hungry, and yes, even a bit clueless--but always open to learning and adapting. Thinking young will keep your business game fresh and competitive.
ESSENTIALISM: The Disciplined Pursuit of Less
by Greg McKeown
This book touches on both business and life issues and has a great message for anyone feeling overloaded by all the distractions of today's complex, always-on world. McKeown urges us to do more with less, as part of a movement called "essentialism," which he sums up as the 4 E's: "Essence, Explore, Eliminate, and Execute." (Warren Buffet is one example of someone living by these words.) Here's one of many "aha" moments in the book: "If you don't prioritize your life, someone else will." Which is why, McKeown notes, we should continually ask ourselves: "Is this the very most important thing I should be doing with my time and resources right now?"
HOW THE WORLD SEES YOU: Discover Your Highest Value Through the Science of Fascination
by Sally Hogshead
So many business books tell us how to change and improve our methods or products to attract more customers. Sally Hogshead's book flips that on its head and says instead of trying to change and conform to others' expectations or needs, figure out what makes you and your brand unique (or in Hogshead's parlance "fascinating") and capitalize on it. Her book discusses nearly 50 archetypes and tells you how to highlight your differences and strengths to connect and influence others.
THE SOFT EDGE: Where Companies Find Lasting Success
by Rich Karlgaard
Forbes publisher Rich Karlgaard has been a longtime observer of the business world, and sensed a small but growing movement in "soft edge" cultures. After interviewing a number of companies, Karlgaard identifies the five attributes of soft edge as trust, smarts, teams, taste, and story. The exploration of what trust means between companies and employees and companies and customers (and how corrosive lack of trust can be) is especially strong. Great strategy and execution are still key factors in business success, but Karlgaard's mind-expanding message for me is that today "the soft edge" is really the only competitive advantage you can have in the new economy.
A BIGGER PRIZE: How We Can Do Better than the Competition
by Margaret Heffernan
Everybody loves to win a "best of" prize, but have we ever thought about the cost of this modern-day obsession with competition and winning? British entrepreneur Margaret Heffernan lists some of the downsides: burnout, cheating, lying, fraud, doping scandals, law-breaking, and winners taking all, leaving the majority in the dust. Heffernan offers an alternative to this joyless race to the bottom by sharing ample examples of business leaders and companies who've found creative, cooperative paths to success--resulting in a healthier kind of winning.
FEWER, BIGGER, BOLDER: From Mindless Expansion to Focused Growth
by Sanjay Khosla and Mohanbir Sawhney
In this book, Khosla, a former top Kraft executive, and Sawhney, a professor at Northwestern's Kellogg School of Management, challenge some of the most fundamental assumptions about growth in business. Too often, company leaders believe they must continually add, expand, acquire--but the authors show that success actually comes from painstakingly narrowing your options and "picking your bets." The book lays out a 7-step program designed to help an organization sharpen its focus at every stage of business. It's a much-needed call for clarity and simplicity.
POWERS OF TWO: Finding the Essence of Innovation in Creative Pairs
by Joshua Wolf Shenk
Rather than subscribing to the "lone genius" theory (which many a CEO would like to believe) Joshua Wolf Shenk makes a persuasive case for the power and necessity great partnerships, with his illustrative anecdotes ranging widely--among the great duos profiled are the Wright Brothers, Watson and Crick, Lennon and McCartney, Jobs and Wozniak, Warren Buffet and Charlie Munger. When you think of creative pairs, you think of great partners helping and complementing each other. The eye-opening takeaway for me was that pairs of rivals, like Ann Landers and her sister Dear Abby, often give a push of competition that adds to each other's work. So next time you see your nemesis in the hallway, give him or her a genuine "Thank you!"
Honorable mentions: A few other mind-altering business reads from 2014 that I couldn't fit on this top-10 list include Peter Thiel's Zero to One: Notes on Startups, or How to Build the Future; Chris Ertel and Lisa Kay Solomon's Moments of Impact: How to Design Strategic Conversations That Accelerate Change; and Bob Sutton and Huggy Rao's Scaling Up Excellence: Getting to More Without Settling for Less.
Scott Goodson is the founder of StrawberryFrog, and author of the best selling mind-altering 2012 business book Uprising: How to Build a Brand--and Change the World--by Sparking Cultural Movements.

Related
Popular in the Community