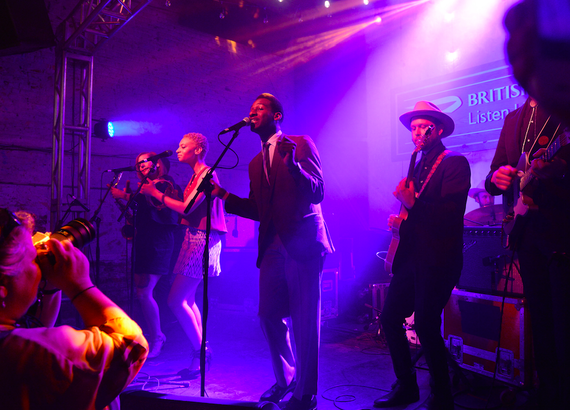 Leon Bridges has been quietly building a following with his hit song "Coming Home" topping digital music charts in the midst of touring music festivals across the globe. With his debut album Coming Home hitting stores on June 23, his Sam Cooke-inspired vocals and vintage love affair are major attractions for young and old souls.
Leon Bridges knows a thing or two about thrifting, having bought most of his wardrobe from secondhand stores in his hometown.
His resurrected personal style pays homage to the music from the 1950s and '60s, as it helps him paint a more genuine picture when it comes to his sound. So it's no surprise that Leon takes his brand and carrying on Black American traditions very seriously. His hair is perfectly sculpted into a asymmetrical fade. Even his Instagram account is on brand, with hundreds of black and white photos.
After playing "Coming Home" on repeat for months, I finally got the chance to chat with the soul singer before his show in Brooklyn for his Listen Up tour, sponsored by British Airways. Leon was dressed in a tan double-breasted jacket with matching pants and suspenders he purchased at one of his favorite consignment shops.
We talked about his first MET Gala experience and what he is inspired by, to shopping for second-hand clothes in various consignment and thrift shoppes around the country. Go inside our conversation.
So, first off, I'm dying to know about your MET Gala Experience. How was that? Who did you go with?
"I was a little nervous. I had to go by myself. Everyone at my table was really cool, though. I sat with Tory Burch, Dianna Argon and Dylan McDermott and his wife. They were all nice people and they made me feel comfortable. I wore a Sandro suit and Louis Vuitton shoes. I kept it simple and fresh. On the way out, I accidentally stepped on Kanye West's shoes. He didn't look back."
I'm not surprised you didn't get a plus one, but at least you got to mingle with amazing musicians! Tell me about your music.
"When I first got into the music scene, I was inspired by different songwriters. I like to dress from the '50s and '60s. I like to paint a picture of that era through my music and clothes. I am inspired by a whole a lot of things, from Doo Wop to Gospel and Soul music."
What does you family think about your music? I'm sure you've been getting great feedback!
"The first time I shared my music and style with my mom, she said, 'Boy, you look like you came right out of the 1950s.' People tell me they use my song 'Coming Home' at their weddings. My audience seems to range from young to old, and it's cool when you really get to connect with all different people."

Yea! I agree. I could totally see your music as the soundtrack to many family gatherings! It makes people feel good! Okay, last question...Where do you shop for your vintage threads?
I shop at thrift stores and consignment shoppes. I wear my clothes as is, and maybe get them dry cleaned whenever possible. I'm always dressed like this. If I'm at the laundromat, I'm wearing a suit. I don't believe in wearing shorts and a graphic tee-shirt, or sandals. My favorite consignment places to shop at are Decades in Salt Lake City and Lula B's, Dallas, Texas."