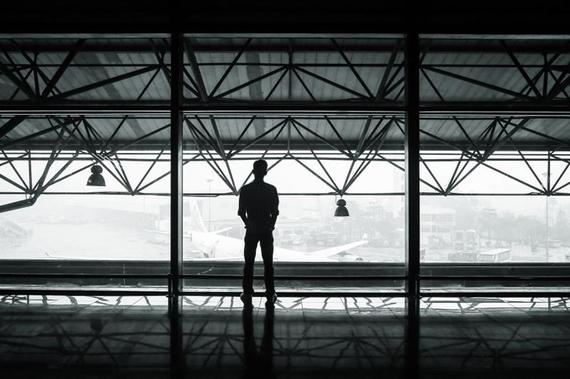 If you're wondering why you never manage to bag a flight for quite as cheap as the next guy, or you're pining for a getaway but really need to keep the cost down, or you're simply super-interested in all the intricacies of airfare pricing (OK, well, at Hopper, we are!), then this list of 10 mistakes that the average buyer makes when booking flights is sure to help.
Covering everything from when to book and when to fly to some of the top travel tools for staying getting the best airfare prices, some seriously useful tips for getting the biggest bargains in the sky are ahead.
10. You're Only Checking One Airline

In the days of flight-aggregating websites and apps, travelers no longer need limit themselves to the prices of just one carrier. Tools like Hopper's When to Fly and Buy reports make it possible to get average seat prices from every airline currently criss-crossing the skies on a certain route, which means oodles of potential savings on everything from short domestic connections to long-haul transatlantics with stopovers. Always comparison-shop before you hit checkout!
9. You're an Impulse Buyer

It's a very bad idea to rush into paying for your flight without exhausting all your options first. That means holding off the "buy" button until you've made sure there are no more competitive offers out there -- from other airlines, to alternate airports, or to a different destination entirely. Oh, and if you do happen to find yourself regretting that impulsive buy moments after booking, then remember: Most major carriers in the United States allow you to cancel your booking within 24 hours of purchase -- for free.
8. You're Booking on the Wrong Day

Although it may seem a little odd and the savings may seem negligible, choosing the right day to book your flights can actually help reduce the cost of tickets. Indeed, Hopper's stats have shown that buying on Thursdays (for domestic flights) and weekends (for international flights) offer the largest savings on average. Data also revealed that it's much more likely that passengers will be able to bag a bargain by buying on Thursdays for both domestic and international connections, because that's when the vast majority of routes offer savings. Not sure when to book? Check out The Cheapest Days to Fly Domestically and The Cheapest Days to Fly Internationally for more info about how timing can help you save money.
7. You're Not Checking Alternate Airports

When it comes to touching down in some of the world's larger destinations, it's likely that there will be more than one airport on offer. For example, New York boasts Newark, JFK and LaGuardia; London has Gatwick, Stansted and Heathrow, while Washington DC is served by Ronald Reagan National Airport, Dulles International and Baltimore-Washington International, too. So before booking, check all the available arrival points and include the cost of transfers into town in your final calculation.
6. You're Not Being Flexible with Destinations

Perhaps you're considering a trip to the bubbling baths and industrial beer halls of Budapest, Hungary, but can't seem to find any bargain air connections into town. Well, a wise traveler would expand their range of choices and look at flights to Vienna, Munich, Prague, and Bratislava, too, all of which are just one manageable and affordable overland journey away from Budapest (especially when budget European airlines offer cheap connections!). In short, it's always worth checking out prices to alternative arrival points nearby -- you never know, you may just discover some other place you love! If you want some inspiration for inexpensive destinations, check out 10 Places to Go While the Dollar is Strong.
5. You're Not Being Flexible with Dates

Hopper's statistics have shown that there are some pretty hefty savings to be had on airfares by simply changing up the days of departure and return to suit the trends for particular routes. In general, Hopper found that Wednesdays are the best for travelers to set off on their journey, offering savings around $60 on international flights, while Sundays are the most expensive. For returns, Wednesdays are once again the best for international fliers, while Tuesdays come in as the cheapest overall for those on domestic flights. And these are just average savings -- your own haul could be much higher.
4. You're Not Including Taxes and Fees

It's the same old story: shelling out for a "bargain" airfare because you forgot to add up all those additional fees, airport taxes, and the like. In recent years, the aviation industry has certainly become more transparent when it comes to hidden charges, but there's still a whole load of potential costs for the would-be flier to consider, from the ubiquitous checked-baggage fees to those fluctuating departure taxes. Thankfully, there are now tools out there that can offer the lowdown on all the extras for all the airlines in the sky.
3. You're Booking Too Late

If Hopper's findings have made one thing clear, it's that the modern commercial airline industry does not reward spontaneity. In fact, with rapid and exponential growth in most airfares in the days leading up to take-off, it's easy to see that -- in most cases at at least -- the early bird really does catch the worm! So, be prepared and plan your trips with ample time, and you should find your ticket prices are taking a turn for the more affordable. (Of course, if you do want to fly last-minute, there's an app for that.)
2. You're Booking Too Early

While many travelers think the earlier the better when it comes to bagging bargains in the air, the statistics actually speak to the contrary. Often, airlines will lower seat prices at a specific point before departure, all in the hope that the maximum amount of passengers will book for the maximum amount of money. The key is to buy just as carriers start to realign seat prices in accordance with demand (a process known as yield management). It's a tricky process but booking at the right moment can offer up potential savings to the tune of hundreds of dollars on some routes.
1. You're Not Using the Right Tools

To stay on top of seesawing airfares, passengers need certain tools to keep them ahead of the competition. One of these is the Hopper app. Using a complex data analysis method, it crunches billions of pieces of information sourced from flight searches, bringing users up-to-date info on airfare trends, the best booking times, alternative airport options, and plenty more, all complete with real-time notifications. You can set up alerts for a specific route and we'll let you know when that price changes. That way, you don't have to do the hard work of checking every airline website ever, saving you time and money in the process. We're nice like that.
This article originally appeared on Hopper.com.