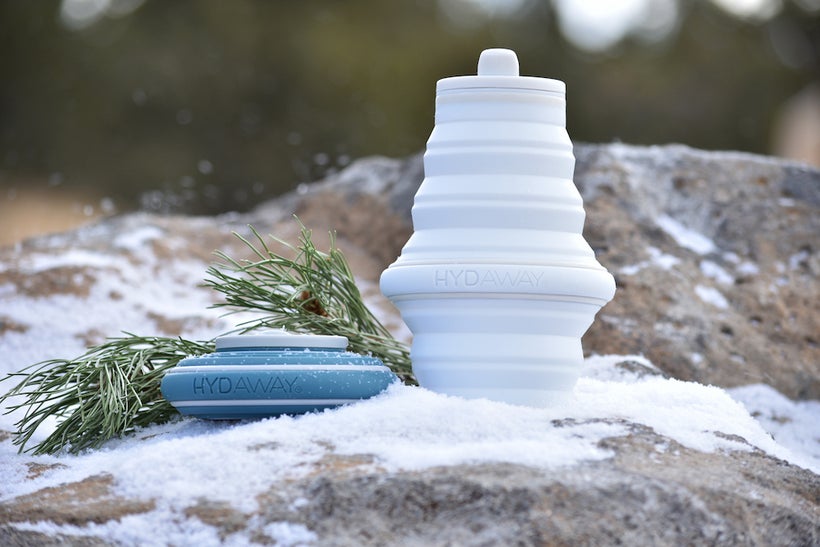 Tis the season of gift giving! While the actual act of giving should warm any heart, the idea of accumulating material things and creating unnecessary waste are enough to make any conscious consumer feel uneasy.
For this reason, you might still be empty-handed. But fear not, as there are ways to get into the spirit of the season without creating too much waste!
Below are some last-minute stocking stuffer ideas for conscious consumers. Everything listed is useful, so you don't have to worry about your gift ending up on a dusty shelf, or worse, in a landfill.
(Not into physical things? Scroll to the bottom of this article for other ways to give this holiday season.)
1. Collapsible bottles by Hydaway
Never get caught at an airport or on a day trip without a bottle again! Hydaway solves the dilemma of packing a reusable drinking container when space is limited. Their handy bottles collapse to a little over an inch, so you can stick them in pockets, purses and carry-on luggage. Made from food-grade silicone, Hydaway bottles are dishwasher safe and recyclable. Choose from 20 oz ($20) or 12 oz ($15) bottles in an array of colors.
2. Wrappers by Bee's Wrap
Ditch saran wrap for good with this reusable and compostable wrapper alternative made with organic cotton, beeswax, jojoba oil and tree resin. A Bee's Wrap 3-pack ($18) is a great introductory assortment that will fit perfectly into any eco stocking. Don't forget to buy one for yourself—you'll love the sweet honey scent that appears every time you pull out a wrapper.
3. Plant-based phone case by Pela
Ease the mind of the person who grumbled about having to get a new phone due to "compatibility issues" with this protective plant-based phone case. Pela's 100 percent compostable phone cases are made with starch-based biopolymer, recycled materials and flax straw. Smooth to the touch and with a unique speckled pattern, these cases ($29 - $37) are great for gifting, especially with their current deal—buy one, get the second case for half price.
4. Mushroom farm by Back To The Roots
Back To The Roots hopes to connect kids and families to where their food comes from by offering a number of easy-to-use indoor gardening kits, like this adorable organic mushroom farm ($19.99). The kit can grow two crops of mushrooms and includes a downloadable curriculum for kids to learn about the science behind mushroom farming. The box can last for months unopened, so your gift can even be saved for a rainy day.
5. Paper straws by Aardvark
Stainless steel and glass straws are great, but what if you need a lot of straws? A more affordable and sustainable alternative to the plastic straw is the paper straw. Aardvark offers a dizzying array of paper straw options, from polka dots to chevron patterns to holiday prints to sports team logos. All Aardvark straws are made with food-grade inks and paper, and some are even bendable. A pack of 24 straws ($4.99 - $5.25) would make a great stocking stuffer for anyone who enjoys entertaining.
6. Solar lights by MPOWERD
This inflatable solar light is called Luci and it's proof that good things do come in small packages. The Luci Original ($19.95) makes a great stocking stuffer for an avid camper or someone who will appreciate a clean source of light for their shed or porch. Another option is to buy/donate a Luci EMRG ($19.95) for disaster victims, and in turn MPOWERD will send you a Luci Candle (flameless) for free, which you can put in someone's stocking. That's two gifts for the price of one.
7. Bamboo solar speaker by Reveal
This bamboo wireless bluetooth speaker by Reveal ($90) not only looks good indoors on a shelf, but is super useful for people who spend a lot of time outdoors. The speaker can be charged with the sun or through a USB cable, lasting for about eight hours. The speakers also double as a portable phone charger! For every product sold, Reveal plants a tree through their partnership with the non-profit American Forests.
8. Sunglasses by Ellison
Ellison's stylish sunnies ($120 - $180) have been embraced by the likes of Mario Lopez and the cast of the show Empire on FOX, and for good reason. Not only do they look good, but these frames are made with Italian Mazzucchelli M49 cellulose acetate, which biodegrades in around 18 months. The cases are a mixture of cork, paper and muskin (vegan mushroom leather). An extra $10 for the annual Club Ellison VIP membership unlocks access to future frames at 50 percent off, so the recipient should never have to resort to plastic frames again.
9. Detergent by HEX
Make someone's life easier by sticking an eco-friendly detergent with real cleaning power in their stocking. HEX Perfomance was founded by a former pro-athlete who was tired of traditional detergents not cutting it. The HEX formula gets the stink out while being 100 percent biodegradable with no dyes, fillers, phosphates or optical brighteners. Their Free + Clear detergent ($9.99) is nonallergenic and fragrance-free. The pouch is easy to carry and takes up less space than traditional plastic detergent bottles.
10. Toilet paper by Tushy
A roll of toilet paper in a stocking?! Don't equate that with a lump of coal just yet. Toilet paper isn't anything if not useful, right? Not to mention, it takes 37 gallons of water to make a single roll of traditional bleached toilet paper, but just a half gallon of water to make Tushy's soft, two-ply bamboo toilet paper ($18 for 12 rolls). You might consider putting the rest of the rolls under the tree, along with an easy-to-install Tushy bidet ($69) to make that bamboo toilet paper last even longer.
Shop Responsibly
Remember... Don't let the holiday discounts distract you from being a conscious consumer. Select items that have a purpose (bonus points if your gift helps the recipient develop less wasteful habits!). Purchase from companies that put the environment first by offering responsible alternatives made out of sustainable materials.
If It Ain't (Totally) Broke, Fix It Up
Who said you had to buy anything? Consider (discreetly) borrowing something of sentimental value so that it can be mended, cleaned or professionally restored. Not only will your loved ones be surprised when they find it in their stocking, but your thoughtful gesture will help them hold on to a cherished item for a little while longer.
Green Ways To Give Back
If you are headed to a soup kitchen or shelter, bring eco-friendly supplies like biodegradable cups and cutlery for the people who are being served. Set some time aside during the holidays to do a beach cleaning or pick up litter from your favorite outdoor space—it can become your new family tradition! You can also help fundraise for the local community garden, so that more people have access to fresh food and can rely less on fossil fuels to bring produce into their homes. A greener neighborhood is a win-win for everybody!
Calling all HuffPost superfans!
Sign up for membership to become a founding member and help shape HuffPost's next chapter
This post was published on the now-closed HuffPost Contributor platform. Contributors control their own work and posted freely to our site. If you need to flag this entry as abusive,
send us an email
.