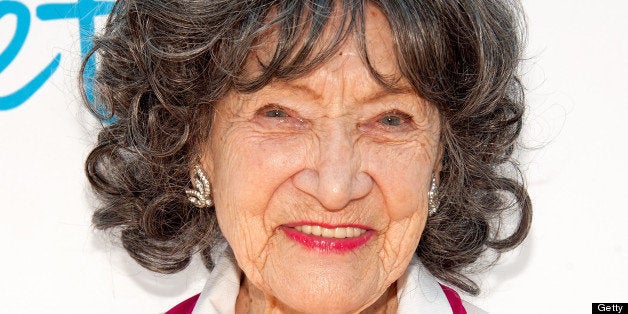 As poet and Nobel Prize Laureate Rabindranath Tagore said, "Let us not pray to be sheltered from dangers, but be fearless when facing them." Fearlessness is a quality of spirit that enables you to walk an uncharted path and push forward, no matter what obstacles you face. I'm quite grateful to have met extraordinary women from a range of fields -- politics, business, media and spirituality -- who have worked fearlessly for freedom and equality. Here's a taste of inspiration from my Top 10 and the leadership qualities they exemplify:
1. Tao Porchon-Lynch
"Whatever you put in your mind materializes. If it's fear, it will decay in your body. So don't even start with that in mind. Look for the good." A life-long peace activist who marched with Gandhi twice and worked in the French Resistance under General Charles de Gaulle, Tao Porchon-Lynch is almost 95 years old and is still sharing her wisdom. She is my yoga teacher and mentor, and I've been most influenced by her tenacity and positive spirit.
Fearlessness may be a gift but perhaps more precious is the courage acquired through endeavor, courage that comes from cultivating the habit of refusing to let fear dictate one's actions, courage that could be described as 'grace under pressure' -- grace which is renewed repeatedly in the face of harsh, unremitting pressure.
Burmese Nobel Peace Laureate and human rights activist Aung San Suu Kyi endured over 15 years of house arrest and recently announced her desire to run for president in 2015. I met her at the World Economic Forum in Myanmar and was struck by her grace and mental toughness.
3. Graça Machel
"My challenge to each of you is that you ask yourself what you can do to make a difference. And then take that action, no matter how large or how small. For our children have a right to peace." Former First Lady of both South Africa and Mozambique, Graça Machel has been an advocate for women's and children's rights for 40 years. I met her through my family right after she married President Nelson Mandela, and I've been inspired by her confidence and conviction.
4. Gloria Steinem
"The future depends entirely on what each of us does every day; a movement is only people moving." Writer and feminist activist for over 40 years, Gloria Steinem co-founded Ms. magazine and helped to found the Women's Action Alliance and Women's Media Center. She was my commencement speaker at Wellesley College and I later met her when receiving an award. For me, she is an example of vision and action.
5. Rosa Parks
"I have learned over the years that when one's mind is made up, this diminishes fear; knowing what must be done does away with fear." A simple act of refusing to give up her seat to a white passenger sparked the Montgomery Bus Boycott in 1955 and made her an icon for resistance to racial segregation. I had the honor of having breakfast with the "first lady of civil rights" and my mentor Jesse Hill Jr. in Atlanta in the 1990s and was humbled by her own humility and inner strength.
6. Coretta Scott King
"Freedom and justice cannot be parceled out in pieces to suit political convenience. I don't believe you can stand for freedom for one group of people and deny it to others." Widow of Dr. Martin Luther King Jr., Coretta Scott King was a leader in the civil rights movement in America and later took on other issues such as women's and LGBT rights. I had the pleasure of getting to know her and the King family over the years. She has always been a model of dignity and integrity.
7. Dorothy Height
"Greatness is not measured by what a man or woman accomplishes, but by the opposition he or she has overcome to reach his goals." Active until she died at age 98, Dorothy Height worked for nearly 80 years as a civil and women's rights activist, including serving four decades as President of the National Council of Negro Women. She advised many American presidents and worked alongside leaders such as Dr. Martin Luther King Jr. I had the pleasure of meeting her through my mother over the years and was always energized by her determination and resilience.
8. Arianna Huffington
"Fearlessness is like a muscle -- the more you exercise it, the stronger it becomes." Editor-in-chief of the Huffington Post Media Group, Arianna Huffington created a Pulitzer Prize-winning media platform and is an ardent supporter of women and social justice. I sat next to her at dinner during the World Economic Forum in Davos, Switzerland a few years ago. She is one of my business heroes and I have been greatly inspired by her combination of ingenuity and passion.
9. Jody Williams
"Demilitarization isn't a dirty word; nonviolence isn't nonaction; and real peace isn't for wimps." American Nobel Peace Laureate and human rights activist Jody Williams is known for her work in global security and banning anti-personnel landmines. I met her as a presenter at the 2011 Newark Peace Education Summit and was inspired by her courage and directness.
10. Indra Nooyi
"You've got to say, at every point in your life, if you were to drop dead, would your epitaph be something you could be proud of? Is your legacy something that would linger long after you?" Chairperson and CEO of PepsiCo, Indra Nooyi is one of the most powerful women in business and a supporter of women's initiatives. I met her at the Important Dinner for Women in New York and later through the World Economic Forum. I am most impressed by her focus and commitment.
Think about the qualities these women have exhibited and decide which ones you want to embody in your own work. By living our truth and offering the world our best, we each have the ability to be fearless in our everyday lives -- and perhaps, through our examples, inspire others to do the same.
Dr. Kennedy is an internationally-recognized voice in Personal Empowerment & Leadership, Health & Productivity Management and Sustainability offering a unique, multidisciplinary approach to success in work and life. A Harvard-trained strategist and social entrepreneur, she is known for applying the principles and techniques from yoga and mindfulness to the Power Living coaching process in order to help people have the clarity and energy to reach their highest potential. Check out her coaching services, private yoga training, inspirational products, blog and/or speaking services.
Related
Popular in the Community