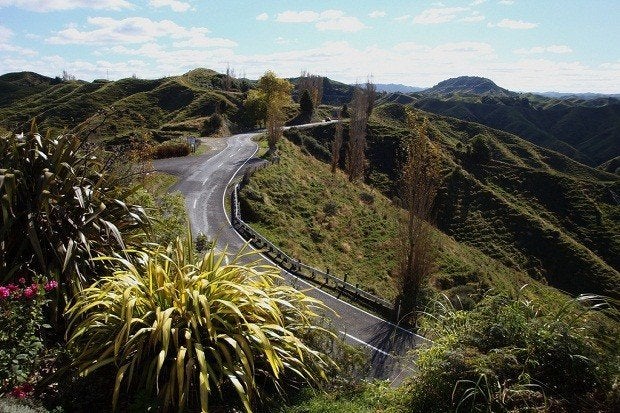 There are millions of miles of paved road running across the face of the Earth, but driving on most of them is often a chore -- a necessary step to get from Point A to Point B. But that's not the case along the 10 stretches of pavement we've pinpointed below. From dramatic coastline drives to precarious mountain passes, these beautiful strips of pavement weave their way through some of the world's most gorgeous landscapes, with inspiring images reflecting in your rear-view mirror. Instead of simply being a part of the journey, these roads are so awe-inspiring that they have become destinations unto themselves. So fasten your seatbelt, because you're in for a spectacular ride.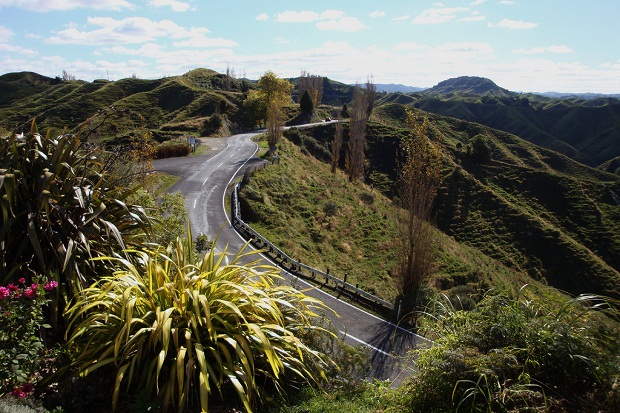 Quiltsalad / Flickr
Pacific Coast Highway, Calif.
California's Route 1 extends nearly 656 miles along the state's coast, from Orange County (south of Los Angeles) all the way up to Mendocino County (north of San Francisco). You're bound to encounter some nice scenery from start to finish. However, you'll encounter the most picturesque views as you navigate the 123-mile stretch that includes the Big Sur Highway and the San Luis Obispo North Coast Byway -- collectively known as the Pacific Coast Highway (PCH). Begin your drive near the pebbly beaches and golf courses of Monterey. Then, meander south along California's central coast through the redwood forests and seaside cliffs of Big Sur. There are plenty of places to stop for photo-ops along the way: 18 miles south of Monterey, the Bixby Bridge arches gracefully over Big Sur's churning surf. Meanwhile, the Hearst Castle in San Simeon -- about a 35-mile drive north of Morro Bay, the PHC's southernmost exit -- makes for a lovely place to stop and stretch your legs. However, don't get too distracted by the PCH's scenery: You'll need to be on the lookout for hairpin turns, sharp drop-offs, dense fog and bikers on the two-lane road.
Spanning 113 miles from the tip of mainland Florida (near Miami) through Key West, the Overseas Highway makes up the southernmost portion of U.S. Highway 1. Begin your journey on Key Largo, and drive west across the highway's 42 trans-ocean bridges, which connect the southeast corner of the Florida mainland to the islets of the Florida Keys. The longest of these bridges is the aptly named Seven Mile Bridge, which reaches across nearly seven miles of turquoise water to link Knight's Key and Little Duck Key (you'll hit it about 54 miles west of Key Largo). The bridges make for spectacular panoramic views of The Sunshine State's coastal flats and islets. On many of islands (including Tavernier, Hawks Key and Big Pine Key), you can stop at kitschy burger stands and souvenir shops. Underwater enthusiasts can even take a few hours to explore the Keys' coral reefs on a dive excursion. But make sure to check the weather before you get behind the wheel or the scuba mask -- an autumn hurricane can put a damper on driving and diving. The drive across the Overseas Highway from Key Largo to Key West should take just over two hours, but we suggest taking it slow.
Great Alpine Road, France
The Great Alpine Road, or the Route des Grandes Alps, cuts a 425-mile swath through the French Alps. The road begins in Thonon-les-Bains along the shores of Lake Geneva and terminates in the small town of Menton along the Mediterranean coast (near Monaco). The scenery out the window is stunning: As you make your way south, you'll snake past snowcapped peaks, verdant valleys and glimmering lakes. You'll also drive through a number of mountain hamlets like the ski resort town of Morzine, a quaint chalet-filled town about 20 miles south of Thonon-les-Bains. Before you embark on your road trip, though, make sure your brakes are working perfectly. The route features a number of cols, or mountain passes, known for their dangerous curves and steep drop offs. These include Col de l'Iseran (about 136 miles south of your starting point), which stands as the highest paved Alpine pass at 9,090 feet. Needless to say, you'll want to take stretches slowly.
Also called the "Journey Through Time Scenic Byway," Utah's Route 12 features 122 miles of two-lane highway twisting through the Colorado Plateau in the southern part of the state, home to geological formations that date back hundreds of millions of years. Start in Panguitch, Utah, and take Route 89 south to its intersection with Route 12. As you drive east along the byway, you'll encounter views of Utah's beautiful red-rock desert, including rust-colored, Cretaceous-Perioud spires and bridges of Bryce Canyon National Park. Further east, the scenery shifts to the brown cliffs and fossil-rich flatlands of the Jurassic Period. Route 12 then crosses the Escalante River and Canyons, where the landscape changes yet again from brown to green, with sandstone cliffs rising from either side of the northeast approach to Boulder Mountain. From the top, you're in for a panoramic view that stretches for more than 5,000 square miles. Scenic Byway 12 ends in Torrey, Utah. If you drove without stopping, you'd finish the trip in about three hours after you began your journey -- but you'll probably want to stop for a hike or a photo along the way.
Jeremy Clarkson, host of the British car program, "Top Gear," once called Vietnam's Hai Van Pass "a deserted ribbon of perfection -- one of the best coast roads in the world." Indeed, the stretch of Highway 1 from Da Nang to Hue is about 60 miles long, but this 13-mile pass slithers its way through the lush, coastal mountains of central Vietnam. Beginning in Da Nang, you'll drive northeast past the 3,845-foot peak of Ai Van Son and an old French fort that is pockmarked with bullet holes. And because most commuters opt for the Hai Van Tunnel bypass that opened in 2005, you are likely to be one of the only cars on this scenic road. You can pull over at the summit of the pass and snap some pictures of the verdant coastline and the azure South China Sea from more than 1,600 feet above sea level (but you might bump elbows with some other tourists and vendors here). From the road, it's easy to see why the Hai Van Pass is also called the Sea Cloud Pass: it serves as the dividing line for Vietnam's northern and southern climates. In the winter, you'll notice an extreme difference between the cold mists in Hue and the dryer warmth in Da Nang.
Amalfi Coast Drive, Italy
The Amalfi Coast (the southern coastline of the Sorrentine Peninsula) is said to possess some of Italy's most impressive views. But you don't have to take our word for it: UNESCO named it "an outstanding example of a Mediterranean landscape" back in 1997. The Amalfi Coast Drive -- also known as the Strada Statale 163 -- hugs the seashore for about 25 miles, and stands as one of the world's most legendary drives. Beginning in Salerno and heading west, the road passes through terraced coastal towns and tunnels carved directly into cliffs, all while offering stunning views of the teal Mediterranean Sea. But drivers beware: The Amalfi Coast Drive can be tricky, as much of it is extremely narrow, while strong winds, dense traffic (especially during the summer) and reckless drivers pose risks. Take the hairpin turns slow as you make your way to the road's end point in Positano.
The Atlantic Road, Norway
The Atlantic Road, part of Norway's County Road 64, is five miles of pure exhilaration in the western fjords. Opened in 1989, this zigzagging configuration of seven bridges begins about two miles west of Kårvåg, stretches west to link the tiny islands that dot the Norwegian Sea, and ends in Vevang. Of the seven bridges, Storseisundet Bridge -- located just over two miles east of Vevang -- is perhaps the most well-known. Also called "The Bridge to Nowhere," Storseisundets bend and twists in such a way that creates the optical illusion of a steep drop-off when viewed from afar. But don't worry: The bridge continues smoothly, so you won't veer off the edge into freezing waters. As well as unique engineering, the Atlantic Road boasts jaw-dropping views. Travelers on the road in the summer months might catch a glimpse of seals or aquatic birds. Meanwhile, daredevils who opt for autumn road trips may encounter raging storms that bring waves crashing against the highway barriers (we recommend a stormy road trip for experienced drivers only).
The Seward Highway, a stretch of road between Anchorage and Seward, Alaska, snakes through 127 miles of Alaskan wilderness, offering views of craggy mountain peaks, shimmering valley lakes and icy azure glaciers. Comprised of portions of Alaska Routes 1 and 9, the Seward Highway passes through a few towns as it meanders north from Seward. There are plenty of places to stretch your legs, including Exit Glacier, which is about a 12-mile drive north of Seward. The highway will also take you among the snowy slopes and ski chalets of Mount Alyeska, the evergreens of Chugach State Park and the eerie remains of a 1964 earthquake in Portage Valley. Farther north (about 46 miles southeast of Anchorage), the road flushes against Turnagain Arm, an inlet of the Gulf of Alaska where you might spot some beluga whales or eagles. Though you can make it to up to Anchorage in about 2 1/2 hours, it's best to take it slow so you can soak up the scenery.
Forgotten World Highway, New Zealand

It's not hard to tell how New Zealand's State Highway 43 came to be known as the Forgotten World Highway. This remote thoroughfare on the North Island is short on civilization, but rich with unspoiled greenery. In fact, the only town you'll encounter on the road is Whangamomona, about 38 miles east of your starting point in Stratford. The Forgotten World Highway extends northwest for roughly 93 miles, finishing in Taumarunui. It carves a rugged path along a winding river gorge through the North Island's emerald-colored hills and dales, past beech forests and lush farmland. You'll cruise by the remnants of an old mining town and navigate the haunting one-lane Moki Tunnel before you reach the road's terminus in the town of Taumarunui. Just don't forget your road kit -- much of the highway is loose and gravelly, so you may need to change a tire along the way. Assuming your tires are in good shape, driving time from Stratford to Taumarunui should take about two hours.
Hana Highway, Maui, Hawaii
The Hana Highway extends 52 miles along Maui's northern coast, starting in Kahului and weaving east around nearly 600 curves before it reaches its terminus in Hana. Around every bend are sweeping ocean vistas, black-sand beaches, rushing waterfalls and mile after mile of leafy, Hawaiian jungle. Along the way, you'll find plenty of pull-offs that offer photo opportunities and hiking trails. Though the drive should take roughly two hours, you may want to add in a couple of stops along the way. Movie buffs will want to pull over at the Garden of Eden and Botanical Arboretum -- about 27 miles east of Kahului -- to see where parts of Jurassic Park were filmed. Further east, Wailua Falls drops an 80-foot torrent of water about 16 miles west of Hana. And about 14 miles east of that, Waianapanapa State Park boasts a dramatic beach and trails that pass a sea cave where the waters occasionally blush crimson (it's not blood, just thousands of tiny shrimp).
Popular in the Community