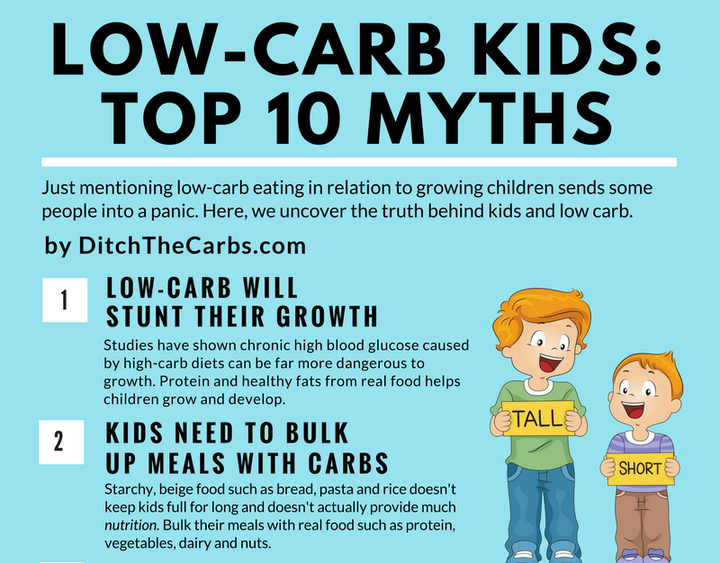 Eating starchy food is deeply ingrained in our culture, making it difficult (even unbelievable) to think about switching growing kids onto lower carb food. However, just like adults, kids will greatly benefit from cutting back on sugar, wheat, and carbs and eating real and unprocessed quality food.
Here are the top 10 myths about low carb kids that will—hopefully—ease your doubts and fears:
1. LOW CARB WILL STUNT THEIR GROWTH
Guess what? There are no vitamins, minerals, and micronutrients in starchy foods that children can't get from low-carb whole foods that will truly feed their growing bodies. There are other food sources with better quality of vitamins, minerals, and micronutrients—such as vegetables, meat, nuts, eggs, dairy, and some low-sugar fruit. Besides, there have been numerous studies that diets that are high in carb are actually dangerous for kids. Remember, we are low carb NOT no carb.
2. KIDS NEED CARBS TO FEEL FULL
Nope, not really! This myth is exactly why this generation of kids is the most overfed, but undernourished. Instead of bulking up with starchy carbs, give them real food that can sustain them for the whole day without causing sugar spikes and sugar crashes. Increasing the amount of healthy fats and quality protein at each meal will keep kids fuller, and for longer.
3. KIDS NEEED CARBS TO POWER THEIR BRAIN
You might have read about it somewhere that the brain needs glucose to function. However, that's a half-truth. Parts of the brain do need glucose as fuel, but others can function very well on ketones (produced on a low-carb diet). Kids need nowhere near the amount of carbs they are currently eating. Remember, we are low carb NOT no carb.
4. KIDS NEED CARBS TO POWER THEIR BODY
Say what?! All types of food can give us energy! High carb food can give your child energy, but it's short-lived, which then results in a slump that's followed by sugar cravings. When your child goes low-carb however, you will be able to avoid the high-low blood sugar rollercoaster and keep them energised throughout the day without reaching out for more carbs or sugar.
5. CARBS ARE ESSENTIAL TO KIDS' NUTRITIONAL NEEDS
Kids need real food and healthy fats for their growing body—not empty carbs. Note that we're talking about low-carb diet, not "no carb" diet so children still get the carbs they need... but from quality sources such as vegetables, fruit, nuts, low-sugar fruits and dairy.
6. GOING LOW CARB WILL CUT OUT AN ENTIRE FOOD GROUP FROM THE CHILD'S DIET
Again, this isn't true. This is a low-carb diet—not a no-carb diet. Children are encouraged to get their carbs from real food and nutrient dense sources such as vegetables, instead from starchy food. Cutting out junk food, processed food and sugar shouldn't even be up for debate. Crowd out the junk with real food.
7. FAT WILL MAKE KIDS FAT
Healthy fats are essential for hormone production, healthy brain function, tissue development, appetite control, and absorption of fat-soluble vitamins. It's when kids are on a high carb and high fat diet that it becomes a recipe for disaster and their waistline. Healthy fats help kids fuller for longer.
8. IT'S HARD TO PREPARE LOW CARB LUNCHES FOR SCHOOL
Not at all! In fact, there are quite a lot that will take you just a few minutes to make—and these low-carb school lunches are just as good (if not better) than how you prepared school lunches before. Throw away the cakes, crackers, crisps, juice, bread and pizza. Instead, choose these ideas.
9. LOW CARB KIDS DON'T GET FRUIT IN THEIR DIET
Fruits are incredibly high in carbs, but that doesn't mean children won't be allowed to have them at all. Go for fruits with lower sugar, such as nutrient dense berries. Try to avoid high sugar tropical fruit, fruit juice and fruit based smoothies. "A glass of juice isn't the same as the goodness from 6 oranges, it's the same as the sugar from 6 oranges."
10. KIDS SHOULDN'T BE ON A DIET
When you stop the snacking culture and begin to eat unprocessed, nutritious food, you become low carb almost by default.
This isn't about putting your kids on a diet, but more on encouraging them to eat real, unprocessed food. There isn't anything unhealthy about that!