Bourbon has a way of making itself known. And these 10 innovative cocktails--from stirred spirit-forward drinks braced with smoky or bitter touches to lighter, fruity libations--conjure the warming essence of the last few months of a year.
1. #37¾

SERVED AT: Randolfi's, St. Louis, Missouri

Head bartender Jeffrey Moll will create a new iteration of this drink each season for this upcoming spot. Each drink will also feature a different fraction (37¼, 37½, etc.). The three-quarter features bourbon, Big O ginger liqueur (a local Missouri spirit), plus house-made crème de rhubarbe liqueur and house-made BBQ bitters. The finishing touch? A canopy filled with applewood smoke.
2. 8½

SERVED AT: Ribalta, New York City

The entire cocktail list is inspired by Italian cinema, including this drink named for the Fellini classic. Tall and creamy, it's made with Elijah Craig 10-year-old bourbon, Clement Creole Shrub, Branca Menta and coconut milk then garnished with an orange "flag."
3. Buffalo Soldier

SERVED AT: South Water Kitchen, Chicago

Head bartender Dan Rook crafted this breakfast-inspired flip for the restaurant's brunch menu. Its ingredients: Buffalo Trace bourbon, a whole egg, maple syrup, crumbled bacon, Peychaud's bitters and powdered sugar. Worth it for the crisp bacon strip garnish alone.
4. Dixie Bramble

SERVED AT: JCT Kitchen, Atlanta

Beverage manager Eduardo Guzman makes this pretty pink drink with Buffalo Trace bourbon, Bitter Truth Elderflower Liqueur, lemon and blackberry grenadine.
5. Game of Thrones

SERVED AT: Jockey Hollow Bar & Kitchen, Morristown, New Jersey

Named for the notoriously dark TV show, this appropriately dark and bitter drink mixes Bulleit bourbon, Demerara, Angostura bitters and Regan's No. 6 orange bitters, plus cedar smoke.
6. Get a Job You Lazy Plum

SERVED AT: Sujeo, Madison, Wisconsin

The name may draw a giggle, but the drink is serious stuff. Drawing on the restaurant's Pan-Asian concept, head bartender Jeff Spear combines Japanese plum wine with Bulleit bourbon and Angostura bitters for a subtly sweet-spiced profile.
7. Good Ol' Boy

SERVED AT: The Bonnie, Astoria, New York

This particularly complex cocktail, created by Mike Di Tota, starts with brown-butter bourbon and house-made spiced burnt-orange syrup. It's then mixed with Luxardo Amaro Abano, pear nectar, lemon and Angostura bitters and topped with a pear slice speared on a bamboo pick.
8. John Shenk's Redemption

SERVED AT: Sidecar, Jacksonville, Florida

Creamy and delicious, this drink mixes Michter's bourbon with Luxardo amaretto, lemon, raspberry, egg white and black walnut bitters for the ultimate mash-up of Flip and Amaretto Sour.
9. Smashing Leaves

SERVED AT: Hinoki & the Bird, Los Angeles

Here, bourbon takes on Asia-inspired flavors, rounded out with kumquats, lemon and shiso leaves.
10. Southern Belle

SERVED AT: The Beach at Dream Downtown, New York City

Bearing a passing resemblance to a stone fruit-inflected Julep, this highball showcases Woodford Reserve bourbon, apricot preserves, lemon and mint.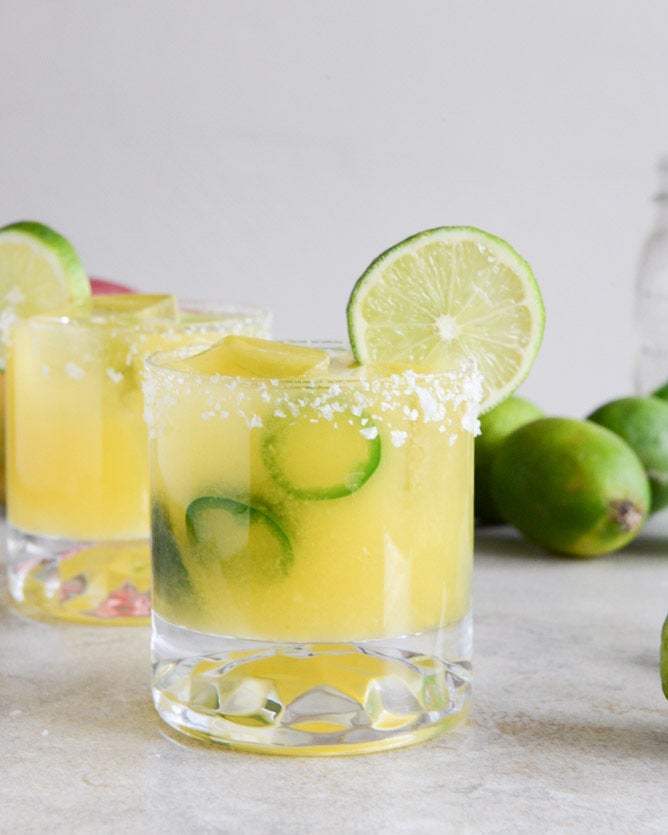 15 Twists On Classic Cocktails
Related