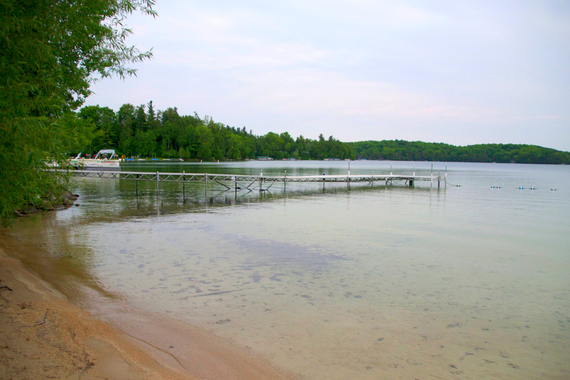 If there's one thing I love about the US, it's the hidden gems our country has to offer. The secluded lakes, little treasures and islands yet to be explored (and ruined) by the jort wearing masses. As a girl who grew up next to a lake until she was 12, I know just how incredible that fresh water sea breeze is, how small you feel when you're staring into the great unknown from a ferryboat. There's something innately special about a few days at the lake that just can't be explained or replicated.
That's why I'm sharing 7 of my favorite US lakes (many of which you've probably never heard of) in hopes of inspiring a relaxing, nostalgic Labor Day getaway for anyone needing one last summer hurrah. All you need to bring is some sunscreen and a fishing pole.
Put in Bay, or PIB as the locals call it, has been a booming tourist destination since the late 1800's, although has changed rather dramatically since then. This once sleepy island is now home to a very thriving bar and food scene and swells to triple its size with drunken adults and merry makers during the summer months. However, there's more than just bars on this island and there's still plenty to do if you're visiting with a family. There's the monument, perry's cave, South Bass Island State Park, War of 18 holes (putt-putt), rock climbing and kayaking that provide fun for all ages. And if you're over 21 looking for a taste of PIB, visit the iconic Frosty's Bar for a pint and a pizza or the Round House, one of Put in Bay's oldest (and roundest) bars. Plus, PIB is right across the lake from Cedar Point, so a day trip to the US's best amusement park is only a short ferry ride away.
This small lake town is home to Road America, a 4-mile racetrack, which lets guests watch race cars zip around the tracks in Nascar worthy cars or explore the historic track on (slow-moving) ATVS. The town is steeped in racing history, and local and national legends have been visiting the track (and drinking in the Siebkens Stop In Tavern) for years. Although the track gives the city an edge, most people who visit prefer the luxurious part of town and spend their days pampering themselves at the Ostoff Resort, which has a fully functioning spa and L'ecole de la Maision, a French/Italian cooking school. The real allure of Elkhart Lake is the 286 square foot clear blue lake. If you don't have a boat to zip around the lake's corridors or fish, you can easily rent a paddle boat, kayak or paddle board to explore the little coves of the lake. Just a few short blocks from the lake is the cute center of town, which is home to cute local shops, like Vintage Elkhart Lake, a wine store and art galleries, like the Two Fish Art Gallery and great restaurants, like the Lake Street Café and Paddock Club. Our favorite part is that it's only a short one hour car ride from Milkwaukee.
Just about 70 miles from Chicago's busy O'Hare airport and downtown corridor is the beautiful town of New Buffalo, which sits right on Lake Michigan. The most popular destination is the New Buffalo City Beach, which stretches around the bottom of Lake Michigan and has beautiful sand dunes, a nature trail, a boat launch and plenty of places to pop down your stuff and soak up the sun. For some on water activities, like surfing lessons or stand up paddle boarding, stop by the Third coast Surf Shop to speak to an instructor (and shop around for beach inspired necessities). After you're plenty burnt, head to the Marina Grand and grab a ticket to one of the fruitful vine tours, which take you around the Michigan's growing wine country. One of the best (and most iconic) eateries in town is the Stray Dog Bar & Grill. This waterfront restaurant gives you beautiful views of Lake Michigan on the rooftop deck with a side of local small town hospitality, good food and a great local beer selection. Image via Chicago Magazine.
There's no better state to visit when craving a seaside getaway than Minnesota, aka the land of 10,000 lakes. My favorite of the 10,000 is Lake Kabetogama, which is the perfect place to visit if you're majorly into kayaking and canoeing. Lake Kabetogama is part of the waterways that make up the Voyageurs National Park, so it's home to over 20 campsites that are only reachable by boat. Lost Bay and the Chief Wooden Frog Islands are some of the most picturesque. Not only is this lake great for paddling, but it's a fun spot for wildlife junkies, too. Here you'll be able to find bears, bald eagles, otters, wolves and even moose who traipse along the shoreline. There's also great hiking, biking and cross-country trails around the lake for those craving an active vacation. Tenting and camping is a favorite here but there's also the Northern Lights Resort for those who'd prefer a bed to a sleeping bag.
You probably don't think lake vacations when you think Iowa, which is why a visit to Okoboji, Iowa (or Iowa's Great Lakes) should be on the top of your US bucket list. Okoboji is 210 miles from Des Moines and is the perfect scenic getaway from all of that corn. The lakes are glacial and cover about 15,000 acres. From jet-skiing, to dock fishing to glass-bottom boat tours, there's plenty to do. Off the water, you can visit Arnold's Park, a turn of the century theme park that's full of retro charm (think rusty signs and vintage amusements). There's also over 20 miles of hiking off the shores and plenty of lush parks for picnics. For those craving culture, visit one of the museums like the Rock N Roll Music Association museum or the Okoboji Classic Car museum. Image via In Iowa Water.
Once you step into the world of Walden Pond, Boston seems like it's light-years away (which is ironic, considering the bustling city is just a short 40 minute drive). What makes Walden Pond such an oasis is that the calm, forest coated shorelines haven't been changed much since the late 1800's, when Henry David Thoreau called the glacial lake home in a small, modest cabin. The lake has plenty of walking tours by the Walden Woods Project so you can get a scope of the land, or you can explore on your own by swimming, fishing, kayaking and canoeing. There are plenty of attractions, restaurants and hotels in neighboring Concord, but a stay at the quiet North Bridge Inn will ensure a very peaceful getaway. Image via Jenny MSPP.
Over twenty wineries, dozens of hiking trails, 50 miles of pure glacial lake and snow-capped Cascades will be what you see when you drive into the beautiful Lake Chelan from Seattle or Spokane. There's an endless array of activites for any age-group, including water sports, wine-tasting, hiking, mountain climbing, cycling, golfing, fishing and eating. If you're into wine, be sure to visit Nefarious, Cheland Ridge Winery and Tilido. For food, you can't beat Café Mason, a husband and wife due who make incredibly delicious and seasonal cuisine. The Lake Chelan National Recreation Area is great for camping and the best hiking and biking trail for those active types is the Chelan Lakeshore Train, which can be a day or overnight hike that takes you to Prince Creek in Wenatchee National Forest.
Related