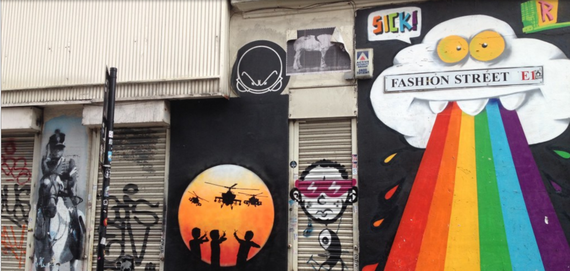 Take a look behind the scenes of London with these city tips.
If you find yourself traveling through Europe, you'll have to stop by London for some crumpets and tea! We all know about The London Eye, Buckingham Palace, and Big Ben, but after you visit those sites you need to take a behind-the-scenes look at the real heart of London. The best way to do that is to experience these top 10 hidden treasures.
1. Street Art- Take a walking tour and see the ever-changing street art. It will completely transform your perspective on the royal city. The colors, style, and creative expression of these artists will leave you astonished. You'll learn about the infamous Banksy and other rising artists taking over the underground scene.
2. Borough Markets- Holy truffles! Stop by this market to sample exquisite gourmet foods. Everything is very fresh and you can get some of the best cheeses, pastries, meats, truffles and so much more here. Any foodie must check this place out.
3. Sherlock Holmes- Whether you've just seen one of the movies or you have the complete Sherlock Holmes collection, it's worth going to the museum. Actually located on 221B Baker Street in London, you can take a picture in his house with his hat and pipe in hand. There's also the full museum with clues from his books.
4. Afternoon Tea- You can't go to England and not have afternoon tea time! For only £7 you can get a pot of tea with afternoon pastries at the Fan Museum. While you're there you can stop by the museum exhibition consisting of the beautifully crafted fans from China.
5. London Dungeon- This is a recreation of the historical London gallows, but with a humorous twist. While the city is certainly polished and regal, take a look in the shadows of London and it's dark side of history. Famous horror books like Dracula and The Case of Dr. Jekyll and Mr. Hyde took place in London. You can even get a Jack the Ripper tour! These are perfect for spooky experience.
6. Abbey Lane- Stop by the iconic crosswalk where the Beatles shot their Abbey Road album cover! Recreate your own picture with your friends while you're there. The music scene is huge in London!
7. Richmond Park- London has many beautiful parks, and Richmond Park is known for being home to hundreds of deer. Pack a picnic and enjoy a nature walk. While you're there look up into the trees. According to The Telegraph, there is one surveillance camera for every 11 people in Britain, and it's very apparent when you see them all over the trees.
8. Platform 9 ¾- You can take a whole tour by Warner Bros. giving you an exclusive look at the Harry Potter movie studio and everything behind-the-scenes. You can also go to King's Cross and take a picture at Platform 9 ¾!
9. Westminster Abbey- While well-known, don't forget to step inside and look around. Sundays it is free for services and worship. Yes, Kate Middleton and Prince William got married here, but also many famous historical figures were given elaborate tombs here so that they will be forever remembered. The inside is so breathtaking, you might not even notice you're stepping right over Charles Darwin on one of the aisles.
10. Churchill War Rooms- This is a part of the Imperial War Museum that housed the British government during WWII. For any history buff, this is a must-see place. Completely underground, these are the Cabinet War Rooms that tell the story of Winston Churchill and the role he played during the Second World War.