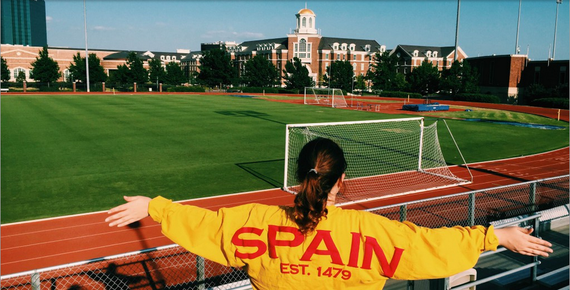 By College Tourist; Author: Sarah Dougherty, University of Alabama
Whether you have a semester, week, or quick weekend in Sevilla, I've mapped out some of the "must-dos" for experiencing the Spirit of this beautiful city.
While I had the chance to spend 3 and a half months in beautiful Sevilla, Andalucía, Spain, I think anyone who spends even a day in the city will have multiple opportunities to embrace the spirit and excitement of this perfectly small big-city. Whether you're running down by the river, exploring one of the beautiful parks, or enjoying some Tinto de Verano at a cafe, you'll be able to feel the culture and pride that comes with this city and its history. The weather and tile-based architecture creates a coolness that fluctuates before the intense summer heat that enters the city; it's the perfect weather for comfy layers, and my Spirit Jersey was a great travel accessory for my time there.
1. La Catedral: Easily the city's biggest (in size and popularity) landmark, the Cathedral is the 3rd largest in the World, behind St Paul's (London) and The Vatican/St Peter's Basilica (Italy/Vatican City). It's one of the premier Gothic-style Cathedrals and home to Christopher Columbus' tomb. (It also has the best public bathrooms in Sevilla.) It's the coolest building in town during the summer heat. While you're there, you should also climb the Giralda tower and learn about its history- it's one of my favorite views of the city. Because of its Gothic architecture and cold temperature, a Spirit Jersey is a great accessory to have in the fall and winter to put on when you're inside- it gets very chilly as you explore and climb the Giralda!
2. El Alcazar Real: The royal palace designed with Sevilla's past culture in mind, this moorish garden and palace still hosts the Spanish Royals when they come to town. It's the oldest palace still in use in Europe today- so that's casual. The Upper Apartment tour is definitely worth the money, and budget a lot of time to explore the gardens. Hint: Wear something cute because it's also a great photoshoot location. But seriously, the Alcazar was my favorite place in Sevilla I think. Keep an eye out for the Palace Peacock in the gardens, as well. (My family and I named him Albert.)
3. Plaza de España: While this is another one of my favorite places, it's definitely full of tourists from April-September. Built for the World's Fair, it features Sevilla's tradition of ceramic tile work and each region and major city of Spain. I love it; it was my favorite place to visit between classes! The surrounding park is also beautiful- Parque Maria Luisa. You can rent bikes and explore if you have a free afternoon. It's a place where you'll spot both locals and tourists alike posing for photos; whether it's a wedding, First Communion, or friends throwing their sorority signs in their Spirit Jerseys, Plaza de España is the perfect place for a photo-op.
4. El Metrosol Parasol: Aka "Las Setas," aka "The Mushrooms," is another structure built to showcase the city, and is sort of a strange attempt at modernism, as it's also the largest wooden structure in the world. Going up in late afternoon or at sunset are the best times- otherwise it's underwhelming and crowded. Your ticket up also includes a free drink, which means a gross cheap wine or a Cruzcampo. While it's not the best, it's the favorite of Sevillanos, so give the Cruzcampo a try. It gets extremely windy, so this is another great place to layer up with your Spirit Jersey and get some breathtaking pictures of Sevilla and Triana bustling and fiesta-ing below.
5. Flamenco: The flamenco of Sevilla is much more emotional than flashy performance-wise. I think people have something different in mind and are thrown off- it's all about the music, rhythm and the beat. There are most performance-y shows that are usually just for tourists, but are enjoyable. Look for signs along Plaza Nueva and Calle Sierpes. A popular one is at La Casa de Memoria.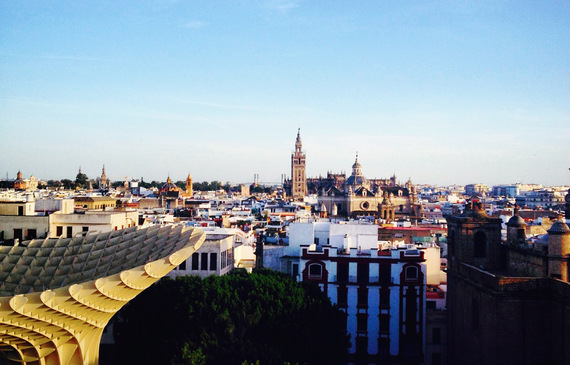 6. The Rio: Walk the river! It's beautiful. Find El Kiosko del Agua drink/snack stand, get a sangria (truly the best in town,) and have a seat. It's the best view of the river, Triana, and the Torre de Oro. My friends and I spent many afternoons just sitting and chatting there. You can also walk, run, rollerblade or kayak along the river as well. Sevilla is a very active town- in the mornings and early evenings (before dinnertime of 9pm,) you'll spot numerous runners in layers as they warm up to their pace.
7. Triana: I think Triana is often overlooked by tourists- but it's great! Plaza de cuba has the best Irish Pub, Phoenix. (So random, I know. But trust me, even locals love it!) Stroll along Calle Betis, visit the Mercado, and go over to the historic Tile neighborhood. You'll see families, older couples, and young children strolling these streets as this coming-back area continues its tradition and grows richer in culture.
8. Barrio Santa Cruz: Don't be deceived by the tourist crowds at the Cathedral- they go away the farther into Santa Cruz you go. Intimate cafes, great tapas, and a vibe so unique to Sevilla. There are the Flamenco dress shops, bakeries, and family-owned businesses along the windy streets. I love getting lost here! Even on the rainiest of days, I felt so cozy. The streets are narrow, shaded, and cool. If you have a free morning or afternoon, put on some walking clothes (another occasion I'd be spotted in my Spirit Jersey) and get ready to get lost. There are so many local stores and cafes you can spend time exploring!
9. Alfalfa: A younger neighborhood near Barrio Santa Cruz has fun Discos, restaurants, bars and places you can meet locals. It's easy to find- right by the Cathedral- but can have the most random hidden stores and cafes. Los Coloniales and The Room (yep, English name) are personal favorites as far as tapas go!
10. Flamenco: There's a great low-key flamenco place in Barrio Santa Cruz... It's not a fancy place, they aren't flashy performances, but they're authentic. Go, get a drink and wait for it to happen. There's not a regular schedule, but if you get there around 10:30 any given night, they'll be there with the music and soul of Sevilla. It's the most genuine flamenco I saw in Spain.
There are a ton of other things you can do in Sevilla, but these are the musts. There are tons of festivals, museums, and neighborhoods to explore; but some of the fun is discovering those things on your own. Sevilla isn't a big city, but definitely requires a lot of walking and activity. I can't recommend bringing comfortable shoes and an Original Spirit Jersey enough. It's 100% Cotton (aka light to travel with + keep clean), and is Made in the USA to remind you of home.
Que disfrute! (Hope you enjoy!)
Want your own authentic Spirit Jersey to bring on exchange? Custom orders are available on spiritjersey.com