Illinois high school students will be heading back to class after their winter breaks very soon. According to City Described, students at 20 Illinois high schools will be making that return to a better environment than the rest of the state's students.
Education has been a hot topic in Illinois politics in 2014, and the conversation is likely to continue into 2015, with debates on a school funding bill in the General Assembly around the corner and discussions about Gov.-elect Bruce Rauner's education plan on the horizon.
These are the 20 schools that City Described says are the best in the state right now. See stats about the schools from City Described below the graphic.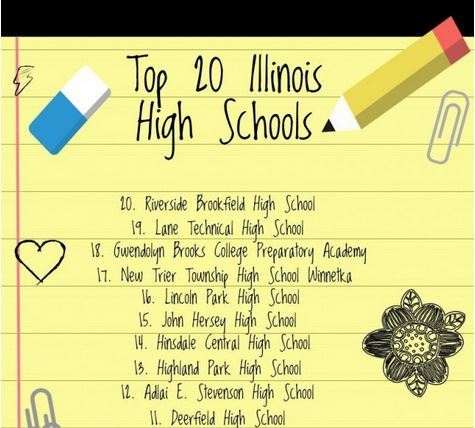 20. Riverside Brookfield High School
75 percent proficiency in reading and math
62 percent participation in Advanced Placement
66 percent instructors for its 1,400 students
19. Lane Technical High School
Selective Enrollment
New science and technology curriculum
4,000 students
18. Gwendolyn Brooks College Preparatory Academy
pened in 2001
769 students
90 percent pass rate for Advanced Placement tests
17. New Trier Township High School Winnetka
$15,000 per-student spending
98 percent college-bound students in 2013
120 state athletic championships
16. Lincoln Park High School
2,200 students
Offers the International Baccalaureate Program
65 percent of students met or exceeded reading standards
15. John Hersey High School
85 percent pass rate for Advanced Placement exams
Offers Chinese language classes
Named one of the top 30 high schools in the country by U.S. News and World Report
14. Hinsdale Central High School
$11,000 per-pupil spending
89 percent math competence
98 percent graduation rate
13. Highland Park High School
61 percent of students
First place in the Model U.N. Club competition
99 percent four-year graduation rate
12. Adlai E. Stevenson High School
Nearly 4,000 students
2010 National School of Distinction in Arts Education award recipient
86 percent AP test pass rate
11. Deerfield High School
Boys and girls tennis champions 2004-2005 and 2005-206
89 percent met or exceeded district math and reading standards
Named a 2009 Blue Ribbon School by the U.S. Department of Education
See the top 10 schools as ranked by City Described at Reboot Illinois, plus more statistics about each top schools.
Sign up for our daily email to stay up to date on all things Illinois politics.
Calling all HuffPost superfans!
Sign up for membership to become a founding member and help shape HuffPost's next chapter