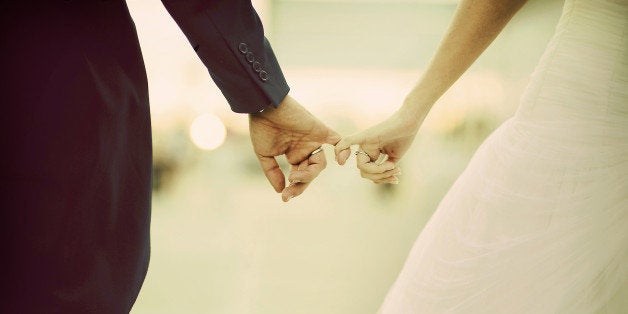 Your wedding day will be here faster than you can say "I do," and while you've probably already chosen the perfect venue, a photographer to capture your most precious moments, and a wedding dress that's sure to make your groom's heart skip a beat, you may have overlooked one important tradition.
"Something old, something new, something borrowed, something blue, and a silver sixpence in her shoe," are tokens of good luck for the bride to carry on her wedding day. Originating from a charming Victorian rhyme, these small personal treasures are typically unique to each bride and rarely obvious to anyone but those who know and love her most.
Something old represents continuity; something new offers optimism for the future; something borrowed symbolizes borrowed happiness; something blue stands for love, and fidelity; and a sixpence in your shoe is a wish for good fortune and prosperity.
Here are 10 new takes on old traditions:
Blue has been connected to weddings for centuries. In fact, in ancient Rome, brides wore blue to symbolize love, and fidelity.
For modern brides that want their something blue to pop on their big day, try pairing your gorgeous wedding gown with royal blue Louboutin pumps.
A new take on an old tradition: Use blue stitching to have your wedding date and initials monogrammed on the inside of your veil or dress.
A bride's wedding gown or jewelry is often chosen as the "new" item, conveying the message that the couple is creating a union that will endure forever ( i.e. till death do them part).
A new take on an old tradition: For your something new, try having champagne flutes monogrammed with your initials and use them at your wedding to toast to your future as husband and wife. For the perfect gift, I love to have the couple's wedding invitation engraved on a plate from Tiffany's to display in their dining room.
With the vintage trend looking like it's not going anywhere anytime soon, there are quite a few 'old' items that you can stylishly incorporate into your wedding look.
Many brides keep things traditional by wearing their mother's or grandmother's gems on the big day as it is both sentimental and practical.
A new take on an old tradition: As your something old, use a photo locket to display antique photos of loved ones that are no longer with you or couldn't attend your big day. Have the locket put on pearls that can be worn as a necklace close to your heart, or have your florist wrap it around your bridal bouquet.
Traditional finger-tip or church-length veils make for a wonderful "something borrowed" as they're a good classic item that never goes out of style.
A new take on an old tradition: For the modern bride, a vintage clutch can bring a little flare and sophistication to her wedding-day look. Try using one that belongs to someone in your family like your mother or grandmother.
The last part of the rhyme, is the sixpence. A sixpence was a form of British currency and was given to the bride to keep in her left shoe on the day of the wedding to symbolize great wealth for her and her future husband.
A new take on an old tradition: Try having a hole made in the sixpence and thread it onto a strand of pearls to wrap around your bouquet!
Photo Credit: Elizabeth Messina
Related