As the end of October draws near, and the hours of sunlight get shorter, the imminent end of summer becomes more apparent. While daydreaming about your next winter escape, let your mind wander to a distant island in the Pacific that might not be on your radar, Samoa: a destination as cultural as it is endlessly beautiful.
Feast your eyes on these photos to feed your wanderlust and start planning your next island escape: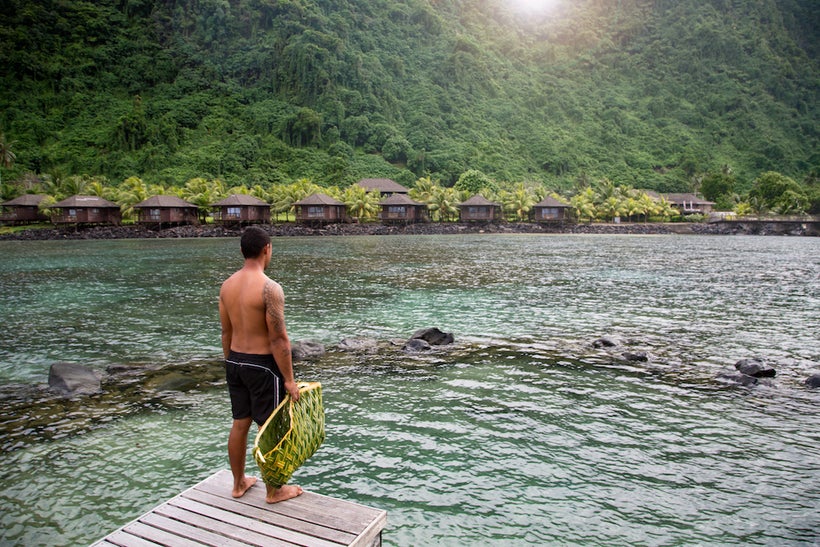 At Aga Reef Resort, towering jungle hills set the backdrop for reef-front villas along the south eastern shores of Upolu. Samoa is comprised of nine islands, only four of which are inhabited. Upolu and Savai'i are the largest, although you wouldn't guess; everywhere you go feels remote.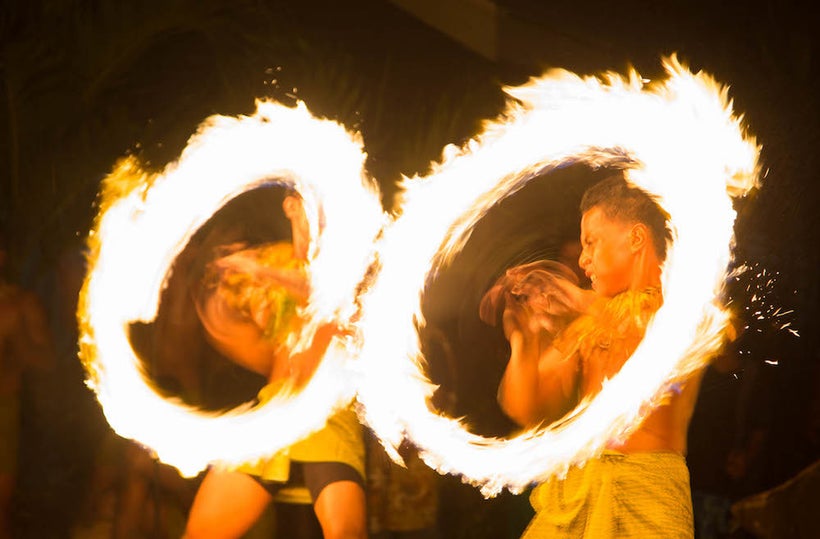 Heat things up with an evening of dancing flames. Many resorts on the island offer an evening of cultural entertainment and traditional Polynesian-style dance called Fiafia Night: think the Samoan version of the Hawaiian luau. During the performance, dancers demonstrate a number of different styles including Faataupati, or clapping dance, and Siva Afi fire dance.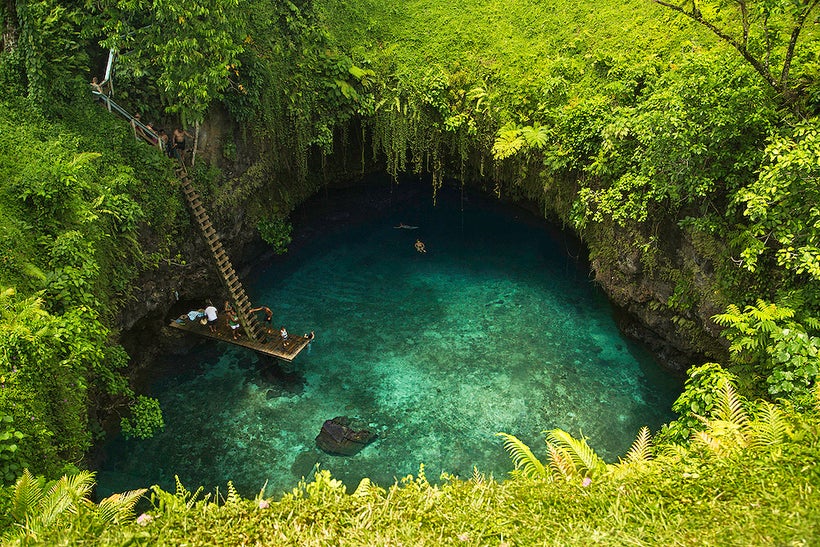 Meet To-Sua Ocean Trench. This brilliant turquoise swimming hole was formed after a lava tube caved in, creating ideal depths for a refreshing float, rain or shine. If you make it to the trench during high tide, the water level is high enough to leap from the ladder, if you dare. Either way, those afraid of heights will have to summon their courage — it's a long, slippery descent into the trench.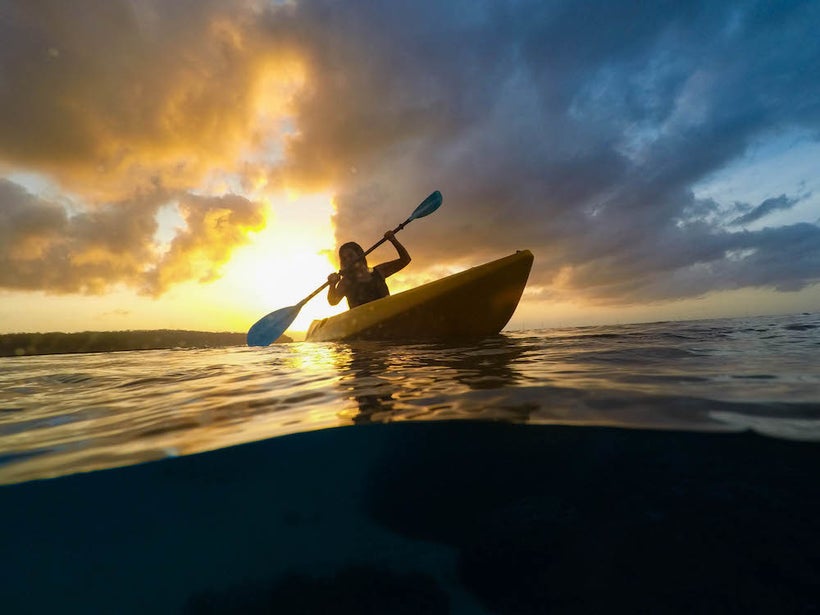 You might think escaping to Upolu (home to Samoa's capital city Apia) is remote enough — the archipelago is located between halfway between Hawaii and New Zealand — but the true treasure of Samoa is Savai'i. A short ferry ride away, Savai'i is larger than Upolu, but far less populated and less developed. You'll easily find yourself paddling a kayak at sunset around the reefs and realize you're the only one out on the water.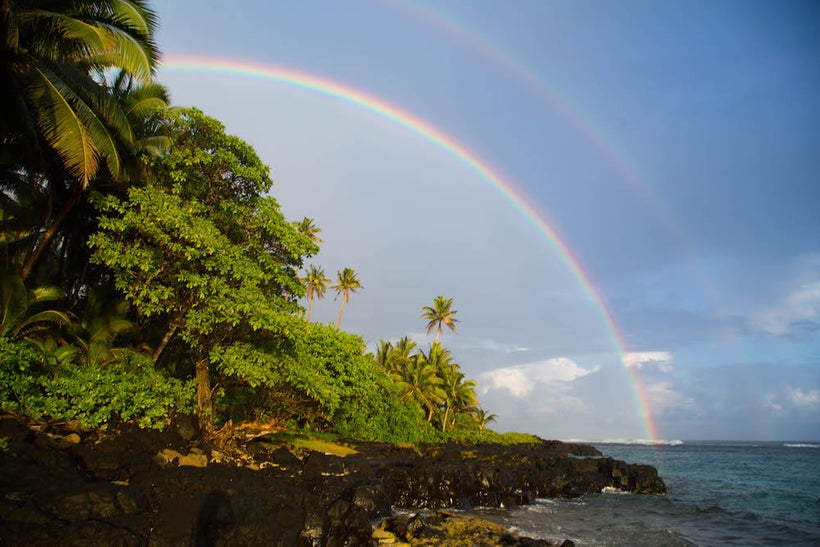 Back on Upolu, a stroll along Salamumu Beach unfolds stunning scenery. Craggy, volcanic rock along the breaking waves evidence how the island was once formed. Today, Samoa maintains much of its natural, black volcanic landscape, unlike the coastline of other quickly modernizing islands where the oceanfront is punctuated by high rise buildings and resorts.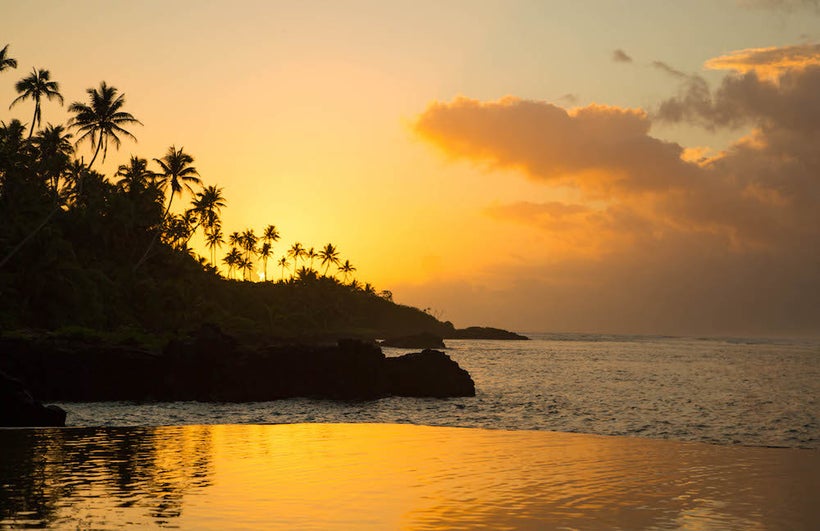 Going the distance is always rewarded. To reach Samoa from Los Angeles, I flew 10 hours aboard Fiji Airways to reach Nadi, Fiji, rested during a short layover, then flew an additional two hours to Apia, Samoa. Americans might wonder why they'd wander so far from home when Hawaii is just six hours away via a direct flight? Crowded beaches at popular tourist destinations, however, mean you'll never get the sand to yourself as you would at sunrise in Samoa. Locals say this place is what Hawaii used to be like centuries ago.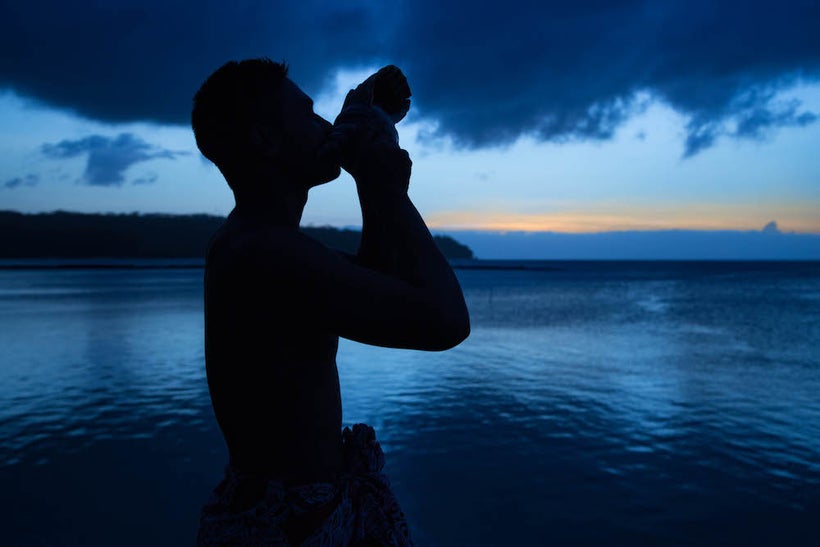 The only sound more lulling than ocean waves is the low, melodic growl of the conch shell. As day becomes night, listening to this seashell trumpet is one of many meaningful cultural experiences that await travelers to Samoa. Among others: visiting a local village, shopping for mysterious, tropical fruits at a market, and sampling all the ways a coconut can be used to create food and drink.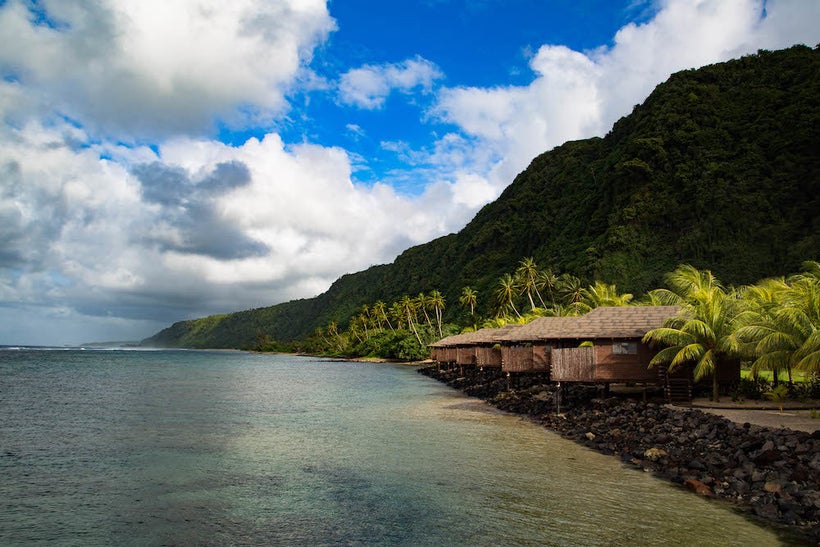 No matter where you go on the islands, Samoa evokes that "only person on earth" feeling, especially when looking out at a view like this when the sky has cleared after a tropical rainstorm. Even during dry season from May through October, you'll still encounter sporadic storms through the day. But the refreshing rain cools the climate down and creates beautiful, cloud-patterned skies.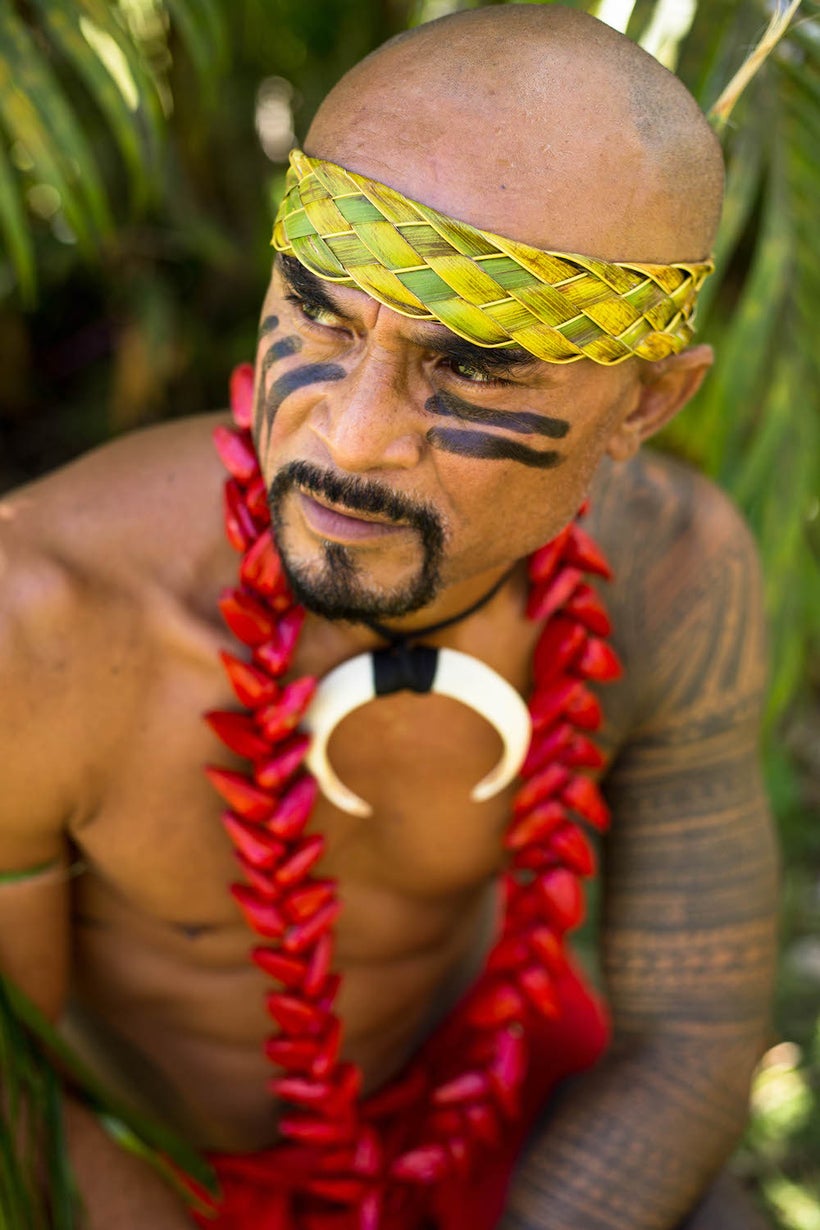 At the Samoa Cultural Village in Apia, a man in traditional dress demonstrates the ageless culture of Samoa. The cultural village might be the only touristy thing you do on the islands, but its a worthwhile crash course in Samoan history and the island peoples' traditional way of life. Plus, learning how to shuck a coconut with your barehands (as they teach you) could come in handy one day if you ever get deserted in paradise.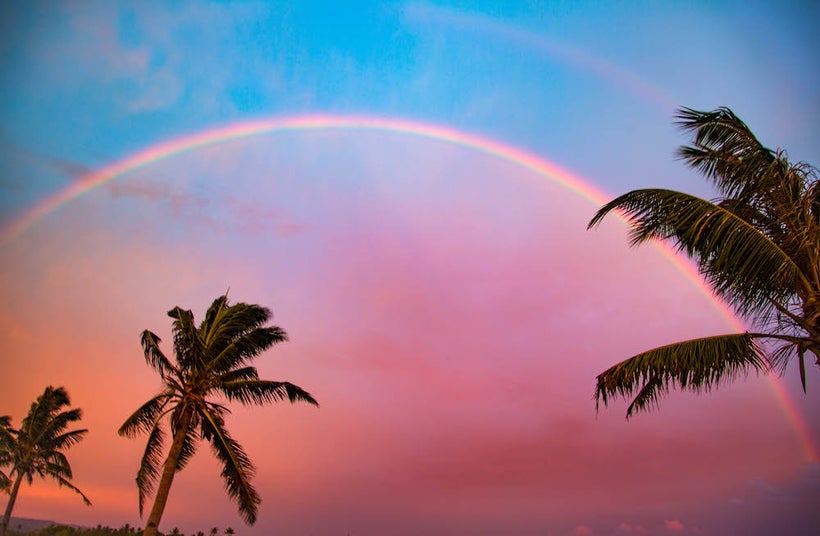 If there's any one reason you should go to Samoa — beyond unlocking its cultural secrets — go for its natural beauty. Where else on earth could you see a sunrise rainbow?
While Samoa maintains consistent warm temperatures and a humid climate, it has two distinct seasons: wet season and dry season. The best time of year to visit Samoa is May through October when it receives the least amount of rain.
Fiji Airways operates daily flights that connect travelers to Samoa via Nadi, Fiji. Schedule a long layover to get a taste of both countries.
Sa'Moana Resort: a series of humble beachfront bungalows provides direct access to a protected reef. Free snorkeling gear provided to in-house guests.
Aga Reef Resort: this quiet, secluded boutique resort is great for honeymooners, or anyone who wants to get away from it all. It's also just minutes away from Lalomanu Beach and the To-Sua Ocean Trench.
Saletoga Sands Resort & Spa: for families and solo travelers that like larger resorts and more activity options, Saletoga Sands does not disappoint.
_____________________________
Travel photographer Megan Snedden captures authentic moments around the world for publications like BBC, USA Today, and more. Connect with her on Instagram @MeganSnedden.
REAL LIFE. REAL NEWS. REAL VOICES.
Help us tell more of the stories that matter from voices that too often remain unheard.
This post was published on the now-closed HuffPost Contributor platform. Contributors control their own work and posted freely to our site. If you need to flag this entry as abusive,
send us an email
.