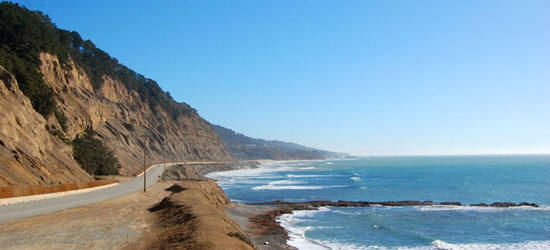 California's Pacific Highway 1 runs 135 miles between San Luis Obispo and Monterey.
Photo Courtesy Wangkun Jia / Dreamstime.com. Article by Sean O'Neill, contributor to Budget Travel.
Think you know America's essential sights? Compare your past trips with our picks for domestic destinations every citizen should visit -- from pop culture icons to patriotic landmarks. Consider it your star-spangled bucket list.
Highway 1, Calif.
Considering that the United States has more miles of paved roads (over 2.7 million) than any other country on earth, is it any wonder that road trips are practically a rite of passage here? One of the most meditative -- and celebrated -- drives you can take in the States is the 145-mile stretch of California's Pacific Highway 1 between San Luis Obispo and Monterey. Expect view after astonishing view of land meeting sea, as the road snakes and swerves high above the Pacific, past bright-green grasslands and redwood-forested canyons (byways.org).
Photo op: About two hours north of Monterey, Highway 1 crosses San Francisco's Golden Gate Bridge, a 75-year old marvel of engineering and aesthetics. If the bridge is totally obscured by fog, you can fake your Kodak moment in front of the giant photomontage at the bridge pavilion's new visitor's center.
Insider tip: Take a detour near San Simeon to see the mansion of William Randolph Hearst, the eccentric newspaper magnate made famous by Citizen Kane (750 Hearst Castle Rd., hearstcastle.org, tours from $25).
French Quarter, New Orleans, La.
No other American neighborhood provides as much eye candy as the cobblestone streets of New Orleans' French Quarter -- known as "the Quarters" to locals -- and we're not referring to the annual Mardi Gras parades, with their thousands of taffeta-draped harlequins strutting to funk, R&B, and Dixie. No, it's the architecture that's intriguing. Stroll this district, which is bounded by the Mississippi River, Rampart Street and Canal and Esplanade, and you'll glimpse nightclubs lit up in neon, French colonial townhouses draped in ivy, Creole cottages built on stilts, and antebellum mansions whose balconies are laced with intricate ironwork. The neighborhood's premiere event is the annual French Quarter Festival in April, which draws hundreds of thousands of listeners for a series of jazz performances, focusing more on up-and-coming artists than the better-known cross-town rival New Orleans Jazz & Heritage Festival (neworleansonline.com).
Photo op: Jackson Square, a patch of moss-bearded oaks in the core of the French Quarter, is home to a striking statue of Andrew Jackson, the Renaissance and Spanish Colonial style St. Louis Cathedral, and Cafe Du Monde, which serves the city's signature beignets (fried dough treats).
Insider tip: The visitor's center at New Orleans Jazz Historical Park offers free self-guided audio tours of famous music institutions, such as a favorite venue of the late trumpeter Louis Armstrong, Preservation Hall No. 4, which re-opened last year after a six-year closure post-Katrina (nps.gov/jazz).
National Mall, Washington, D.C.
There's no place in America where you get more historical bang for your buck than the National Mall -- fitting, since two of its most famous memorials (to Lincoln and Jefferson) are stamped on our smallest coinage. This less-than-two-mile stretch of our capital city packs in those memorials, plus the Washington Monument, the Vietnam Veterans Memorial, and the new Martin Luther King Jr. Memorial, among others, and it's lined with Smithsonian Institution museums -- none of which cost a dime to enter. Even if politics leaves you cold, there's sure to be something at one of the Smithsonian branches to get you going, whether it's the astronaut ice cream sold in the gift shop at the National Air and Space Museum, the inaugural gowns of First Ladies on display in the National Museum of American History, or the 45-carat Hope Diamond gleaming in the Natural History Museum (nps.gov/nacc and si.edu).
Photo op: The P.O.V. rooftop bar at the W Hotel has the best view of the Mall in the city (515 15th St, NW; whotels.com).
Insider tip: The Mitsitam Native Foods Cafe in the National Museum of the American Indian has the most interesting food on the Mall. Try the pulled buffalo sandwich with chayote squash slaw and the cinnamon-and-honey fry bread (mitsitamcafe.com, sandwich $11.25, fry bread $3.35).
Civil Rights District, Atlanta, Ga.
Atlanta's Sweet Auburn neighborhood draws thousands of visitors each year to pay respects to Dr. Martin Luther King, Jr., the renowned African American preacher and civil rights leader who was born here and whose messages on dignified protest still resonate worldwide. Popular locations include King's gravesite, the Historic Ebenezer Baptist Church, where King was baptized and ordained and where his funeral was held, and the King Birth Home, a Queen Anne-style house where he lived for the first dozen years of his life. A visitor's center at the Martin Luther King, Jr., National Historic Site displays many artifacts, such as the photographs from the bus boycott that King organized to fight segregation (nps.gov/malu).
Photo op: The visitors' center displays the mule wagon that carried King's body during his funeral procession.
Insider tip: If you want to tour inside King's birthplace home, arrive early at the National Park Service visitor center, as tours book up fast.
Las Vegas Strip, Las Vegas, Nev.
Glass pyramids. Faux Venetian canals. The 1,148-foot tall Stratosphere Tower. A couple of $100 million daredevil circuses called Cirque du Soleil. They're all part of this neon-lit desert outpost 300 miles from Los Angeles -- with a magnetic pull like no other. Every American ends up on the Strip sooner or later, whether for a bachelor party, a girlfriend getaway, a trade show, or simply lured by a shockingly cheap hotel-and-airfare deal. It's the place Americans go to let their hair down (and, okay, gamble). Aside from its new $2.4 billion airport terminal, Vegas's latest attraction is the Mob Museum (a.k.a., the National Museum of Organized Crime and Law Enforcement), a tribute to the mafia in real life and in pop culture that opened in February 2012. Interactive exhibits are plentiful: Be ready to pose for a police line-up shot (themobmuseum.org).
Photo op: For a sure bet on a clear view of the cityscape, head to the Ghostbar on top of the Palms Hotel and Spa (palms.com).
Insider tip: For a retro vibe, veer off the Strip to the hole-in-the-wall Champagnes Cafe, an old-school bar complete with blood-red wallpaper, bowls of mixed nuts, and a jukebox that plays Frank, Sammy, Dean, and Bing (3557 Maryland Parkway South; 702/737-1699).
Yellowstone National Park, Wyo.
Wide-open space is a unique inheritance for every American, and Yellowstone is the most dramatic example of what "wide-open space" really means. In 1872, two-million-acre Yellowstone debuted as America's first national park, and visitors began flocking to soak in its hot springs, see elk and bison roam its grasslands, gawk at its geyser known as Old Faithful, and hear gray wolves sound chill-inducing howls at dawn. Amazingly, visitors can get the same thrills today for nearly no cost. For the fullest experience, stay the night. The lack of light pollution in northwest Wyoming's Big Sky country reveals an astonishing canopy of stars that is virtually unchanged from the time of native tribes, fur trappers, and pioneer explorers (nps.gov/yell).
Photo op: Take the Lake Area Elephant Back Loop Trail for a vista encompassing Yellowstone Lake, the Absaroka Range, and the Pelican Valley.
Insider tip: Enter via the less-traveled Silver or East gates for more solitude on the park's roughly 1,200 miles of trail.
Nashville, Tenn.
Soaking up country music in its native habitat is an American music experience like no other. Leafy, laid-back Nashville, Tenn., deserves its nickname Music City U.S.A.: It's dotted with twang-accented institutions, including the Country Music Hall of Fame, the Ryman Auditorium (with its famous acoustics), and the Grand Ole Opry, a weekly live-audience radio show that has been continuously broadcast since 1925. Go boot-scootin' at one of the countless honky-tonks lining Broadway, where the line dancing is first-rate (visitmusiccity.com).
Photo op: Head to midtown to pose in front of a life-size replica of the ancient Greek Parthenon, which stands in Centennial Park (2600 West End Ave.).
Insider tip: The Bluebird Cafe is a nightly venue that spotlights the best up-and-coming talents in country. Exhibit A: Garth Brooks once performed at this nondescript club before anybody knew his name (4104 Hillsboro Pike, bluebirdcafe.com).
Grand Canyon, Ariz.
Many American landmarks inspire people to think big, but none can match the leviathan scale of the Grand Canyon (nps.gov/grca). As with anything worthwhile, a mind-melting view of the fire-hued, half-mile-long rock faces at the Grand Canyon must be earned. Take a half-day or overnight mule trip, which involves a guided ride along the canyon rim and down to the Colorado River. Space is limited, so book ahead via Xanterra Parks & Resorts (xanterra.com, 888/297-2757), the operator that has the parks concession, or at the transportation desk in the lobby of Grand Canyon's Bright Angel Lodge, on the South Rim (half-day rides $123, overnight trips $507 including cabin accommodation, breakfast, lunch, and a steak dinner). Your souvenir -- aside from a newfound appreciation for more comfortable forms of transportation -- will be the vivid sense of timelessness that you can only get from observing a geological wonder more than a million years in the making.
Photo op: Rent a true four-wheel-drive vehicle, such as a Jeep Liberty or a Ford Expedition, from a major chain at the airport before you drive to the park, so you can tackle the sixty or so miles of dirt road to the Toroweap overlook for its 3,000-foot, sheer-drop view.
Insider tip: When it's open in the summer, skip the South Rim for the lesser-visited North Rim, where a quieter experience awaits.
Hollywood Walk of Fame, Los Angeles, Calif.
In 2013, Helen Mirren, James Franco, Usher, Jennifer Hudson, Ron Howard, and another 19 actors and musicians will be added to the more than 2,400 celebrities who've left their handprints and bronze-engraved names in the pavement along Hollywood Boulevard and Vine Street since 1958. (We imagine tourists have been posing with their hands in their favorite stars' prints for about that long, too.) Mercifully, reality TV stars are banned from the sidewalk showcase -- only those who've read from a script can be included (walkoffame.com).
Photo op: For a primo view of the famous Hollywood sign, walk west from Vine toward Highland Ave., and then up to the fourth level of the bridge in the Hollywood & Highland Center (6801 Hollywood Blvd., hollywoodandhighland.com).
Insider tip: Famous animals have left their paw prints on the pavement, too. Look for Lassie, Rin Tin Tin, and even Godzilla.
Pearl Harbor, O'ahu, Hawaii
This year marks the 52nd anniversary of the USS Arizona Memorial (nps.gov/usar), which honors the men who died on the famous battleship sunk in 1941's Pearl Harbor air raid. A scale model of the ship inside the monument's museum gives a sense of what it must have been like to be on the vessel while it was under attack, and public tours include a 22-minute movie presentation, followed by a visit to the Memorial itself. Nearby, a nonprofit group maintains the Battleship Missouri Memorial, which was the site of the formal Japanese surrender, while a preserved World War II submarine can be explored at the adjacent USS Bowfin Submarine Museum and Park, run by another independent group.
Photo op: The Kilo Pier looks directly at the Memorial from approximately half a mile away.
Insider tip: Visitors may add the stories, photos, or letters passed down by their family members in the archives of the Pearl Harbor Survivors Project, which aims to make all of the stories available in audio format for generations to come.
Popular in the Community