A recent investigation from the Better Government Association took a deep look into pension spiking in Illinois and the impact reforms have had on the controversial practice.
While laws have been enacted to deter pension spiking -- a practice in which public employees nearing retirement are awarded pay raises to boost pension payouts -- taxpayers continue to be saddled with artificially inflated pension costs.
Since the Illinois General Assembly's passing of a 2012 law that gives municipalities three years to fully fund added retirement benefits that result from pension spiking, more than 450 government entities now owe nearly $29 million to the Illinois Municipal Retirement Fund, the BGA found.
To be sure, retirees collect money according to rules set by the government employers. Proponents of the state law say it provides much-needed transparency in the pension accounting process and is leading to governments changing their exit package policies.

'It is bad pension policy to pay large sums of money to people retiring, which, in turn, boosts their pensions,' IMRF Executive Director Louis Kosiba said via email. 'By spiking salaries to enhance pensions, the costs to the employer [and] taxpayer are increased. . . . Spiking is antithetical to both the design, goal and spirit of these plans.'

IMRF is the taxpayer-supported pension fund that covers many suburban and Downstate government employees in Illinois.
The amount these municipalities are on the hook for range from as little as $5,000 to more than $4 million, according to the BGA's analysis.
This map shows where pension spiking costs are the highest: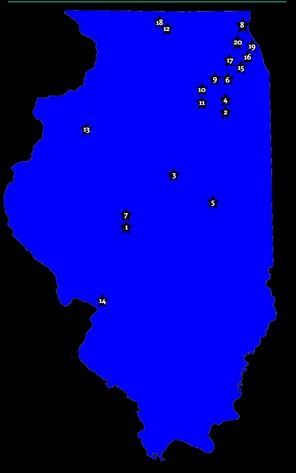 Check out 10 of the suburban and downstate government entities that are paying the most in pension spiking costs:
20. Deerfield School District 109 - $204,424
19. Village of Winnetka - $226,986
18. Winnebago County - $227,363
17. Marquardt School District 15 - $229,144
16. Park Ridge School District 64 - $255,041
15. Village of Lombard - $298,344
14. Madison County - $371,725
13. City of Galesburg - $383,316
12. City of Rockford - $390,360
11. Fox Metro Water Reclamation District - $413,716
Check out the 10 government entities that are paying the very most in pension spiking at Reboot Illinois.
Sign up for our daily email to stay up to date with Illinois politics.
REAL LIFE. REAL NEWS. REAL VOICES.
Help us tell more of the stories that matter from voices that too often remain unheard.