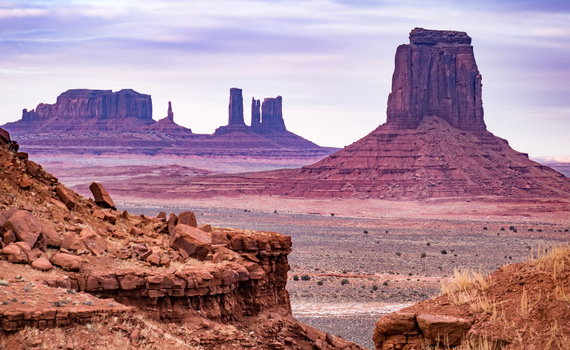 Text and photos by Mircea Goia
From sand dunes in the south-west of the state (near Yuma), to a semi-deserted landscape throughout the mid of the state (near Tucson and Phoenix), to pine forests of the northern parts (near Flagstaff) and again semi-deserted landscapes up to the north (near Grand Canyon, Page and Monument Valley), Arizona has everything to offer to a tourist.
Mountains are spawning here and there and the general elevation goes up as you move to the north of the state. The only thing Arizona can't offer is the ocean. But it compensates with over 120 lakes (some urban lakes, but most scattered throughout the state), sharing also the largest man-made lakes from USA: Lake Powell (with Utah) and Lake Mead (with Nevada). Contrary to the general belief, Arizona does have winters, snow included, in the northern part of it.
Since I moved here, almost ten years ago, I had enough time to travel around the state. I could say I know this state better than my own native country of Romania. As a result, I compiled a top 10 list of what you should see while here. It's a top ten list (in no particular order) from my point of view but the whole list of things to see here is longer.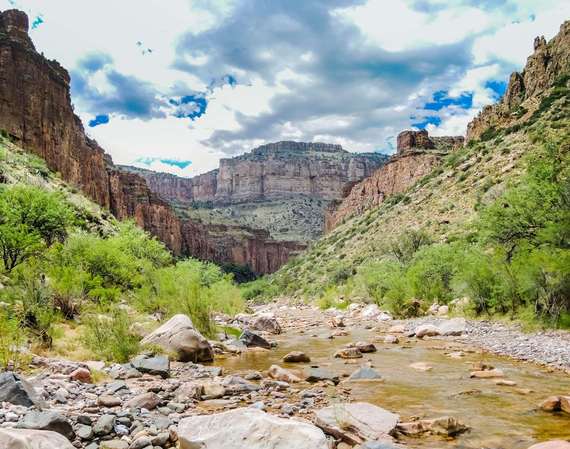 1) Grand Canyon South Rim
Obviously, the one thing Arizona is known for is this Grand Canyon, a nature spectacle which is nothing short of overwhelming.
Grand Canyon, the South Rim, is situated 58 miles up north of the town of Williams (and 4.5 hours driving from Phoenix), which itself is a touristic attraction being on the former Route 66 and being a typical Wild West American town. You can accommodate yourself in Williams or Flagstaff.
Grand Canyon Village is the place you can get accommodation also if you want to spend nights there (be prepared to pay more bucks) and have more time for seeing and hiking around the Grand Canyon. You can also take helicopter or plane trips over the Grand Canyon. Hiking down the canyon and boat trips along the Colorado river are also available.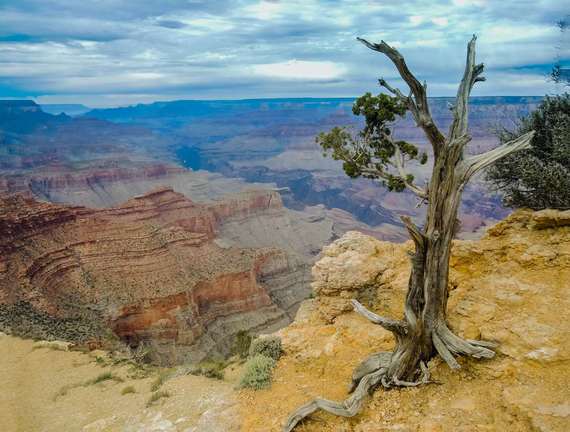 Yes, some may say Monument Valley belongs to Utah, but if you look on the map actually a good portion of it is in Arizona including those famous three blocks of rocks known as "The Mittens and Merrick Butte", which are best viewed from the The View Hotel.
The View Hotel is also the best place to stay overnight, there is nothing more beautiful there than to wake up in the morning, go on the balcony and see the sun rising behind "The Mittens and Merrick Butte" rocks.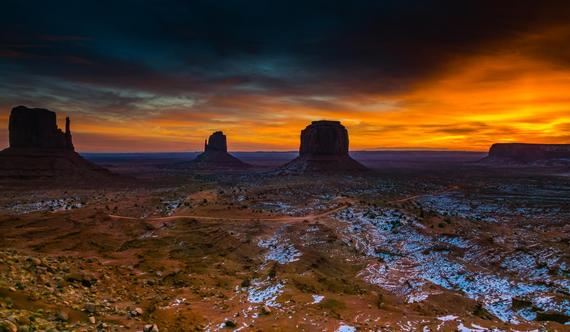 3) Antelope Canyon and The Wave
By some Antelope Canyon are the most photographed slot canyon in the world. Who hasn't seen that iconic photo of a light beam coming down between the canyon's red walls?
Antelope Canyon is about 4-5 hours of driving north of Phoenix and you will accommodate yourself in the town of Page. The canyon is only accessible by organized tours as it is on Navajo Indian land and they will be your guides.
The Wave is a red-rock stunner on the border of Arizona and Utah (The Wave itself is in Arizona), made of 190-million-year-old sand dunes that have turned to rock. To get access to this 6 miles round trip hike and see The Wave you have to apply to a lottery held by the Bureau of Land Management (online and offline lottery) as only 20 people are allowed to the site at a time. The Wave is 1 hour drive from Page, crossing in Utah and going to The Wave Trailhead from where you start your actual hike.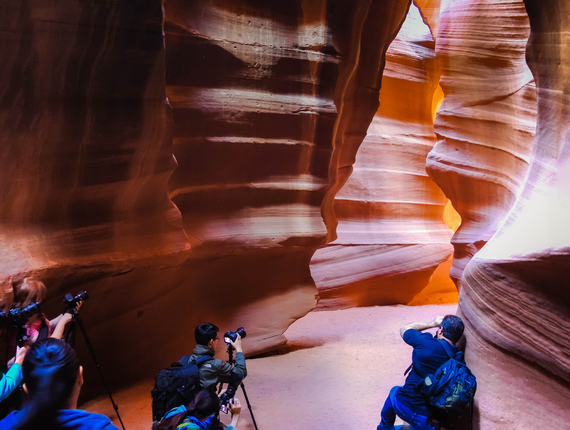 This must be one of the most beautiful falls in the USA. High calcium carbonate concentration in the water creates the vivid blue-green color and forms the natural travertine dams that occur in various places near the falls.
From Phoenix you have to drive 5 hours or so to the Havasupai Campground Parking Lot, where you will leave your car and then proceed on foot for 9 miles on sometimes quite rough terrain until you reach the falls. Campgrounds are available around the falls. In that area also are Mooney Falls (closer to Havasu Falls) and Beaver Falls (3 miles below Mooney Falls).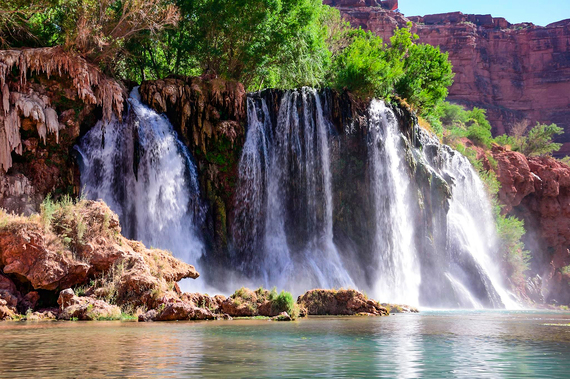 Photo credit: Reannon Muth
5) Sedona
This eclectic town is a must stop for whoever is visiting Arizona as is only 2 hours drive north from Phoenix. Once you get off I-17 your enter in the land of red rocks, making you feel like you are on another planet. The red sandstone formations form a popular backdrop for many activities, ranging from spiritual pursuits (including New Age) to the hundreds of hiking and mountain biking trails.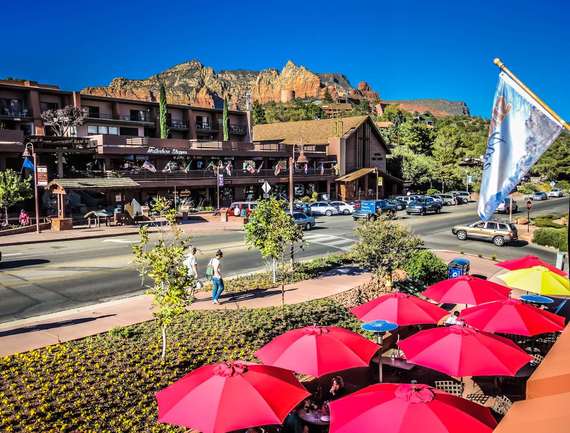 6) Meteor Crater, Painted Desert and Petrified Forest
Meteor Crater (scientifically known as Barringer Crater) is the place where 50,000 years ago a nickel-iron meteorite the size of a big truck struck with a power of a 10 Megaton atomic bomb, creating a crater 1 mile in diameter and 570 ft deep. It is the best preserved meteorite crater on Earth and is the place where Apollo astronauts also trained in the past. It's a 2.50 hours drive from.
If you want to go even more back in time then you go to Petrified Forest National Park, which is on the same route as the Meteor Crater, only farther (3.30 hours drive from Phoenix). This park has large deposits of petrified wood that are about 200 million old. The whole landscape there looks like a lunar or Martian landscape.
The Painted Desert is not far away from the Petrified Forest. In fact, it's a part of it and is known for its brilliant and varied colors, that not only include the more common red rock, but even shades of lavender.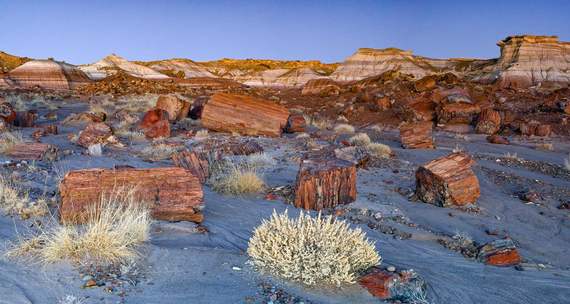 Photo credit: Petrified Forest
There are places which defies the image of Arizona as a land of spindly cactuses and sun-baked desert. One of them is the town of Flagstaff. At 7,000 feet elevation, this historic town, surrounded by pine forests and beneath the towering San Francisco Peaks (the highest in Arizona - 12,633 feet), has a climate more akin to Tahoe than Tucson or Phoenix. Summer temperatures are moderate and high temperatures average around 82 °F, while Tucson or Phoenix are heat scorched. In the fall, Flagstaff is at its best when biking, hiking, window shopping and star gazing are a pleasure. In the winter you can also ski at Arizona Snowbowl, which is only half an hour north from downtown Flagstaff.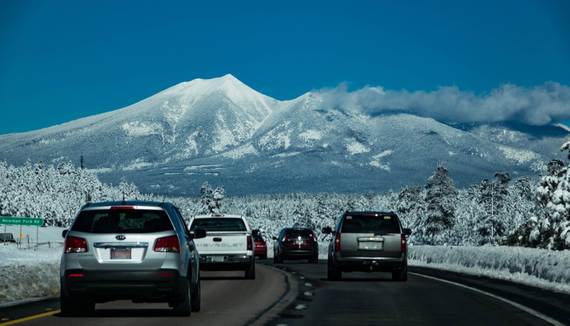 It's the one of the longest continuously inhabited - about 5000 years - landscapes of North America, being the home of the Ancient Pueblo Peoples (also called Anasazi) and the present day Navajo.
Access to the canyon floor is restricted, and visitors are allowed to travel in the canyons only when accompanied by a park ranger or an authorized Navajo guide (exception: the White House Ruin Trail).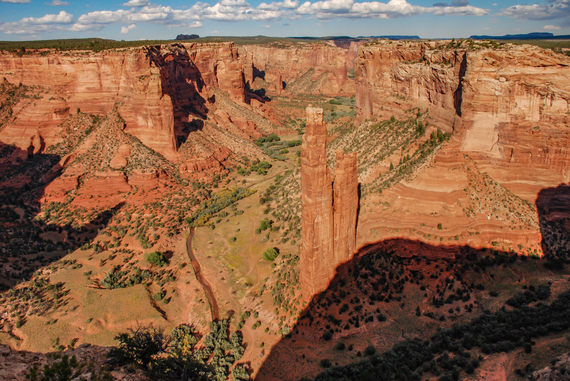 Photo credit: Nola Tularosa
This little gem is ot easy to get at as it requires quite a hiking, though the riverbed. 2:30 hours of driving east on US-60 from Phoenix, part of it on dirt road after crossing a bridge (Primitive Rd), brings you at the base of the hike. From there, through the riverbed full of rocks and water, you walk about 1.5 miles. Be careful not to go when it rains as the water coming down the river could be a lot.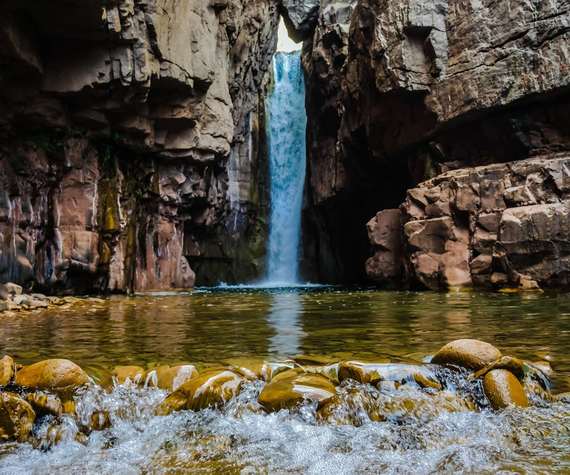 10) Musical Instrument Museum
After so many trips around Arizona, let's catch our breath in the capital of the state: Phoenix (which is, by the way, the largest state capital in the USA).
Opened in April 2010 in north Phoenix it is the largest museum of its type in the world having over 16,000 musical instruments and associated objects (6,500 of which are displayed at a time) from nearly 200 countries and territories (at a cost of $250 million).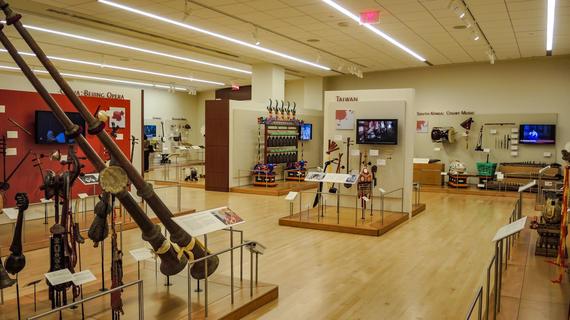 This is only a glimpse of what Arizona has to offer as a destination. There is much more and I'll let you discover it bit by bit. Have a nice trip and bring your friends or family too!
When he is traveling, Mircea Goia enjoys taking photos as well. But day by day he is a technologist (computers, Internet and all that good stuff) and a hobby filmmaker (good stuff too). He lives in Phoenix, Arizona where he enjoys also the high temperatures there. No joke. But he admits California has an ideal climate. For more photos, please follow him here.
Support HuffPost
A No-B.S. Guide To Life
Related
Popular in the Community