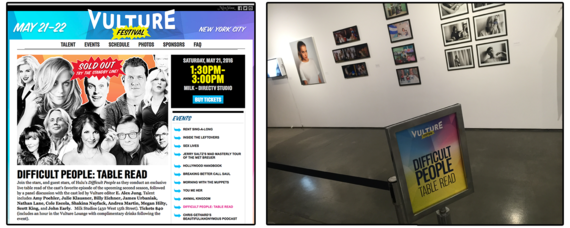 Hollywood types on stage at the live table read for Hulu Comedy Series Difficult People include: Julie Klausner (creator/writer/star of Difficult People TV Series, How Was Your Week podcast), Billy Eichner, James Urbaniak, Nathan Lane, Cole Escola, Shakina Nayfack, Andrea Martin, Megan Hilty (Smash, Noises Off), Director Scott King, Amy Poehler and John Early.
Hulu Comedy Series Difficult People follows Julie Kessler and Billy Epstein, two pop-culture-obsessed, aspiring comedy showrunners around New York City. Julie and Billy live to crack each other up with crisp dialogue and hilarious TV references.
If you need a comparison, Difficult People is kind of like a Curb Your Enthusiasm set in New York City except the leading characters, Julie Kessler and Billy Epstein (played by Klausner and Eichner), have way less money and fame compared to Larry David's beloved sitcom character.
Julie Klausner and Billy Eichner deliver shameless, profit-driven pursuits in the irreverent Hulu TV series, Difficult People. Difficult People was created by Julie Klausner, stars Julie Klausner (in the role of "Julie Kessler") and Billy Eichner (in the role of "Billy Epstein"). Saturday Night Live Alumni Amy Poehler sits in the Difficult People Producer's chair. Difficult People has multiple LGBTQ characters, including a transgender 9/11 Truther. The Truther, played by Shakina Nayfack will make her debut in Season 2.
Julie Klausner, the creator, producer and star of the TV show Difficult People cited her podcast, How Was Your Week as the inspiration behind much of her unique TV storytelling. Enjoy the following excerpts from Difficult People Creator, Julie Klausner's podcast How Was Your Week while you wait for Difficult People Season 2 to return on July 12th.
What else did I hate about the King's Speech? I did wonder if Helena Bonham Carter is like that in real life. I do feel like she's always sort of scurrying in and out and being like "Yes, it's me." You know, very supportive and very loving and understanding and kind and you know completely accepting of her really really handsome husband and adorable stutter and wads and wads of cash. But. I do think she is like that, with Tim Burton, at home. I get the sense that she's sort of, popping in and out, and wearing tiny hats and being intermittently supportive and like just vanishing.
I grapple with Millenials. "Hi, I am Bryan Singer and I grapple with Millenials." There are not enough Bryan Singer jokes. It is a horrible, horrible thing that he did. Never rape children. I still want more jokes about it. I want more jokes about how he and Kevin Spacey are collaborating.
So this guy is standing next to me. I'm enjoying watching this beautiful basset hound, and he says to this woman, he says "Oh. Boxers make me laugh." First of all, "Thank you very much, sir."
I am productive. I'm a productive person. I do a lot of things, and stuff, and jobs, and work. Therefore when I downloaded Candy Crush to my phone this week I thought to myself this will be relaxing. I'll enjoy this in moderation. It won't get in the way of my work, my life, my productivity. At first what is it? You just have to find 3 things of the same color? Boring. Now predictably I am completely addicted to Candy Crush. I find it's a good icebreaker for people who are looking over your shoulder. Instead of saying, "Respect my personal space." You take your eyes off of the--what are they?
The Film Forum has provided me with many a classy date when I have wanted to appear that I liked, I don't know Preston Sturges. In the past when I have wanted to seduce a man of a particular, kind, type, or breed, I have gone to the Film Forum. I have adjusted my makeup in that bathroom a few times.
the reason why I think this is popular is because it is a new form of social media and I think people like videotaping themselves and telling the internet that they have friends or that they can reach others. If the people see them they can say, "Hey Kim Kardashian you do it." The people other's are calling out are absurd. It is a way for celebrities to be cozy with each other. It's what we did when we discovered social media in the first place. At least we didn't do it under the guise of giving charity to diseases. We weren't full of goddamn lies. My impression of this ice bucket situation is...
 
Hi Jimmy. Aw, there's my joy boy. Hi handsome. Hi handsome, are you going to sit on the couch with Mommy? There you go. There you go.
I refused to dig myself into a pit with a sorbet spoon by addressing any issue in the LGBT community because god forbid I as a member of the cisgender community have an opinion about that because it is just not cute. I am not being completely facetious; therefore I will not say that the LGBT and queer and questioning community should literally everyday get down on their knees and thank Ru Paul for being Ru Paul. I will not say that Ru Paul takes where Oprah left off and goes into outer space. We are so lucky to be alive when Ru Paul is alive. He is funny, wise, soulful, smart, entertaining and talented. Most of all Ru Paul is kind and compassionate. That we would ever attack him, question his intentions, take advantage of a show and an outlet so essentially sensitive who listens to what people who have otherwise been marginalized have to say, that would be a mistake. I'll leave it at that. If you are going to come for RuPaul, don't be surprised if I throw myself in front of him and take whatever punches you have to throw because there is nothing I can say that will articulate how precisely lucky we are to be living in a time with him around and in it.
Lady Gaga has an album out at this point with Tony Bennett who was tricked into recording an album with her and does not know where he is. He looks very happy. He's not in pain at all. "This kid has such a taste for jazz. I just love to sing with her. These are classics. These songs go and they come, but jazz is jazz. This little kid over here, she knows jazz. I really like singing jazz with her so we are...where are we? We're here at what is this? The Today Show? Yeah, now Cole Porter worte..." Lady Gaga says, "I love him. I love Tony Bennett. He's my man." She poses with him flirtatiously. She'll touch him. She doesn't need to touch Tony Bennett. "Look at us together Tony. Look at this photo of us, don't we look great together." "Oh yeah kid you know that's a great photograph."
The Daily News renews our faith in tabloid journalism today with its gleeful cover story about the so-called "Cannibal Cop," who is currently "stewing" in Manhattan Correctional Center while his lawyers file appeals. In an interview with former officer Gilberto Valle's mother, the News learns that her son--who faces up to life in prison for conspiring to kidnap and eat several women--is working as a chef in the jail. His specialty, sources say, are his "Wardenchiladas." "'Don't stand too close to the oven, and that kind of thing,'" is what Valle's fellow inmates are known to quip, according to his mother Elizabeth Valle,
 
Well that's nice--Wardenchiladas. A warden is someone who works in a jail right? That's funny. Everyone has a good time. God bless you Gothamist. They posted Cannibal Cop's OKCupid profile. That's no good. He writes that his favorite foods are Italian, Mexican, Chinese, Japanese, I'll try anything and I'm not picky at all. Boy oh boy, wow, be careful out there everybody. Be Careful online dating world.
He brought up his friend and said, "By the way she's a 9/11 trooper, truther. Starship Truthers would have been a different movie. I said, "What did you realize that is related to your friend, daughter of Too Many Dogs screenwriter Joey Joeselstein?" He said, "I just realized the reason why her theory doesn't make sense," as you know the Truthers say that there's no way the plane that exploded at a temperature hot enough to melt steel girder and so forth, "I just realized that even though she was taking the fuel and the butane in the plane into account what she wasn't factoring in was the human fat of the passenger being combustible. " I said, "Please don't talk about this right now." It's not that I was at a spa or getting the kind of massage where I just want to forget my day and indulge in some 'me' time. That wasn't that kind of mommy-blog experience. It was a sports massage, yah sports. Everybody loves those sports, right? You never want to hear about human fat being combustible in a massage environment and arguably ever. I will also mentioned that because I am, even then, in situations macabre, I will be girly. So after I said, "WHAT! STOP!! What are you talking about? Please No, that's upsetting and disgusting. I also hope that the notion of human fat didn't come into your mind because you were working on my fat back." "No, no, no" "Ha, ha, ha-just kidding."
 
We can never let go of our gender shackles. Gender, gender, gender.
 
Difficult People Season 2 premieres on Hulu July 12th. Catch up on Season 1 now, especially if you like "Curb Your Enthusiasm." Catch up with "How Was Your Week" podcast here. Transcripts of the podcast monologues are available at HowWasYourWiki.com.
Calling all HuffPost superfans!
Sign up for membership to become a founding member and help shape HuffPost's next chapter