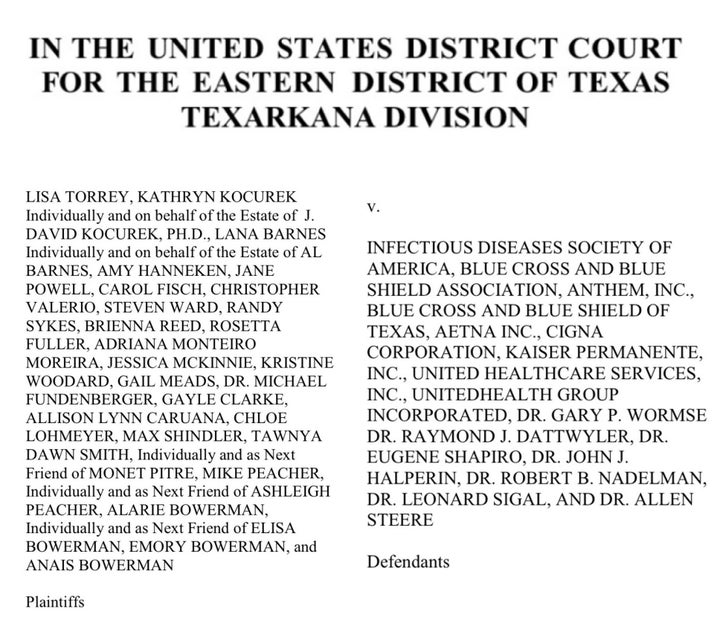 For nearly a generation, a small group of physician-researchers has directed how Lyme disease is diagnosed and treated in the United States, Europe and, as the disease spreads, Canada and Australia too. As a result, US insurance companies routinely refuse to pay for antibiotic treatments longer than 28 days. Doctors have been punished for prescribing them. Patients have been told their lingering problems are psychological or they have other sickness.
Now, a lawsuit asserts that the design and implementation of Lyme disease care–as outlined in the treatment guidelines of the Infectious Diseases Society of America—is rooted in corruption. It asserts that key architects of Lyme policy, naming seven physician-researchers, took money from and worked with insurers to develop guidelines that allowed claims to be denied. The conspiracy involved efforts to belittle the legitimate complaints of patients, the suit asserts, and to stifle competition from doctors who did not follow the IDSA guidelines, which the suit terms "a predatory device."
The lawsuit is a stunning development in the contentious and rapidly shifting world of Lyme disease science and politics. It was filed just a month before a 14-member federal working group is poised to meet—in Washington next Monday–with a mission to scrutinize Lyme disease care and policy in America. Significantly, a defendant in the lawsuit, Dr. Gary Wormser, was also a member of the working group; his name was removed from the roster this week, four days after 10,000 people signed a petition by LymeDisease.org opposing him. The development may indicate the burgeoning strength of a movement to change the way Lyme disease is viewed or merely Wormser's, and the government's, aversion to the controversy he literally would bring to the table.
The petition cited conflicts of interest reported by Wormser, who is lead author of the IDSA treatment guidelines. They include receiving research grants from private companies, owning equity in a company that has developed a Lyme disease test, and testifying in malpractice cases involving Lyme disease–an issue raised in the lawsuit. Wormser and his co-defendants did not provide comment for this article, nor did eight insurance company defendants. Federal officials said Wormser "declined the invitation" to serve on the task force.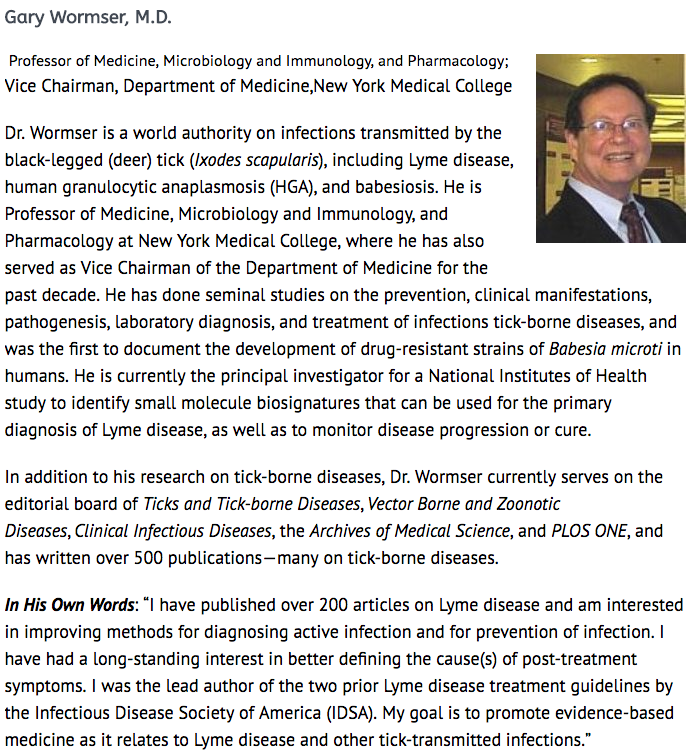 Dueling science not the issue
While the petition made no mention of the 53-page lawsuit, its focus was clearly the motivation behind Wormer's outsized influence over Lyme care. Here's what you should know about the litigation against the IDSA, gleaned from my discussions with lawyers, physicians and scientists.
1. The court will not be asked to rule on the dueling science of whether Lyme disease can be chronic. Rather, the case will offer another view of Lyme disease besides the IDSA's, which holds that short-course antibiotics kill the infection. Evidence will be offered showing patient improvement on longer-term antibiotics, in particular as multiple laboratory studies show the Lyme bacterium difficult to kill.
2. In that vein, the case won't assert that the IDSA guidelines are intrinsically flawed, as many patient groups believe. Instead, it will acknowledge that the guidelines may work for a segment of early-treated patients. Other protocols, such as those developed by the International Lyme and Associated Diseases Society, should play a legitimate role in care, it will assert.
3. Evidence will be offered to show that alternative views on Lyme disease were systematically squelched in the development of the IDSA guidelines, in a monopolistic effort driven, the suit asserts, by money. "(B)y excluding physicians with differing opinions from participating in its panel and suppressing scientific evidence, the 2006 IDSA Guidelines not only adversely affected IDSA competitors--physicians who treat chronic Lyme disease with long-term antibiotics—but also unreasonably restrained the Lyme treatment market." The suit contends insurers and guidelines writers worked together to report physicians treating outside the IDSA guidelines—"in an attempt to strip them of their medical licenses." The insurers then paid the IDSA defendants to testify against doctors—the suit estimates 50 were professionally disciplined—who did not follow the IDSA course of care.
4. These are explosive charges that remain to be proven. The well-connected, 11,000-member IDSA won't go down without a fight, nor, to be sure, will eight insurance companies and the seven so-called "IDSA panelists" named in the conspiracy, at least one of whom repeated IDSA axioms in a recent article on the lawsuit.
5. Initial efforts to dismiss the lawsuit will likely assert that the Racketeer Influenced and Corrupt Organizations Act—the one the civil lawsuit says was violated—does not apply in this case or that the suit does not state a legitimate claim. Legal experts predict it will survive this legal tactic. The lawsuit will have more trouble surviving attempts by the opposition to seek "summary judgment," namely in which a judge is asked to rule on the strength of the case–and whether it should go to trial.
6. Should it go forward, the discovery phase, in which parties trade documents, will be key to connecting the dots and proving the alleged conspiracy, which the lawsuit calls "current and ongoing." The suit asserts, "Dr. Gary P. Wormser, Dr. Raymond J. Dattwyler, Dr. Eugene Shapiro, Dr. John J. Halperin, Dr. Robert B. Nadelman, Dr. Leonard Sigal, and many others were paid large sums of money by the Insurance Defendants in consulting fees, in expert witness fees, and to review, and deny, insurance coverage claims related to Lyme disease." While the suit provides an example from a published legal case, it will need far more to flesh out what it says was a "pattern of racketeering." It asserts that five IDSA panelists received payments from insurance companies for 22 years and one for 11 years. A seventh defendant, Lyme pioneer Allen Steere, was paid to endorse limits on Lyme disease treatment, the suit asserts, pointing to guidelines Steere published in an insurance medicine journal and a paper he wrote for insurance medical directors. Even if proof of the payments is obtained, lawyers for the plaintiffs must show the payments were motivating factors that shaped American Lyme disease care–a huge leap.
7. Within weeks of the lawsuit filing, the U.S. Centers for Disease Control and Prevention removed its website references and links to the IDSA care guidelines. A CDC statement issued to me explained: "It has been over a decade since the IDSA guidelines on treatment of Lyme disease, developed in 2006, were published. Since then, additional published research further informs Lyme disease treatment." Nonetheless, the CDC's advisories still strongly reflect IDSA tenets. Only last August, a CDC spokesperson referred me to the guidelines when I was researching my upcoming book, even though the 11-year-old guidelines had been removed from the National Guidelines Clearinghouse.
8. Although physicians and advocates who question IDSA policies were gratified by the language in the lawsuit, some were nonetheless leery of the lawsuit's approach. Two experts were fearful that assertions of Lyme-caused illness might be unprovable or come off as wildly exaggerated—in particular a claim that Lyme doctors know that untreated patients "will eventually die from Lyme disease." A third expert believed the lawsuit could succeed on evidence showing an IDSA effort to silence competing voices and science; the question is whether that will be enough to win under a statute normally applied to organized crime.
9. While the lawsuit pits 25 patients against a powerhouse backed by major medical journals–the IDSA–this is no David-and-Goliath scenario. The plaintiffs have three well-heeled firms on their side who have agreed to take on a case without any money upfront. The firms include one that secured an acquittal for pitcher Roger Clemens after charges of perjury related to alleged steroid use and another that has won multi-million-dollar sums against Dow Chemical and Ford Motor Co. Lawyers involved in the case invested perhaps a year scoping out the facts before filing suit.
10. Despite the lawsuit, the IDSA still intends to release updated Lyme disease guidelines this spring. The review process, involving many original guidelines writers, has been seen by Lyme patient advocates as an attempt to reinforce views that the disease is not chronic and to continue existing treatments.

Timing may be everything
Attorneys on the suit needed to convince themselves there was a case before taking it on. They are optimistic. "There is a circular relationship that exists between the IDSA panelists and the insurance companies," the suit's lead attorney, Gene Egdorf, said, "in which these IDSA panelists come out with guidelines and the insurance companies pay them to defend them. It's a symbiotic relationship, and it comes from money."
If he's right, the IDSA's control over Lyme disease care may end. That's a big if, but timing may be key. Society, medicine, and, even, the courts may be willing to accept that there is a different, more complicated version of Lyme disease than the one proffered by the IDSA and embraced by the CDC. Claims of ongoing, Lyme-induced symptoms have been bolstered by new research showing the failure of common antibiotics against the Lyme pathogen. Most recently, these breakthroughs were embraced by a group of scientists at New York Medical College, where the leading authors of the Lyme disease guidelines are based.
In the last 20 years, Pat Smith, president of the Lyme Disease Association and a feisty long-time patient advocate, met with lawyers two or three times to discuss a possible class-action lawsuit on behalf of aggrieved Lyme patients. "The timing wasn't right," she told me. "Now there's so much scientific evidence…Now if you put it on a scale, we have a lot more to show our point of view."
Selected comments on the RICO lawsuit
Here are comments provided to me in response to the lawsuit:
Infectious Diseases Society of America:
"While we cannot comment on pending legal matters, we want to assure you that the priority of the Infectious Diseases Society of America (IDSA) is to promote human health through excellence in infectious diseases research, education, prevention, and patient care.
In developing guidelines for the treatment of infectious diseases, including Lyme disease, IDSA authors rely on evidence-based research performed according to widely accepted scientific standards and consider, when appropriate, anecdotal evidence. The published guideline, "The Clinical Assessment, Treatment, and Prevention of Lyme Disease, Human Granulocytic Anaplasmosis, and Babesiosis," reflects the best information science provides for the broad range of physicians who might treat a patient with symptoms of Lyme disease.
IDSA is a non-profit organization of more than 11,000 distinguished physicians, researchers and healthcare workers who specialize in a wide range of infectious diseases. The Society is committed to listening to our members and patients while conducting the necessary review and synthesis of evidence to ensure our guidelines promote safe and effective care."
U.S. Sen. Richard Blumenthal, who leveled conflict-of-interest charges against the IDSA in 2008 as then-Connecticut Attorney General:
"Lyme and other tick-borne diseases continue to plague communities across the country. The allegations raised in this lawsuit further underscore the urgent need for research into this growing public health threat. That is why I fought to ensure that the Department of Health and Human Services worked expeditiously to convene the Tick-Borne Disease Working Group as legally mandated in legislation I authored. We need federal agencies, physicians, researchers, patients and advocates at the table together working to cure these debilitating diseases."
Lorraine Johnson, Executive Director of LymeDisease.org:
"Why should IDSA researchers, who do not examine or treat these patients and do not see the suffering caused by their guidelines when patients remain ill, be setting the medical standards for the disease? The IDSA guidelines have been used to further the cost-cutting interests of insurers and destroy the careers of physicians who actually examine and treat the patients and can see whether or not a treatment is working."
Pat Smith, President of the Lyme Disease Association and a member of the Tick-Borne Disease Working Group:
"This has been a long time coming; it shows that what patients and advocates and treating physicians have been saying for decades have been saying for decades is absolutely true…These entities have intersecting agendas and they have used those to prevent patients from getting the treatment that they needed to get better."
Dr. Kenneth Liegner, a leading Lyme disease physician who is cited in the lawsuit as having faced investigation by licensing officials. The twin probes lasted several years each; he was never charged:
"Being 'investigated' had a profound impact: the vast resources of the State against one as an individual. Psychological impact; emotional impact; impact on family; impact on 'quality of life'; financial impact; disruption of normal routines and very significant necessary allocation of time in order to defend oneself; conferring with health care law attorneys; limitation of time that would ordinarily be devoted to 'patient care' activities, etc. I was able to successfully defend what I did and why because of my familiarity with the scientific and medical literature and meticulous record keeping."
Candice Burns Hoffmann, CDC spokesperson, on removal of links to the IDSA guidelines, weeks after the lawsuit against the IDSA was filed:
"It has been over a decade since the IDSA guidelines on treatment of Lyme disease, developed in 2006, were published. Since then, additional published research further informs Lyme disease treatment. As a result, CDC is updating its website with treatment information more immediately helpful to health care providers and people with Lyme disease. We are aware that IDSA is working on updates to its guidelines. Because CDC is not involved in this effort and does not know when these guidelines will become available, we have chosen to share information that may be helpful to health care providers and people with Lyme disease. We look forward to reviewing the new IDSA guidelines once released."
About my book
"Lyme: The First Epidemic of Climate Change" documents the human contribution to the dangerous spread of Lyme disease to dozens of countries and multitudes of people. In a book that joins environmental and health science, author Mary Beth Pfeiffer shows ticks climbing mountains and crossing borders as temperatures rise, forests are fragmented, and species lost. But as importantly, Pfeiffer challenges medical dogma that has dictated care for two decades and which holds, wrongly, that Lyme disease is straightforward to diagnose and treat. "Lyme" is firmly rooted in science, relying on more than 300 peer-reviewed articles and dozens of expert interviews. Pfeiffer exposes the failure of government and medicine to prevent rapidly spreading infection, address poor diagnostic tests, and help many thousands of patients whose symptoms -- body pain, crippling fatigue, and neurological, psychiatric, and memory issues -- can linger long after treatment. She gives voice to patients whose illnesses have been dismissed, to doctors whose treatments have put their licenses in jeopardy, and to scientists whose studies strongly suggest the threat of ticks and Lyme disease has been underestimated and methods to treat it inadequate. "Lyme" is an impeccably researched account of an enigmatic disease that makes a powerful case for action to combat ticks, address the pain of patients, and recognize humanity's role in creating an epidemic.