2013 was a great year for the unlikely hit, from the awkward teenage stylings of Lorde, to the R&B champion "Blurred Lines", to disco making a comeback in the form of smash singles by Daft Punk and Bruno Mars. This year the masses were introduced to quite a few new names, but there are still so many out there just waiting to burst. While there are literally hundreds of artists and singers deserving of international attention, here are ten that you'll most likely hear from in the new year.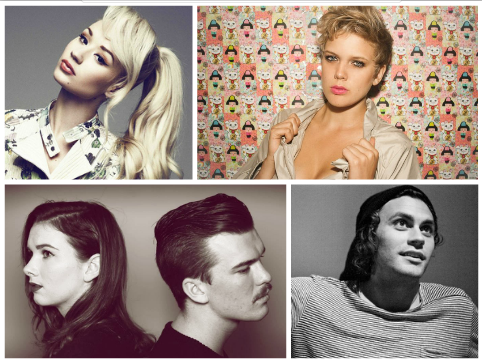 Betty Who
facebook.com/bettywhomusic
Betty Who is on track to become the latest star to be made from YouTube, following the likes of Justin Bieber, Psy, and (to a much lesser extent) Rebecca Black. After her song "Somebody Loves You" was used in a viral proposal video in mid 2013, it's been nothing but up for Betty. Within a week of the couple appearing on the Ellen DeGeneres Show to tell their story, Who had signed a deal with RCA, and her debut full length is due at some point in 2014.
Madeline Beer
facebook.com/MadisonElleBeer
Though Beer is only 14, that's never stopped pop music before. After Justin Bieber heard her singing in a YouTube video, he retweeted a link to his millions of followers. Not long after, she was signed to Island/Def Jam and is currently working with mega-manager Scooter Braun. While she only has a handful of her own songs, there's a lot of money and power backing her up.
BANKS
facebook.com/hernameisbanks
Jillian Banks is an Los Angeles born but London-based singer songwriter who is known only by her last name. While some artists aim to conquer one genre and be known as the best in their field, BANKS aims to blend as possible. In the two EP's she released in 2013, she mixed pop, electronica, and R&B to create something entirely new and intensely dark. In addition to her powerful tunes, she became popular by actually resisting social media, instead posting her cell phone number on her Facebook for fans to contact her directly.
Sam Smith
facebook.com/samsmithworld
In terms of having a head start for a solo career, Sam Smith is in a league of his own. While his debut album isn't due until late May, he already has a number one and a number 11 hit in the U.K. (with heavyweights Naughty Boy and Disclosure, respectively) and has been named the Critic's Choice award recipient for the upcoming Brit Awards (the British equivalent of the Grammys). If he can't make it work after all that, it just wasn't meant to be.
Foxes
facebook.com/iamfoxes
Though Foxes has been making her own music for a while now, her big break came in 2013 when she was featured on the Zedd song "Clarity". Not only did the crossover dance hit go top 10, it is also currently nominated for a Grammy. To capitalize on this, Louisa Rose Allen (AKA Foxes) is finally releasing her first album in March.
Mikky Ekko
facebook.com/mikkyekko
Before 2013, Mikky Ekko was just another independent musician until Rihanna came along. Ekko co-produced and co-wrote the song "Stay", on which he was also featured. "Stay" went top five in the U.S., and is also nominated for a Grammy. Mikky has already released five EPs, but 2014 will surely see his first full length, and it would be nice if Rihanna would return the favor with a guest feature.
Iggy Azalea
facebook.com/iggyazalea
A few years ago, the battle of the Azaelias began between Iggy and Azaelia Banks. Banks' "212" became a smash in the U.K. and she seemed on track to be the next big thing in rap. Cut to 2014, and Iggy is everywhere. She's being featured on albums and singles, and Azaelia Banks has pushed her debut album back for a third time. While Iggy has now garnered three top twenty hits in the U.K. and more buzz than any other female in the game, Banks is hoping she'll be able to sell albums...should she ever actually release one.
NoNoNo
facebook.com/nononoofficial
All the good pop music comes from the Swedish, but more often than not in the US they are behind the scenes. NoNoNo might change all that, as they have the entire package and are ready to burst. Sounding more like Ellie Goulding than their more famous compatriot Robyn, NoNoNo's take on melodic pop is radio-ready and undeniably catchy.
Broods
facebook.com/broodsmusic
There isn't a whole lot of Broods to listen to, but what's out is brilliant. After only one song, the duo signed a deal with Capitol. If it sounds like jumping the gun, keep in mind that while they may only have one single, but there's an EP on the way. Production for the EP is being helmed by Joel Little, the mastermind behind Lorde and her worldwide smash "Royals". With Little on board, anything can happen in 2014.
Neon Jungle
facebook.com/NeonJungleMusic
British girl groups are always coming in and out, and it seems they are swinging back to "in". While Icona Pop's "I Love It" was a massive breakout hit this past year, it seems the duo might be destined for one hit wonder-dom. The void they leave could easily be filled by Neon Jungle, who have a similar dance-heavy sound that top 40 is begging for. Even if the foursome doesn't reach the same heights on the Hot 100, they are sure to make a name for themselves in clubs around the world.
Photos courtesy of the artist's Facebook pages. Collage courtesy of Hugh McIntyre
Calling all HuffPost superfans!
Sign up for membership to become a founding member and help shape HuffPost's next chapter