Street food has been a growing food trend across the globe for the last few years. But it in Argentina, it is rare to see people eating on the streets or carrying coffee cups on the go. The food culture in Argentina is very much a love affair. Meals are eaten in the company of friends and family and time is taken to savor the flavors of the dishes.
However, if you are on the go and need something to eat, you will not go hungry on the streets of Argentina. Here are 10 popular Argentinian street foods to feast on.
The Choripán, affectionately called the "Chori" is the street food of choice for many Argentinians. This fast food is basically a sausage, made of 70% beef and 30% pork, cooked on a grill and served between two pieces of bread. The choripán is usually seasoned with chimichurri sauce.
An insider tip to get the best Choripán in Buenos Aires is on Costanera Sur near the local airport Jorge Newbery. Stop at one of the food stands and order this popular sandwich.
The Lomito has been called the "king of fast food snacks." It sits above the choripán both in price and stature. What makes it so regal is that it features the famous beef that Argentina is renowned for.
At its core, Lomito is a steak sandwich that has been flashed grilled a la pancha. This slab of lomo steak is topped with: tomatoes, lettuce, onion, chimichurri, mayonnaise, fried egg, ham and melted cheese. Enjoy a lomito in Buenos Aires near the Costanera Sur Ecological Reserve.
Follow your nose to any of the carts grilling this delicious delight.
You will find empanadas everywhere in Argentina. This is a typical savory pastry that you will see on every restaurant menus. They are also a very popular option that you will find on the go, at fast food joints or supermarkets.
Make sure that you taste the popular empanada de carne, empanada de jamon y queso, and empanada de pollo on your stay in Argentina!
Extremely popular, you will find these sandwiches at almost every bakery in the country.
These sandwiches look like tea sandwiches but are much bigger. They are made with thinly sliced bread with the crust and edges cut off.
The bread used is unlike any bread you would find in the U.S. It is extremely white, very thin and delicately light. The fillings used vary and include ham and cheese, eggs, mayonnaise, olives and ham, tuna and more. One of the most surprising things about the sandwiches is that you can get them with two slices or three slices of bread.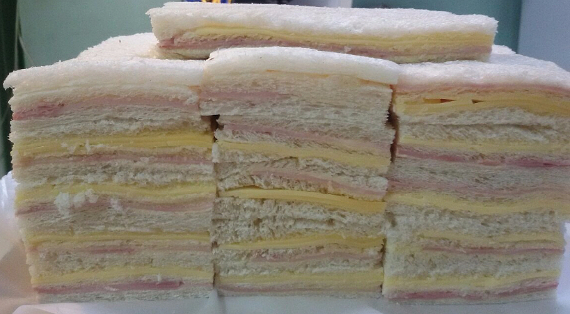 Pizza, a dish with Italian heritage is very popular in Argentina. Typical Argentinian pizza has a thick dough which is a bit chewy and comes with a lot of cheese. It is served with different topping from mozzarella to napolitana style.
Pizza sold by the slice is called pizza al paso or pizza al corte. You will find it at corner restaurants or fast food joints. Stroll through beautiful Buenos Aires and treat yourself to a slice of Argentinian style pizza!
One sandwich that rivals the Choripán in popularity is the Bondiola sandwich also referred to as Bondipan. It is a slice of roasted pork shoulder, served on bread, accompanied with lemon juice.
You can enjoy this sandwich in two ways. Order it with toppings like cheese, thinly cut french fries or a fried egg. Or, you can have it plain and dress it up with toppings like salsa criolla (mixture of chopped tomatoes and onions) or chimichurri sauce. All this meaty goodness is jammed inside a baguette style loaf and devoured.
The Argentinian street food scene would not be complete without a hotdog. The Pancho is Argentina's take on the hotdog. It is a simple hotdog that is not much more than a frankfurter in a bun. You can sprinkle very thinly cut fried potatoes called lluvia de papa (potato rain) to give this sandwich a little more depth.
The more toppings you add on your hotdog, transforms it to a "super pancho." There several yummy sauces that go along with this dog. The most popular is the salsa golf which is basically a mixture of mayonnaise, mustard and ketchup.
Milanesa is one of the typical dishes of Argentina that you should not miss out on your travels. It comes from the Italian influence on the Argentinian cuisine. In its most basic form, it is a thin slice of beef, veal, chicken soy that is breaded and then fried.
The sandwich version is called Sandwich de Milanesa or Milanga. It is a popular lunch time option that can be picked up at any corner restaurant or fast food joint. The Milanesa is stuffed in white bread, baguette style with lettuce, tomatoes and mayonnaise.
Tortilla are found mostly in the north of Argentina. They are flatbreads made of wheat flour baked on a parrilla (barbeque). You can get them plain, but the best are the ones filled with jamon y queso (ham and cheese). Warm like a panini, they melt in the mouth.
Treat yourself to a delightful tortilla on your visit to the Northwest of Argentina

#10: Garrapiñada - Street Treat
Garrapiñada are caramelized sweet snacks made of peanuts (Garrapiñada de mani) or almonds (Garrapiñada de almendras). They are coated with vanilla essence and sugar and cooked over hot coals. The sugar once cooked, in a caramelized coating covers the peanuts (or almonds), creating a sweet and crunchy texture. Look for them in the cooler fall and winter months.